Gold Investing 2016: This Time for Real?
Tuesday, 2/02/2016 09:25
New gold investing interest jumped 15% in January from last year's average...
GOLD INVESTING has been here before – five times in the last five New Years, in fact, writes Adrian Ash at BullionVault.
Is this rally for real, or just another fake out?
Gold tends to rise, and keep rising, as other investments fall. And amongst those private investors caught without any gold, a few aren't taking chances as 2016 brings the worst start for world stockmarkets since 2008.
January's financial turmoil drew the strongest inflow of new private investors to buy gold and silver for 6 months. New accounts openings at BullionVault – the world's largest precious metals exchange online, where private investors
currently hold $1.5 billion of market-ready gold and silver
– rose 15% above 2015's monthly average, led by a 42% rise in new UK users.
But last month's global uptake still lagged the average of gold's banner year 2011 by two-thirds. What's more, with gold investing prices rising January at the fastest pace in 12 months (up 4.7% in Dollars, 5.3% in Euros, 8.9% in Sterling) the number of existing owners choosing to reduce their holdings also jumped, reaching the highest level since the start of last year.
That saw our Gold Investor Index – which measures the number of net buyers over net sellers on BullionVault across the month – slip from 53.0 in December to 51.6 last month.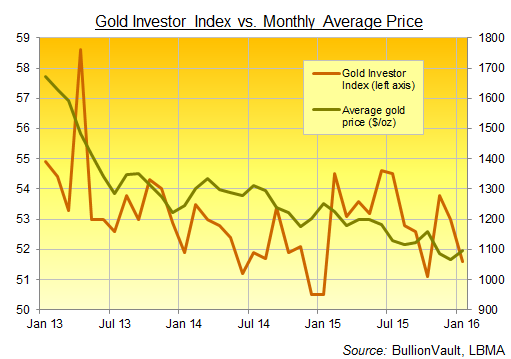 The financial crisis showed how gold can act as insurance for your other investing assets. It could offer very cheap cover if 2016's drop in equity markets continues to worsen.
New interest in gold investing has started 2016 stronger everywhere, but there's real urgency amongst UK savers. Gold is rising as the FTSE falls hard with the Pound, reversing the pattern of last year.
Like US Dollar prices, gold in 2015 fell to a series of new 6-year lows, while UK shares – like US equities – set new all-time highs. So far in 2016 gold has now risen 9% against the Pound, while the FTSE All-Share has now lost 5% since New Year.
But gold's gains to date start from a very low base. This current rise so far only gets gold back to what were new multi-year lows last summer. So it's not surprising that some longer-term investors are taking advantage of this New Year gain to cut losses. More active traders have been quick to take profits.
Silver also saw more private investors choosing to sell in January than December, but a lack of new interest meant the number of buyers only just balanced them across the month.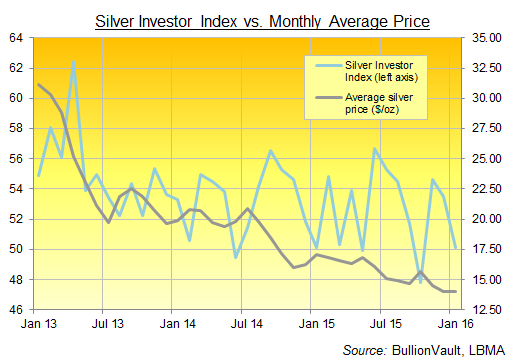 That sent BullionVault's Silver Investor Index sharply lower to 50.1 from 53.5 in December. Calculated since January 2012, this index
hit a new series low in October 2015
, falling sharply below 50 as sellers outnumbered buyers on the strongest price rise in almost 18 months.
Like January's 1.9% month-end gain, that rise came soon after silver set new 6-year lows, retreating to 2009 levels together with gold.
Maybe existing investors are right to sell such spikes. Maybe the downtrend in precious metals – marking its 5th birthday later this year – still isn't finished. Maybe these new buyers have been suckered in, just like January 2015's buyers might now feel they were last year.
Bear markets don't end without these kinds of doubts hounding investors. Bull markets don't start without them, either. Meantime, the behaviour shown by our Gold & Silver Investor Indices remains cautious, with longer-standing precious metals owners buying the dips and selling rallies.