Gold Investing Starts 2020 at Record High
Tuesday, 1/07/2020 12:16
$1.9bn of physical gold owned by BullionVault users...
GOLD INVESTING on BullionVault began 2020 at a record high, writes Adrian Ash, director of research at the West London fintech, both by weight and value.
Using the world's largest online bullion service, private individuals can choose to invest in gold stored securely in specialist, third-party custody – outside the banking system – in London, New York, Singapore, Toronto or (most popular) Zurich.
As a group, our customers grew their gold bullion investment 0.7% by weight in December to a new record holding of 39.3 tonnes in total.
That gold – larger than all but 51 of the world's 178 national central banks hold, and more than all but 14 of the 107 stockmarket-listed gold ETFs tracked by the mining industry's World Gold Council – was worth a record $1.9bn on 1st January (£1.4bn, €1.7bn, ¥208bn), up 19.6% from last New Year's Day in US Dollar terms.
So yes, the latest spike in gold prices is being driven by the sudden escalation in US-Iran tensions, which is hitting world stock markets and leading investors to seek shelter.
But like bullion prices, underlying investment demand for gold had already turned higher in 2019, most especially among investors in the Eurozone, where negative interest rates are forcing savers and investors to find better homes for their money than banks account or debt investments.
Physical gold, securely stored and ready to trade 24/7, clearly offers an appealing alternative. Especially when it's provided
at the lowest costs
with the utmost
peace of mind
.
Calendar-year 2019 brought the most first-time investors to BullionVault since 2017, up 25.4% worldwide from 2018's count of new buyers.
That growth was led by a surge in the number of Eurozone investors, with the count of first-time BullionVault users living in the 19-nation currency union jumping 65.7% from 2018 to the most since 2012 and accounting for a record 43.5% of all first-time users worldwide.
This renewed demand for investment gold saw the metal close last month with its 3rd highest year-end level ever in US Dollar terms – up 18.8% from 2018 at $1523 per ounce – while
setting new year-end records
in both Sterling and Euro terms at £1157 (up 15.2%) and €1358 (up 21.2%) respectively.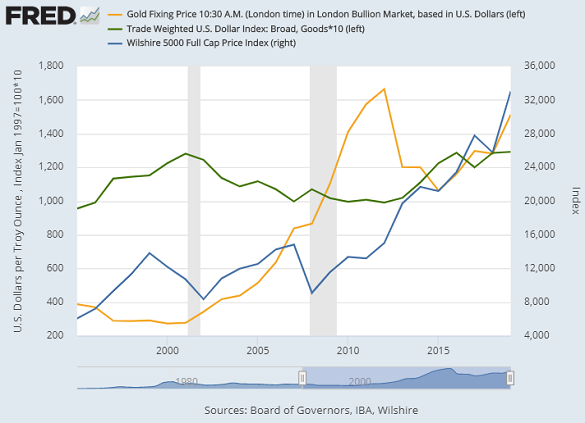 December's price rise saw a rise in profit-taking by BullionVault users, but buyers still outnumbered and outweighed the sellers.
While the number of people using our website and smartphone apps to buy gold across December slipped 0.5% from the previous month's figure, the number of sellers jumped 23.2% from November's 14-month low.
Together, that edged
the Gold Investor Index
– a unique measure of private investor behaviour in physical gold, now tracking monthly data for more than a decade – down from 56.2 to 55.6, its lowest reading since August.
The Gold Investor Index would read 50.0 if the number of net buyers across the month equalled the number of net sellers exactly.
Last month the index gave its highest December reading since 2012 finished with a figure of 58.3, and it marked the 5th month running that the Gold Investor Index held above 55 – the longest such stretch since the second-half of 2011.
Silver holdings on BullionVault also set a new record by both weight and value this New Year, swelling 3.2 tonnes to 822.0 tonnes worth $477m (£361m, €424m, ¥52bn) – up some 28.1% from the start of 2019.
As in gold however, the number of people buying silver fell from November's figure – down 6.5% – while the number of sellers jumped, up 26.7%.
Together, that pulled the Silver Investor Index down from 54.9 to 53.5, its lowest reading since July but well ahead of December 2018's near 2-year low at 50.1.
Like both gold and silver, BullionVault client platinum holdings also ended 2019 at record highs by weight and value, growing 45.3% across the year to 0.9 tonnes and gaining 77.4% to $30m (£23m, €27m, ¥3.3bn).
Altogether, that meant New Year's Day saw BullionVault caring for a record $2.4 billion of physical precious metals (£1.8bn, €2.1bn, ¥263bn), all of it stored and insured in specialist third-party custody outside the banking system.
Nothing guarantees higher prices or stronger demand to invest in gold yet again in 2020.