Gold Investing Slips Only to Trump Election Highs as Record Prices Spur Profit-Taking
Tuesday, 8/04/2020 09:01
Gold buyers -3% in July, sellers jump 58% to 13-month high...
GOLD INVESTING
is seeing a wave of profit taking by existing owners, but the metal's jump to new all-time highs isn't deterring strong demand from new investors in the precious metal,
reports Adrian Ash at market-leader BullionVault.
Only 7 months in, 2020 has already seen BullionVault attract more new clients than any full calendar year except 2011 – peak of the global financial crisis.
Net gold demand over the same 7 months also marks the strongest ever January-to-July period for the online and smartphone fintech, opened in 2005 and now caring for $3.6 billion (£2.7bn, €3.0bn, ¥384bn) of gold, silver and platinum for more than 85,000 users worldwide.
So while the
initial shock of the Covid Crisis
is retreating, the appeal of gold as a tool for spreading investment risk continues to shine as the pandemic's long-term economic damage becomes clear.
July saw new interest in buying gold jump most notably in the US and the UK, where private investors are now less than 100 days away from Election 2020 and 150 days from the end of the Brexit transition period respectively.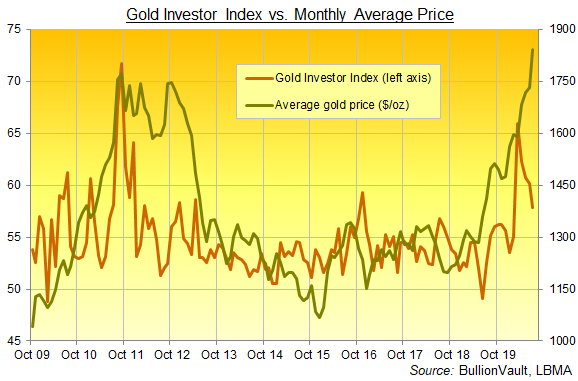 Gold bullion prices
in July set fresh record highs in all currencies, breaking the summer 2011 peak in US Dollar terms to average $1843 per ounce across the month with a rise of 6.4%, the fastest gain since February 2016.
In response, the number of BullionVault users choosing to sell gold jumped by 58.2% from June's figure to reach the most since June last year, while the number of net buyers slipped 2.9% for the month.
That saw the Gold Investor Index – a unique measure of trading activity in the world's largest single pool of physcial precious-metal investors – slip to a 5-month low, down to 57.9 from June's reading of 60.2 and sharply lower from the sudden 9-year high of 65.9 hit in March.
Outside the Covid Crisis however, July would still have marked the highest Gold Investor Index since
Donald Trump's election victory
spurred a surge in gold investing in November 2016 .
Between them, the UK and US accounted for 57.5% of July's first-time users on BullionVault, the largest proportion of new clients since April 2018 and strongly above the prior 12-month average of 40.0%.
While that helped July become the 8th strongest month for first-time users in BullionVault's 15 years of operation, all other top 10 markets showed a slowdown in the growth of new precious-metal investors after all setting fresh monthly records since the catastrophe of Coronavirus reached Europe in March.
Germany's count of first-time buyers slowed by 26.5% in July from the prior 12-month average, while Italy was down by 20.9% and France by 19.3%.
The UK in contrast saw July's number rise 81.1% as the US leapt by 116.1%. So it seems that the Anglo-sphere's increasingly febrile politics are adding to the uncertainty and doubt over a V-shaped recovery.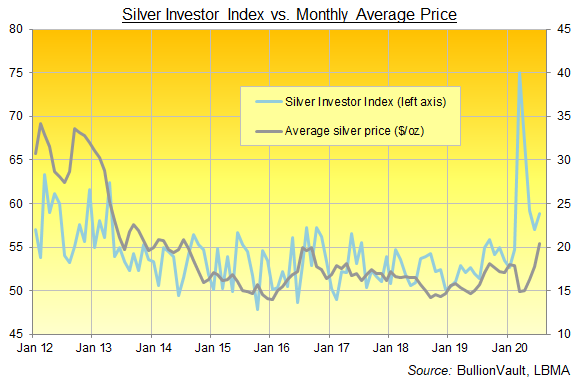 Silver prices
also jumped in July, rising 15.2% on a month-average basis in US Dollar terms – the fastest monthly pace since the UK's Brexit referendum in mid-2016 – to reach a 6-year high at $20.41 per ounce.
That spurred a surge in both buying and selling on BullionVault – where investors trade silver free of the VAT sales tax usually applied on the industrially useful precious metal, saving up to 20% immediately compared to coins or small bars – with total volume rising 155.0% from June by value to hit a new all-time record of $83.3 million (£65.7m, €72.6m) across the month.
With the number of silver buyers up 57.4% from June to the most in 4 months and the number of sellers up 92.0% to a new all-time record, that took the Silver Investor Index higher, rising from 57.0 to 58.9 last month.
That would have been a 7-year high if not for the new all-time Silver Investor Index record of 75.1 reached as the Covid Crisis hit this March.
Last month's
gold trading
volumes meantime jumped 50.1% by value from June to reach $104.4m (£82.3m, €91.0m, ¥11bn), the most since March's all-time record of $206.7m.
With July's net demand of 0.3 tonnes taking year-to-date inflows to 4.7 tonnes, customers of BullionVault now own a record 43.9 tonnes in total, securely stored in each client's choice of London, New York, Singapore, Toronto or, most popular, Zurich.
More than most central banks hold in gold, that privately-owned stockpile is worth $2.8 bilion (£2.1bn, €2.3bn, ¥293bn).
Will August offer a pause or even a change of direction? The surge in gold and especially silver prices must be expected to take a breath at some stage. But even net of fresh profit-taking, the first few days of the month here at BullionVault don't suggest any slackening in the underlying strength of gold or silver demand.
It's also worth noting that, dramatic though July was for gold prices, last month's rise of $111 per ounce has been beaten 3 times before in Dollar terms (Sept 2012, August 2011 and Jan 1980, when the daily average jumped $220) and 35 times before in percentage terms.
January 1980 dwarfs everything else, with gold's average price across the month rising 48.4% against 6.4% this July.
July's stunning rise in silver prices was also less frantic than it might seem. Adding $2.69 per ounce on its monthly average, silver has risen faster than that 8 times in the last decade alone, and it's beaten July's 15.2% gain a total of 22 times in the last half-century.
Again, the stand-out was January 1980, with silver's daily price averaging a rise of 75.4% from the month before.
Might this current bull market end with a similar blow-off top against a similar backdrop of geopolitical tension, social unrest and runaway inflation? Investors and savers thinking about seeking safety in gold or rapid gains in silver will no doubt be closely watching November's US election and the UK's final exit from the European Union in December.