Gold Mining HUI Gets Ugly
Thursday, 5/11/2017 09:01
Break of 200-day SMA proved very nasty so far...
The HUI INDEX is torn, frayed and downright bearish, writes Gary Tanashian in his Notes from the Rabbit Hole.
What's more, it's been bearish since it started to drop from the point it failed at the 200-day simple moving average (SMA).
In NFTRH, we managed bounce #1 (off the Dec. low) as just that, a bounce. Then we managed bounce #2 as just that, a bounce. It doesn't take a trained eye to see why; only a rise above the October high would have set an uptrend for bounce #1 and a rise above the February high would have set an uptrend for bounce #2.
It didn't happen and any pumping done by the gold "community" since last summer has really been just wishful thinking because the sector has been in "bounce only" mode (of interest to traders), as I've parroted to subscribers over and over again.
In fact, we've noted the failure to join gold and break to new highs in both the miners and silver as a negative divergence for the entire sector. Gold of course, was busy getting caught up with the Gassing, Tomahawk and MOAB war/terror trade, a canard that, along with the pestilence trade, never ends well.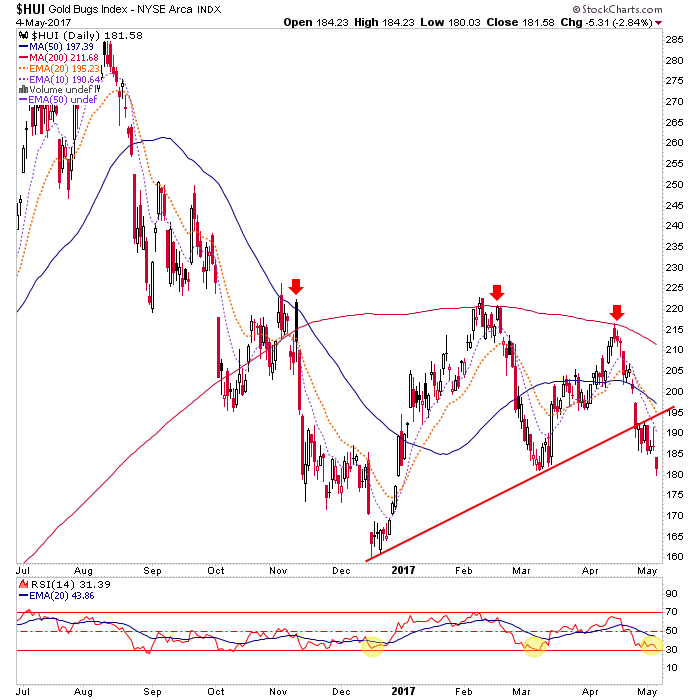 But it may be okay yet. There will be some kind of buying opportunity upcoming for a trade at least. But don't let gold perma-obsessives hoodwink you into thinking that the fundamentals are in line, because they are not.
They are in line in gold's ratios to some commodities (a bullish gold/oil ratio and a constructive gold/base metals ratio) but bond-yield relationships and stock market blow off dynamics remain out ahead
One thing I have written repeatedly is that with this sector, you have got to hate the perma pom poms when their plumage is at its most colorful and they are on a full frontal tout. Well, maybe hate is strong, but they at least need to be aggressively ignored.
Never missing an opportunity to post my favorite graphic, here we see the Macrocosm with its gold/commodities aspect working well, it's "Community throws in the towel" aspect no doubt on the way and the China/India "Love Trade" right where it belongs (as a fundamental consideration), in a promoter's imagination.
The biggies here are the stock market and the economy and both, as of now, are strong and/or stable. The next biggest (and their planets should be larger, but work with me here...) are yield dynamics and public confidence. Each remains non-supportive for the gold sector as of this moment.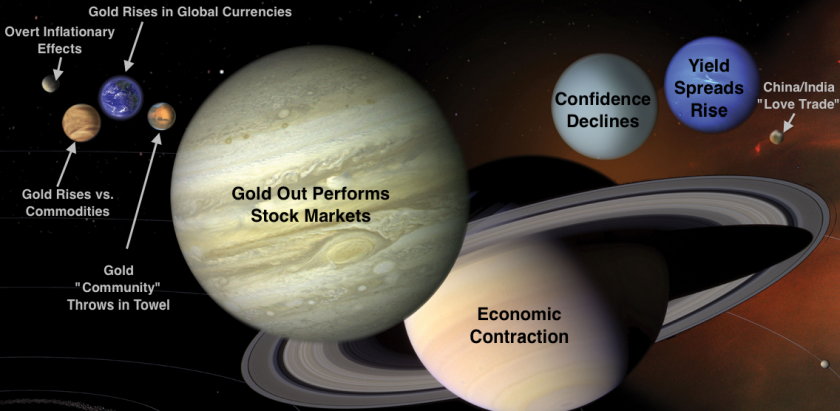 We have downside targets (as HUI starts to get oversold into the zone) on the counter-cyclical gold sector and longer-term charts to color some bigger and potentially more bullish perspective. But the important thing longer-term is going to be bond yield relationships and the risk 'on' trade's blow off status, from which the economy and confidence may take their cues.
Unless you're some sort of whiz bang trader (unlike me), you need to have patience with this process as it plays out over the coming weeks or months.
With a washout of some kind in progress, things are getting interesting at least.