Will EM Risk Polish Gold?
Wednesday, 9/12/2018 09:01
Bear market hits emerging markets...
KEEP your eyes on the price of gold because the Fear Trade is about to heat up, writes Frank Holmes at US Global Investors.
And I'm not just saying that because the US trade war with China is about to intensify even further, with tariffs on $267 billion worth of Chinese goods announced last week.
It's been 10 years now since the start of the global financial crisis, and emerging markets are signaling trouble that some investors fear could have a spillover effect into developed markets.
Last week, the MSCI EM Index, which consists of 24 countries, entered bear market territory after falling more than 20% from its January high.
EM currencies have been under considerable pressure so far this year, with some of them falling to record or near-record lows against the US Dollar. Other factors include global trade tensions and higher oil prices – both of which contribute to faster inflation. Rising US interest rates are also making it harder for governments to pay off Dollar-denominated debt.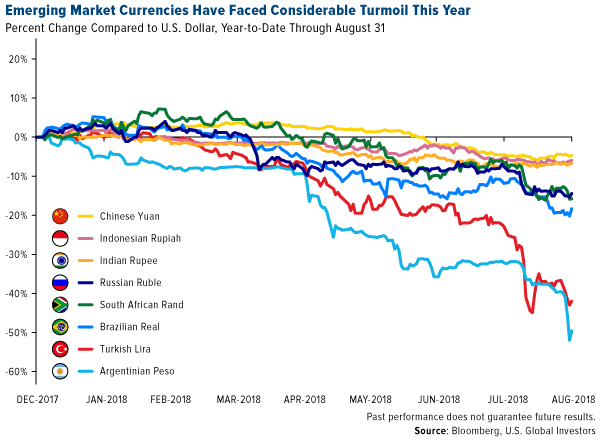 The fear is that the EM slowdown could spell contagion, as we saw in the late 1990s with the Asian financial crisis.
Although I don't believe the current situation to be as bad as the one in 1997, it might prove prudent to ensure that your portfolio has the recommended 10% weighting in gold bullion and high-quality gold funds with a proven track record.
In its latest report, research firm Metals Focus warns that global growth could take a hit should these markets continue to stumble, "with the resultant stock market impact encouraging investors to gradually rotate in favor of gold."
We're already seeing some slowdown in the global manufacturing expansion rate. The purchasing manager's index (PMI) has been dropping steadily since its recent high in December 2017, and in August it fell slightly to 52.5 from a July reading of 52.8, with "confidence regarding the outlook for one year's time [dipping] to a near two-year low," according to IHS Markit, which compiles the monthly PMI data.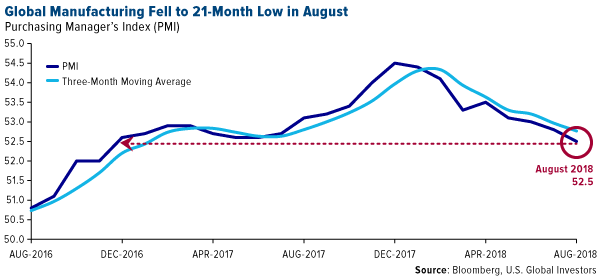 Last week gold was trading in the $1200 an ounce range. But there's even greater upside potential, I believe, as investors, especially those in emerging markets, seek a safe haven from their country's weakening currencies against the Dollar. Now could be a good opportunity to add to your exposure at an attractive valuation.