Gold ETF Liquidation Still Running
Wednesday, 7/17/2013 11:48
Gold ETF liquidation looms large in global demand stats...
THERE IS no end in sight for the gold ETF liquidation, writes Sumit Roy at Hard Assets Investor.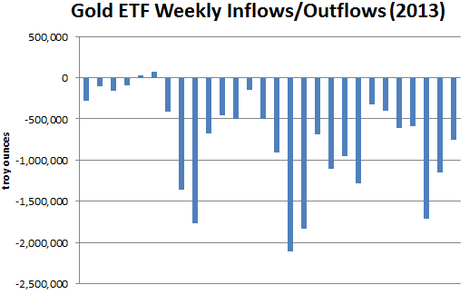 Holdings of gold in exchange-traded funds dropped another 750,000 troy ounces last week – the 22nd straight weekly decline. As can be seen from the chart above, investors have reduced their holdings in all but two weeks this year.
Coincidentally, the record level for gold ETF holdings was put in right at the end of last year at 84.6 million troy ounces. Thus, this year's decline of 20.7 million ounces (and counting) comes off that record level.
Context is key. To put the ETF sales in perspective, consider that total global gold demand in all of 2012 amounted to 140.2 million troy ounces. Gold ETFs accounted for 9 million ounces of that demand.
When all is said and done, gold demand is expected to be sharply lower in 2013 compared with 2012, largely due to the swing in ETF demand.