Contrary on Dollar, Bullish Gold?!
Wednesday, 8/02/2017 13:43
That's how contrary investing works...
IT HAS been a contrarian trade that has not yet worked out, writes Gary Tanashian in his Notes from the Rabbit Hole.
By that I mean my short position on the Euro and preparation for a firming US Dollar.
The market has cheered the supposedly dovish Fed, and USD got smeared again as the world's counter party paper boosted assets far and wide...on nothing but perceptions and a hell of a lot of momentum and gaming post Fed meeting.
Uncle Buck is due for a contrary bounce and it is coming due soon. I hate to be a party pooper, but in seeing all kinds of commodities and anti-USD items ramping up now and seeing this picture of USD making a new low, post Fed, I am brought toward the point of having to admit I was wrong on USD.
I am toward that point but ever plucky, am not at that point! Not on FOMC hype and algos' and robots' reactions. I am still holding the Euro short.
What's more, I am actually feeling more bullish on the Dollar as I think about it. The sentiment profile was stacked against Uncle Buck (contrary bullish) before today and I am wondering about exclamation points and the like. As in, could this week mark a low?
So what of the stock market if Uncle Buck gets a new bounce in his step? I think you know what of.
At the very least momentum would grind down and signal an oncoming correction or dare I say it, even the end of the bull. Right now I am not expecting a new bull market cycle in USD, and I am also not yet expecting the stock bull market's end. But a strong bounce in the senior currency should be enough to bring the pressure on asset markets, so well gamed during USD's bear phase. If USD firms as expected, the greed of man and machine will be punished.
The gold bugs as well joined the party. The sector has after all been on an expected bounce. I am slowly adding positions in quality miners (while hedging in the short-term), but just as I maintained my Euro short in the face of the greed fest, I not only held on to miner hedge DUST, I added to it near the highs of the day as HUI poked the SMA 200, which would be a key resistance parameter to be taken out in signaling a real bull phase.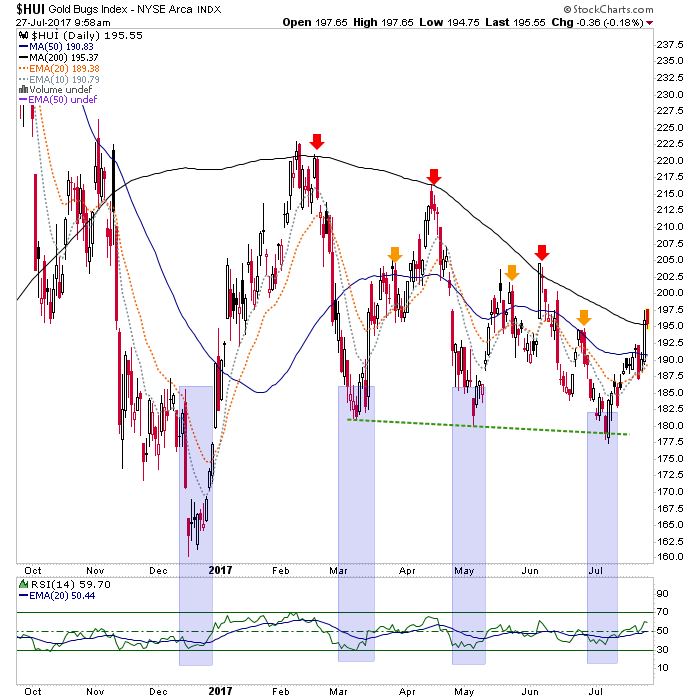 Before ardent gold bugs turn me off, there is plenty of good in development for the sector, and that is not including the positive gold seasonal average beginning in August.
"But Gary," you ask, "how can you be preparing to get bullish on the gold sector while getting bearish on the rest of the anti-USD crowd?"
Easily; take a look at the ignominiously poor performance of the gold sector during the span of USD's savage decline to support. This while certain commodities and markets gain big momentum bids as everyone chases the anti-USD trade.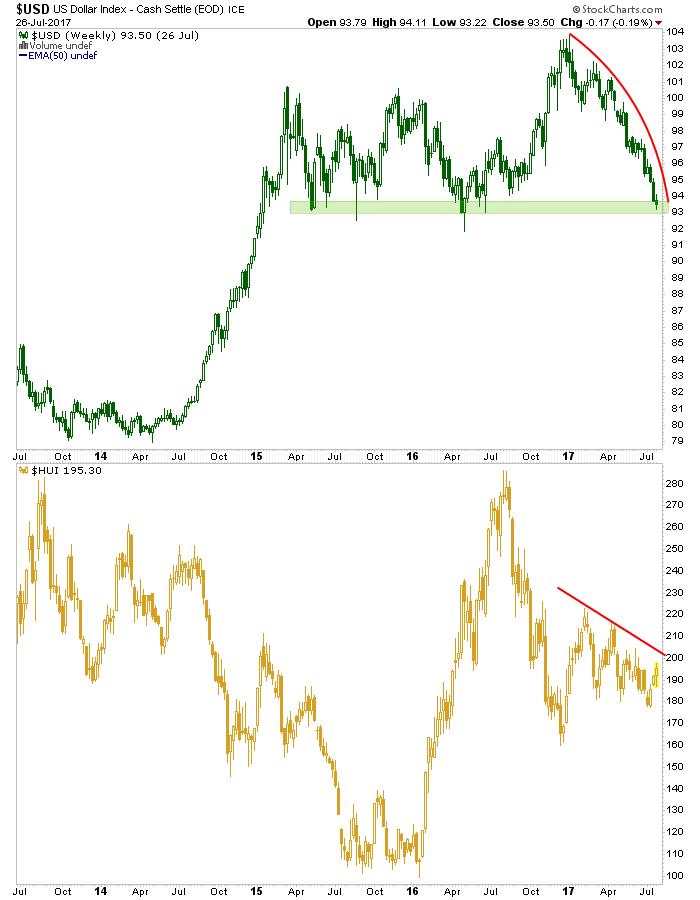 But of course, it is not just a simple chart that needs to be followed. You have got to have your macro fundamentals straight, which means tuning out inflationist gold bugs who want to run with copper, oil, EMs and other things that go in positive correlation to the global economy.
If the US Dollar – against which the stock market has been levered – rises we will see how long confidence remains firm. If gold starts to outperform the confidence trade, it will be the time to get aggressive in the miners.
So to put it succinctly, I am very capable of being constructive on both the US Dollar and the gold stock sector concurrently. Indeed, the best investment atmosphere is during disinflationary times for asset markets, not the times when hot inflationary plays are popping up all over the planet.