Return of the Zombie Dollar
Wednesday, 5/25/2016 09:01
Not dead yet, as sinking gold and silver prices show...
The ZOMBIE CURRENCY is smashing gold over the head with its shovel and the rest of the commodity world is following precious metals lower, writes Greg Guenther in Addison Wiggin's Daily Reckoning.
Silver dropped nearly 4% one day last week. Crude hit the skids for the second straight day. As if that wasn't enough action for us, stocks are also breaking down.
Just when you think you have something figured out, the market throws a wrench in your gears. I explained yesterday just how annoyingly difficult the market's getting these days. Now we're seeing some serious whipsaw action that could throw some of our biggest market themes to the dogs.
First up the almighty US Dollar.
Less than one month ago, we alerted readers to a breakdown in the Dollar that had the potential to propel gold to new highs. Not only did this Dollar slump fuel the gold rally – it also slammed the US Dollar Index back toward early 2015 levels. Slipping below its 2015 lows meant the risk of a much bigger drawdown for the Greenback.
But now it's clear that the US Dollar wasn't finished screwing with our plans. After feigning a breakdown move, the buck is back. An oversold bounce has now turned into a May rally that's managed to toss a bucket of cold water on gold's recent run up.
Check it out: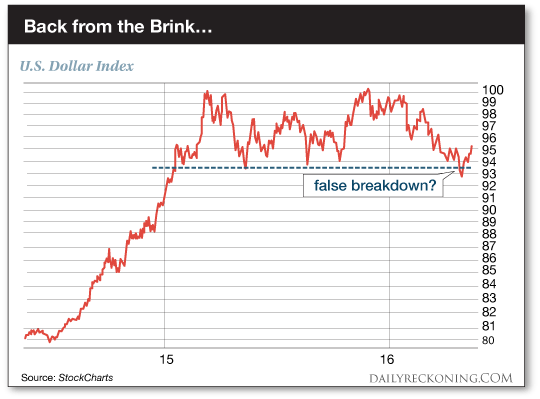 After crash landing, the buck has reached 1-month highs and gaining steam. It's even retaken its 50-day moving average for the first time since February.
Of course, gold's weakness last week was all thanks to the US Dollar's freak move back from the brink of destruction. And it perfectly illustrates one of the reasons the market has been so difficult to trade this year. Any definitive move has sharply reversed. That sad fact is blowing up trades left and right. Breakouts and breakdowns are getting faded as the market continues to chop along.
Remember the chart I showed of gold's false breakdown at the very end of 2015? That move primed the pump for the gold rally we've enjoyed so far this year...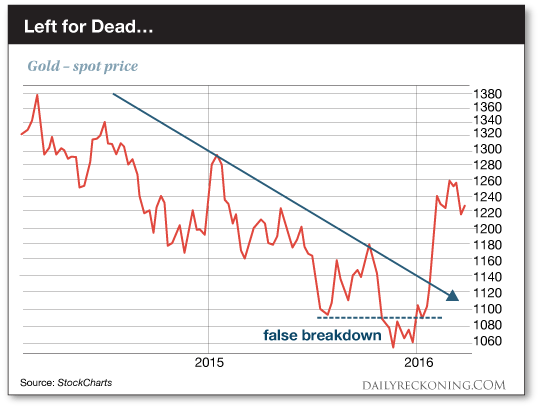 For the first few months of 2016, most investors thought the gold rally they were witnessing would burn out rather than streak higher. That's the power of the false breakdown in action. Traders and investors have a difficult time adjusting when a dead-simple downtrend unexpectedly breaks free and starts ripping higher.
We've witnessed some wild swings and plenty of shakeouts as gold has risen from the dead this year. As we've told you many times before: comeback moves are never clean or easy. But they are powerful – which is why we were so successful trading gold miners over the past couple of months.
After last week's action, it's time to take a step back to see what the market does next. We're reminded of a Morgan Stanley note to clients that was widely circulated earlier this year by a frustrated analyst. He complained that nothing was making sense anymore and the market environment had created a "Bizarro World" for investors...
"Everything seems backwards. Sell winners, buy losers, own staples in both up and down markets. Just do the opposite of what makes sense."
With so many false moves spreading across the market these days, this bizarro advice is starting to look smarter by the day...