Price Drop: Time to Buy Gold?
Tuesday, 10/22/2019 09:01
Meantime, Trump keeps to his word...
GOLD's Dollar price is headed back to the mean after its price was up nearly three standard deviations in August, writes Frank Holmes at US Global Investors.
As CLSA analysts said recently, such price dips look like attractive buying opportunities "in anticipating of a resumption of the initial base breakout."
And in gold volatility, the price is heading back to its mean for the last five-year period.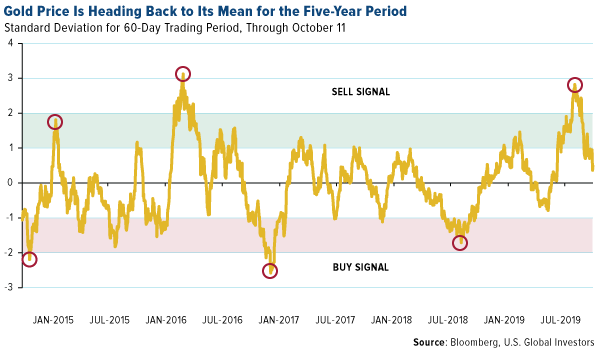 Last week our office was visited by the legendary economist Nancy Lazar, co-founder of Cornerstone Macro, who commented that the growing mountain of global debt, not to mention the proliferation of low to negative-yielding debt, makes the yellow metal very attractive right now.
I agree. I've reiterated my call for $10,000 gold. Some critics believe only a major event, such as a war or famine, would be enough to push the metal up that high, but really all it takes is monetary and fiscal mismanagement.
That's exactly what we're seeing right now in Europe, where growth is slowing because of business-killing regulations. But instead of getting rid of these rules, interest rates have been allowed to dip below zero.
In Denmark, banks are actually paying borrowers to take out a mortgage, which is contributing to what Nancy sees as a European housing bubble.
Conditions aren't much better in the US – or at least they weren't, until President Trump began rolling back unnecessary regulations.
According to Steve Forbes, there are 773,000 words in the Bible, which sounds like a lot until you learn that there are around 10 million words in the federal income tax code. Similarly, there are more than 185,000 pages in the Federal Register of rules and regulations.
That's up 17% from 158,000 pages in 2008. But in 2018, the number of pages actually fell almost 1,000 pages, or 0.5%, meaning Trump is keeping his word.