Gold Crash 2016: What to Do Now?
Wednesday, 10/05/2016 15:30
Gold prices sink back to pre-Brexit levels. Sell, buy, or hide behind the sofa...?
GOLD CRASHES, sending traders running as it crashed below key support, writes Greg Guenthner in Addison Wiggin's Daily Reckoning.
Tongue wagging from Team Fed and a rising Dollar helped slap gold below $1300 for the first time in more than three months as investors begin to comes to grips with a potential December rate hike.
The Midas Metal smashed through the lower end of its trading range, shedding more than $25 before lunch on Tuesday while the US Dollar index stampeded higher. It was the most dramatic gold move we've witnessed since the Brexit vote aftermath – the last time the metal traded below the $1300 level.
The selling was relentless. By late afternoon, gold had shed $43 and was sitting at three-month lows. When the dust finally cleared, the yellow metal posted its biggest daily loss in nearly three years, according to data from Bloomberg.
If you ever needed an excuse to start following the charts of your favorite assets, yesterday's crash was you wake up call. For the first six months of 2016, gold plays were our most profitable trades of the year.
But there's a reason we haven't touched any precious metal trades lately...
Markets move fast. After a rip-roaring first half, gold started to stall out. Just a few months ago, we were watching precious metals and miners vault to two-year highs as the Fed backed off on a summer rate hike and world markets shook in fear of the Brexit vote. This morning, we're watching the metal's halfhearted attempt at an oversold bounce.
The fast money moved on to newer and better trades week ago. We warned you back in August that a lot of folks would attempt to hang onto their metal and mining plays as they stumble toward Labor Day. But as traders, we can't ignore what price is telling us.
Let's break it down...
First, check out this chart: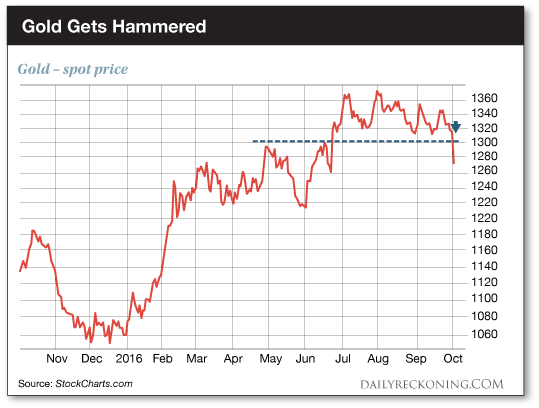 You can clearly see how $1300 has become a pivotal level in gold. As precious metals started to lose momentum in early August, it was only a matter of time before traders would test this level. Now that sellers are in control, recovering $1300 will be an uphill battle.
Then there are the miners. These stocks were our first "tell" back in the summer that gold's monster move was in for more than just a short break. These volatile stocks had already broken below critical near-term support levels two months ago.
Miners are now readying for an important test of the sector's 200-day moving average. This is an area we will watch carefully for any signs of a sustained bounce.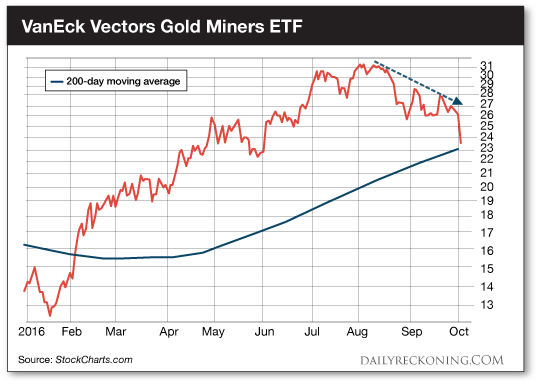 You might be tempted to snag some shares of your favorite miner after this sharp pullback.
But I must warn you: the risks of being early on a play like this far exceed the potential rewards. Don't be a dummy! Wait for some confirmation that we're going to get a sustained bounce before gambling on higher prices.
I'll keep an eye on gold and the mining sector as it attempts to recover from yesterday's crash. If gold and the miners reverse course and blast higher, I'll gladly get us back into some potentially profitable trades. But for now, the right move with gold and gold miners is to wait on the sidelines for more favorable trading conditions.
We also have to deal with other outside forces pulling at gold as we head toward the end of the year. Rate hike roulette is going to be a fun game leading up to the December Fed meeting...
"The odds of tightening at the next central bank meeting on Nov. 1-2, the week before Americans head to the polls in the presidential election, is just 19.3%," Bloomberg reports.

"Still, the probability of a move in December is now 61.8%, up from less than 40% two months ago."
Right now, the market is telling us investors are trying to come to grips with a December hike. We could spend all day speculating about whether or not the Fed will actually raise rates and how this will impact gold in the long-term. But we have to remember that price is king. Gold could continue to break down, regardless of what happens with the Fed.
Those are the facts.