Gold Bullion Sentiment Rising in US, Falls on 'Euro Complacency'
Tuesday, 4/07/2015 09:15
US investors start using BullionVault at 17-month record pace in March...
GOLD BULLION demand saw the US come in, Eurozone ease back in March, says Adrian Ash at BullionVault.
Overall, that took the total quantity of gold bullion owned by our customers to a new record high, and also buoyed our Gold Investor Index of private Western sentiment towards the metal.
Using data only from
BullionVault
, the world's largest physical bullion market online, the Gold Investor Index counts the number of people growing their gold holdings against those cutting, rather than measuring demand by weight.
The index is rebalanced so that a reading of 50.0 would signal a perfect match. It peaked at 71.7 in September 2011, and hit near-five year lows of 50.5 this New Year.
And slipping from February's jump to 54.5 the index held last month at 53.1 – again beating its previous 12-month average, and for only the fourth time since the start of 2013.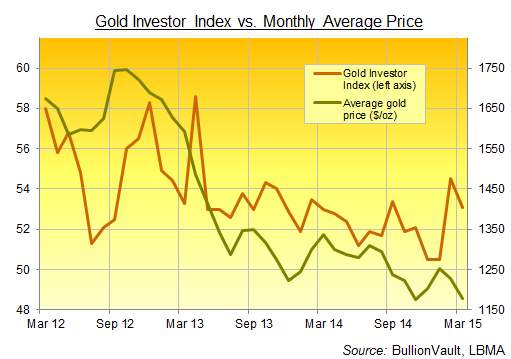 FX volatility may look to be leading investor sentiment on precious metals right now. But a split between gold and silver sentiment amongst private investors across the developed West also points to continued anxiety about stock and bond markets, especially in the US.
In
contrast to gold bullion
, sentiment on silver fell sharply last month, down from 54.8 in February to just 50.3 in March – the fourth fastest drop of the last three years, and only the eighth time the Silver Investor Index has fallen beneath the Gold Investor Index since March 2012.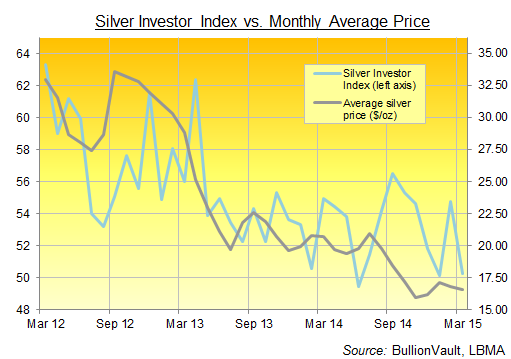 This suggests investors switched to focusing more on financial insurance, something backed by March's changes in
client holdings by weight
.
The quantity of silver owned by BullionVault users ended last month unchanged at the all-time record set in February. But our customers continued adding gold in aggregate, growing their gold bullion property to a new all-time record of 33.2 tonnes.
Yes, complacency in the Eurozone over high equity valuations and a possible Grexit has seen the region's gold demand ease back. But trailing the jump in US sentiment, gold sentiment amongst investors in the UK also held firm last month in response to the rising volatility in Gilts, the Pound and the FTSE ahead of the General Election in May.
Although the average
daily price of both precious metals
fell against the Pound in March, silver in fact reversed all of February's 4.5% drop by month-end, and gold rose almost 2% to close the month back above £800 per ounce.
Priced in the Dollar, gold's daily average meantime fell within $2 per ounce of November's 4-year low. US customers took advantage of that Dollar strength, with more than three times as many starting or adding to their gold holdings as reduced them.
Euro gold prices, in contrast, rose for the fourth month running to hit the highest average in almost two years at €1089 per ounce. Given that rebound, plus increased confidence in Euro stock markets following the start of the European Central Bank's QE bond buying, the number of gold sellers across the 19-nation currency union almost balanced the number of Euro gold buyers.
The number of new US users funding their BullionVault account for the first time meanwhile rose 52% from February in March, reaching the highest level since October 2013. The number of first-time users living in the 19-nation Eurozone fell 30% in contrast from February's number, and dropped 55% from January's 21-month record.
Still, the first calendar quarter of 2015 as a whole recorded the largest number of new Eurozone customers since Q2 2013, back when a 25% crash in world gold prices unleashed heavy demand from new investors.
Bottom line? Local news, pricing and investing anxieties may ebb and flow. But gold bullion continues to grow its appeal.