Where Oh Where is the Gold Bull Market?
Friday, 3/23/2018 09:01
Patience needed. Still...
WHERE is the gold bull market that we predicted would begin about now? ask Rudi Fronk and Jim Anthony,cofounders of Canadian explorer Seabridge Gold, writing for The Gold Report.
Here is our broad-based overview...
The financial markets continue to expect an aggressive Fed going forward with four – even five – rate hikes this year and a continuing shrinkage of its balance sheet (Quantitative Tightening).
Given this, gold has held up pretty well, essentially range trading, but the gold mining stocks have suffered because they are leveraged calls on gold that only "work" with expectations of a rising gold price.
For gold to go higher, market psychology has to change. In particular, the stock and credit markets have to change their perceptions of the direction of Fed policy.
What brings that about? There are any number of possible catalysts:
A serious drop in the stock market;
a sudden rise in interest rates as the bond market rebels against too much supply;
a sudden widening of credit spreads reflecting an increased perception of risk;
a sharp upward acceleration in price inflation which the Fed decides to ignore;
credit chaos in the EU as the ECB tries to end QE; or
a credit crunch in China.
There is strong evidence supporting each of these possibilities and it probably only takes one.
We are approaching a fork in the road, in our opinion.
ROUTE #1: What if all the economic bulls are wrong and the economy weakens despite the tax cuts and the fiscal stimulus of a Federal budget gone wild?
In that case, the Fed will pause and the massive short position at the front end of the Treasury curve will be seriously offside. Short rates will plummet. Negative real rates of interest will send gold flying.
This may be happening now, before our very eyes. At the start of February, the Atlanta Fed's Q1 GDP expectation was an exuberant 5.4%. As of March 14, their outlook had collapsed to just 1.9% following a string of negative data on the US economy over the past six weeks.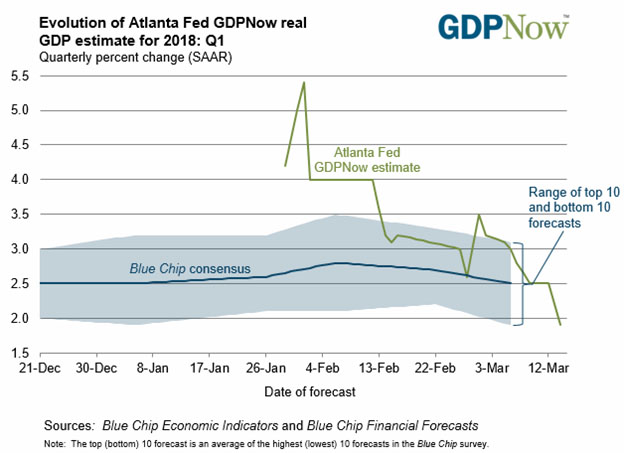 We have seen this same pattern of disappointment repeatedly over the last eight quarters. The growth never meets expectations.
ROUTE #2: If the economy does gain steam, we think the Fed will lag in raising rates. We expect renewed growth would cause real yields to decline as inflation finally picks up.
This would be good for gold, resembling the 1970s period where Fed Chairmen Arthur Burns and Bill Miller neglected to raise the Fed Funds rate as quickly as inflation.
ROUTE #3: In our view, the only scenario that really hurts gold going forward is a strengthening economy that has the Fed continuing to try to get ahead of inflation. This is essentially what markets now believe and have priced into gold. Just about anything different helps gold break out of its trading range and brings fresh money back into the gold stocks.
As previously stated, gold needs to break decisively above the 2016/17 high at $1370 to confirm that the bull is up and running. That's still our expectation for the first half of this year.