Gold's 2016 Rebound Compared
Monday, 3/14/2016 10:05
Can gold climb to $1400 per ounce in the next few months...?
AT THE START of 2016, renowned fund manager and bond king Jeff Gundlach predicted gold would surge to $1400 per ounce, writes Jordan Roy-Byrne at TheDailyGold.
That was quite the call considering gold was still in a bear market.
Gundlach reiterated his target a few days ago in a webcast. Gold then closed the week below $1260 per ounce after reaching as high as $1287 per ounce following the ECB decision.
Corrections in both gold and gold stocks have been limited to swift declines lasting no more than two days so far this year. While we cannot predict the future, we think there is some chance that gold could reach Gundlach's target before a sustained correction.
Below is the gold recovery analog chart or bull analog chart. We compare the current rebound to those from major lows seen in 1976 and 2008. (By the way, it is great to be constructing bullish analogs rather than bearish analogs.)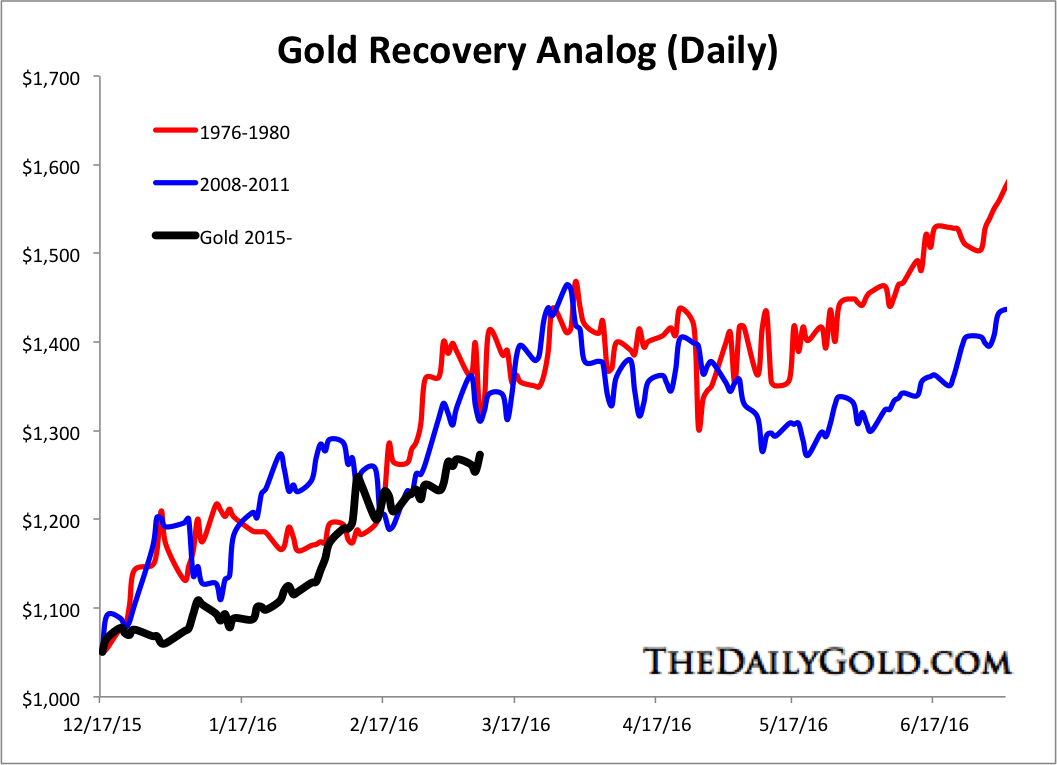 As we can see, if this recovery in gold continues to follow the path of those two recoveries then gold could reach $1400 per ounce before correcting. The analog hints that if gold reached $1400 per ounce then it could correct $100-$120 per ounce.
While gold's monthly and quarterly charts show very strong resistance around $1330 per ounce, its weekly chart argues that $1400 per ounce is the next major target after $1300 per ounce. In other words, if gold can make a weekly close above $1300 per ounce, then it has a chance to run to $1375 to $1400 per ounce.
Note that $1375 is the 38% retracement of the entire bear market. Initial resistance is $1300, which is the measured upside target from gold's recent, small breakout.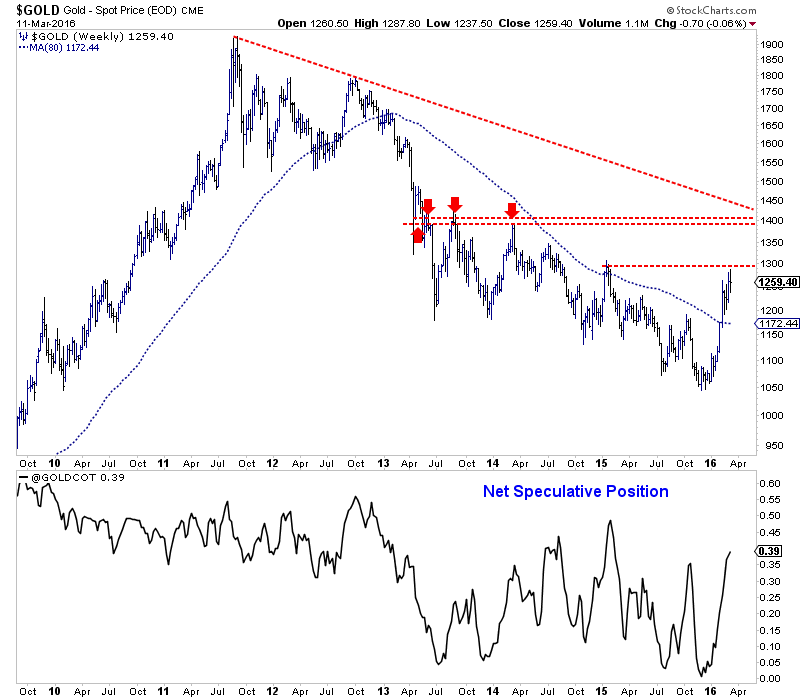 Note that gold's current net speculative position is 39% of open interest. While this appears bearish in the recent context of a bear market, gold is now in a bull market. From 2001 to 2012, gold's net speculative position, when high, ranged from 50% to 60%. Moreover, the current net speculative position remains below 2014 to 2015 highs of 44% and 49%. If gold wants to move above $1330 per ounce and towards $1400 per ounce, the current setup of the commitment of traders report won't stop it.
Furthermore, open interest in gold surged to 499K contracts. That is the strongest open interest in more than 4 years! Rising open interest usually confirms an uptrend. Note that from December 2001 to May 2002 open interest increased 90%. From December 2008 through March 2009, open interest increased 50%. Over the past five weeks open interest has increased by 30%.
When a market makes a strong rebound following a difficult bear market, investors and pundits suddenly become cautious due to the subconscious fear that the bear will reassert itself. We have even made the same mistake in recent weeks, thinking gold and gold stocks would correct before another strong leg higher.
While the possibility remains, there is equally as much evidence that Jeff Gundlach is right and gold will reach $1400 per ounce before any setback. Gold and gold stocks have refused to correct for more than a few days at a time. Do not be surprised and unprepared if this run continues. I believe any extended weakness in gold or gold stocks is a buying opportunity.