Gold Buyers Drop 19%, Sellers Rise 9%
Tuesday, 11/04/2014 09:03
Gold Investor Index shows "fatigue" as Fed halts QE, price hits 4-year low...
GOLD BUYERS still outnumber and outweigh sellers amongst private investors, writes Adrian Ash at BullionVault.
But after September's jump in sentiment towards gold, October reversed that move on our Gold Investor Index.
The Gold Investor Index measures the balance of people adding to their gold holdings on BullionVault – the world-leading gold and silver exchange online – over those choosing to reduce their position during the month.
The index jumped to a 7-month high in September as prices fell hard. Because the trend to bargain-hunting amongst private investors continued, extending to nearly 18 months from the start of spring 2013's price crash.
October however brought first a test and then – after the US Federal Reserve halted the last of its monthly quantitative easing – a break below gold's 2013 Dollar-price lows at $1180 per ounce. Rather than unleashing new demand, the Gold Investor Index erased its prior jump, falling at the fastest pace since May 2013.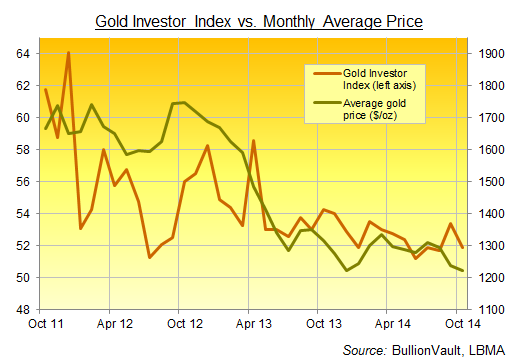 The Gold Investor Index hit a series peak at 71.7 in September 2011. This June it fell to 51.2, the lowest level since February 2010.
A reading of 50.0 would indicate a perfect balance of net buyers and sellers across the month. And last month it retreated from 53.4 to 51.9 as the gold price in Dollars broke new 4-year lows.
To repeat: Self-directed investors choosing to buy gold continue both to outnumber and outweigh sellers. But after 18 months of bargain hunting starting with the 2013 crash, bullishness is showing fatigue.
Last month saw the number of net gold buyers on BullionVault drop 19% from September's 6-month high, while the number of sellers rose by 9%. This wouldn't be surprising without the previous move to buy the dips. The Fed has finally halted QE, and the US stock market is setting new all-time highs. Gold and the stock market have now been going in different directions for more than two years, the longest stretch since gold began its decade-long bull market during the Tech Stock Crash of 2000-2003.
So while gold offers financial insurance to private portfolios, getting that cover in place is plainly not seen as urgent. Which may prove unwise. The stockmarket has never been more expensive. Gold, on the other hand, is trading at a four-year discount.