Has Globalization Topped Out?
Friday, 6/17/2011 16:43
Two signs – and another to look out for – that tell us an even bigger crash lies ahead...
How do we know "globalization" is now a sell? Luggage maker Samsonite went public in Hong Kong yesterday. The shares opened at HK$14.50 and closed at HK$13.38 for a loss of 7.7%, writes Dan Denning in his Daily Reckoning Australia.
Globalization has made the world smaller, erasing national borders (at least in a financial sense, and sometimes in a literal sense), and creating the need for a lot of luggage.
But when any business owner decides there's more money to be made selling stock than selling product, you've reached a high-water point. It happens all the time. Initial public offerings are cleverly pitched to the public as a chance to get into an exclusive club and own a red-hot stock. It's really just another wealth transfer in disguise, from the gullible public to the insiders, and totally consensual.
It's not a crime. But it is a sign. You see it all the time. When insiders get together with investment brokers and sell a business to the public, you better have a very good read of the prospectus to see what the business plan is and where the profits (for shareholders) will come. If you want to keep it simple though, just think of high-profile IPOs as the sign of a top in any given market.
If you accept that little investment axiom, the chart below is a cause for concern. It shows the trading action in Glencore, the huge international commodities trader. Glencore went public in Hong Kong and London in mid-May among much fanfare and large volume. The stock is working its way lower in fits and starts.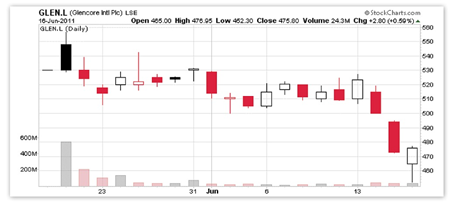 Was Glencore's IPO a sell signal for commodities? Well, another global credit crisis-this time induced by a de-facto sovereign-debt default in Greece-certainly would be bearish for commodities. The major central banks of the world have expanded their balance sheets by trillions of Dollars since the onset of the GFC in 2007. They have a lot less flexibility at the moment.
The ugly and frightening truth is that Europe's banking system is probably going to have to be recapitalized before this is all said and done. So is America's. And come to think of it, so is China's. Widespread insolvency and flat-out bankruptcy in the world's financial sector are probably not bullish for commodity demand.
The only caveat is that outright debt monetization would be wildly inflationary-central banks creating trillions in digital cash to provide emergency lending and liquidity should financial institutions again become deeply distrustful of one another. But even then, spiralling inflation caused by huge currency devaluations is not the same thing as a demand-led bull market in raw materials.
One other interesting note about the Samsonite and Glencore IPOs is where they happened: Hong Kong, not New York. Investment brokers know that the best place to sell stocks is a market where people have money. Investors and speculators in Hong Kong and Shanghai are clamoring for ways to lose their money. The investment industry's job is to give them a way to do it.
It's not happening in New York because the market action there has become divorced from anything like earnings reality. New York runs on Fed money and a fantasy narrative that America's economy is in a recovery. This is why the big IPOs in New York have been spiritual rehashes of the dot-com era.
Pandora, an Internet music provider, which lost US$1.8 million last year, went public earlier this week. IPO participants got shares in the $10 to $12 range. They were up as much as 40% on the first day of trading. That briefly gave the company a market value of $37 billion. But take a look at Pandora's first two days as a public company.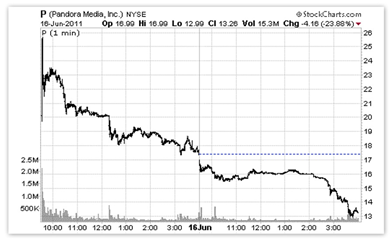 Now, insiders or participants in an IPO often have shares granted to them at a price that's much lower than the IPO price, or the price the shares trade at in the "aftermarket", once it's begun trading. There's nothing illegal about this, again. But it does tell you – other than the underwriter who sells the stock to the public – who benefits soonest from the IPO.
IPOs are a way for long-term insiders to "cash out" and boost their compensation by selling the business to the public. It's true that IPO shares are usually "locked up" for a set period of time to prevent the instant flipping of the shares from the insiders to the public at a handsome instant profit.
But the question for the investment buying public is, or should be, is the business going to be able to generate earnings for shareholders? And are the shares reasonably priced? Or are the insiders selling for a specific reason? That reason being there's more money to be made in selling shares in the business than in operating it.
And here's a larger question to ponder over the weekend: has the coordinated reflation of stock markets by central banks since Lehman Brothers collapsed in 2008 actually been a giant pump-and-dump exercise? Were QE1 and QE2 like mini-IPOS for the stock market in general, a kind of re-selling and rebranding of stocks as an asset class?
Here's an argument: The insiders – mostly financial institutions – have used their control over monetary policy to flood the market with cheap bank reserves. Those excess reserves have been put to use in financial markets to run up stock, bond, and commodity prices and generate trading profits for banks and investment houses. The upward momentum in markets (more or less) has given anyone who can see the writing on the wall a chance to liquidate their positions into a stable market and leave the shareholding public with all the risk.
Nefarious? Paranoid? Conspiratorial? Or just the same as it ever was?
It's not much different than the exercise Jesse Livermore described in Reminiscences of a Stock Operator. If you're a large seller wishing to liquidate a position (the Money Power wishing to sell the assets it bought with credit it created, at no cost, for a high price) the first thing you do is become a buyer and create some buying momentum in the stock.
Once the public begins to bank on that momentum and get back in the market with conviction, you can liquidate your position into a rising trend. Then, when the public is all in and you're all out and the Fed is set to exit the market and Greece is set to crack, you're in the perfect position to buy up all the good assets cheap, after the crash, when there are no other buyers to compete with and the streets are littered with globs of yogurt and broken bottles and shattered middle-class dreams.
Are we at the big moment now, where the wealth transfer is accomplished? As we've said all along, the Fed needs a proper stock market crash to justify another round of asset purchases. That could mean even steeper stock falls. What will follow is an even more aggressive monetization of government debt – or outright default.
How will you know when the whole system has descended into farce and fraud? Look for the Facebook IPO.
Want to invest in real, hard assets like physical gold? Discover more about the safest way to Buy Gold at BullionVault...