Game-Stopped: Silver and Reddit
Wednesday, 2/03/2021 19:01
Hey, let's democratize capital markets...!
THOSE
of us with kids or grandkids may at some point have stepped inside a GameStop,
writes Frank Holmes at US Global Investors.
If so, you might be familiar with the video game retailer's tagline: "Power to the players."
The same slogan could just as easily be the rallying cry for the millions of millennial and Gen Z Reddit-users who took to Robinhood last week to drive up the share price of the beloved yet struggling GameStop.
(Fun fact: Ross Perot was one of the earliest seed investors in GameStop's predecessor, Babbage's, which first opened its doors in Dallas, Texas, in 1984.)
By now you've likely heard the full story. But just in case: A number of hedge funds, including Melvin Capital and Maplelane Capital, took out short positions in GameStop, whose sales were lagging even before the pandemic killed foot traffic. In response, anti-Wall Street organizers on Reddit urged readers to buy GameStop options en masse to catapult its shares "to the moon."
This in turn forced Melvin and others to buy GameStop shares at much higher prices to cover their positions, leading to multibillion-Dollar losses. According to reporting by the Wall Street Journal, Melvin lost more than half on its investments in January.
GameStop, meanwhile, surged from around $19 a share to $325 – more-than 1,600% increase. The stock traded a head-spinning $100 billion worth of shares last week, more than Apple and Amazon, according to Bloomberg's Eric Balchunas.
To traders who genuinely care about the company's survival, I would suggest they consider supporting it by spending their money there this weekend.
The Reddit-fueled rally has drastically impacted price discovery in not just GameStop but other underdog stocks as well. Shares of movie theater operator AMC Entertainment, home goods retailer Bed Bath & Beyond, BlackBerry and Tootsie Roll Industries have also popped.
Even Blockbuster's liquidation holding company saw surreal levels of trading, its daily volume jumping from zero just a month ago to nearly 24 million shares.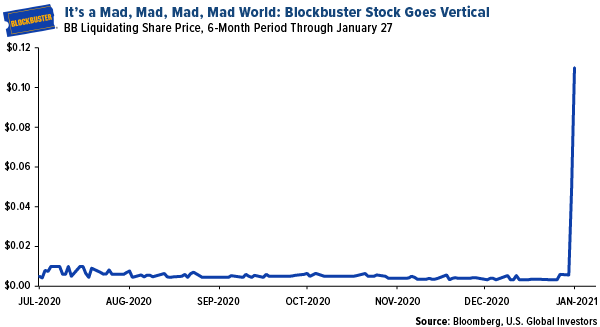 The price of silver has also surged on the back of Reddit forums, touching an eight-year high of $30 an ounce in intraday trading on Monday 1 February.
Gil Scott-Heron, considered by many to be the first rap artist, informed us back in 1971 that "The Revolution Will Not Be Televised".
That may be so, but it will be tweeted, shared on Instagram, upvoted on Reddit and traded on commission-free Robinhood using decentralized Bitcoin and Ethereum.
"Power to the players" indeed.
No matter where your opinion falls in all of this, you can't deny that it's historic. To my knowledge, nothing like this has ever happened before in capital markets, where millions of small traders, many of them using their $600 stimulus checks, worked in tandem to cripple wealthy institutional investors, leveraging their very own trading strategies against them.
Metro-Goldwyn-Mayer (MGM), in fact, has reportedly acquired the film rights to an as-yet unpublished book about the Reddit-GameStop saga. The book's working title? The Antisocial Network.
In the process, a number of GameStop traders have made life-changing amounts of money.
Let me be very clear: I'm in favor of Robinhood's mission to democratize capital markets and finance, but like democracy itself, things can sometimes get messy. What the Redditors are doing is not investing. This isn't the same as Robinhooders buying airline stocks last May after Warren Buffett dumped his positions in the big four carriers.
It isn't even speculation. It's activism – think of it as a type of anti-Wall Street "Arab Spring" – and I fear that some young people may get hurt when the bottom falls out.
Robinhood clearly felt the same when it halted trading in some of the heavily shorted stocks (and, on Friday, as many as 50 other stocks). The online broker, whose tagline is "Investing for Everyone," tried to clarify its decision in an email last week, saying the temporary restriction "was not made on the direction of any market maker we route to or other market participants."