Fed Policy Laid Bare
Saturday, 8/27/2011 12:53
No hiding it – US central bank policy is to devalue the Dollar anywhich way...
The U.S. FEDERAL RESERVE surprised the market this summer by extending its policy of 0.00 to 0.25% Fed funds interest rate to mid-2013, writes Bud Conrad, economist at Doug Casey's Casey Research.
The way the Fed manages to drive rates lower is to buy Treasury bonds with newly created money – driving the price up and the rates down. The big question is whether the policy will have a sizeable effect on markets. The chart below shows the historical jump in the Fed's combined policy tools that were used to lower rates and bail out financial institutions through a variety of programs. These include the big purchase of mortgage-backed securities (MBS) called QE1 and the large purchase of Treasuries called QE2.
The point of the extrapolation in the chart is just to guess how much more money the Fed might need to create to keep the rate extremely low for another two years. By connecting a straight line from the start of the unusual policy tool expansions in late 2008 to today's number, and then extending it to 2013, we can estimate that the policy might require about $1.5 trillion in order to keep the rate low.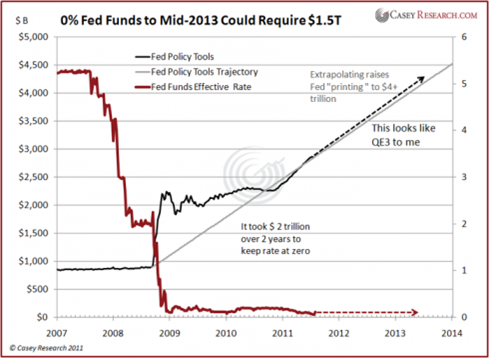 The Fed doesn't calculate the amount of money that might be required and probably doesn't know for sure. They just keep buying on the open market until the rate comes to its target. If there were a loss of confidence in the Dollar, the amount could become very large – and in the extreme, printing more money contributes to that loss of confidence, which in turn causes runaway inflation. We are not there yet. But this kind of open-ended promise is a dangerous precedent because we can't be sure of the cost of the commitment.
However, we can say that the Fed policy is to let the Dollar fall and to support the bankers and politicians who want to stimulate the economy.
Get the safest gold at the lowest prices using world No.1 online, BullionVault...