Why Macau When There's Iron?
Thursday, 4/28/2016 09:49
Here's what happens when government scatters poker chips everywhere...
The CAT-and-MOUSE game between central banks and the market continues, writes Greg Canavan in The Daily Reckoning Australia.
The US Federal Reserve had a meeting on monetary policy overnight and, as expected, didn't raise interest rates.
But they did leave the door open for a June rate rise.
They did so because financial markets have behaved themselves over the past few months. The Fed, manager of financial markets as much as the economy, sees this acquiescence as reason enough to lean towards another interest rate rise.
According to Bloomberg:
"The Federal Open Market Committee omitted previous language that 'global economic and financial developments continue to pose risks,' instead saying officials will 'closely monitor' the world situation, according to a statement released Wednesday following a two-day meeting in Washington. The Fed left its benchmark interest rate unchanged.

"'Their removal of the line on risks is pretty significant,' said Carl Tannenbaum, chief economist at Northern Trust Corp. in Chicago and a former Fed official. 'That might reflect increased comfort on the committee that global influences appear more manageable.'..."
Is this dude for real?
The whole thing is a charade. The Fed removed the language about financial market risks because stock markets have gone up since February. And why have stock markets gone up? Because the Fed promised to put rate rises on hold because they were worried about falling stock markets!
Now they're simply having another crack at the impossible task of interest rate normalisation because markets have calmed down over the past few months.
They've opened the door to a June rate rise, while at the same time saying any increases will be gradual.
But if the market really thinks they will go ahead with a June rise, it will start to sell off. It's not as if the economy is strong and corporate profits are on the rise. The only reason for the big market rally in recent months is because the Fed took its foot off the rate rise accelerator.
The market reaction to the rate rise was interesting. US stocks rose slightly. The Dow was up 0.3%, while the S&P 500 rose 0.15%. Gold was flat, but oil jumped around 3%. No one seems too concerned about the Fed's faux 'hawkishness'.
Oil is now at the highest level since November last year. While the fundamentals haven't improved dramatically lately...if at all...the market's attitude certainly has.
The chart below shows the speculative positioning of 'managed money' in the West Texas Intermediate (WTI) oil futures market. This gives you a rough idea of the positioning of hedge funds in oil.
The shaded grey bit is the 'net' position, which accounts for the amount of long (bullish bets) and short (bearish) bets. As you can see, since bottoming in January, the net long position in WTI oil has surged.
In other words, much of the recent rally relates to an increase in hedge fund activity in the futures market. This could indicate a false rally for oil, or could pre-empt an improvement in the fundamentals.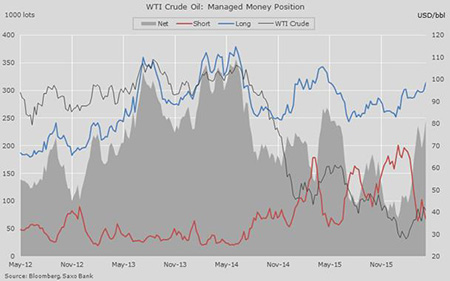 No one knows, of course. But the price is our best guide. And while you can expect to see a correction at some point, the big rally from January suggests the lows for oil are in.
As I've said before, though, while the bottom might be in for oil, it's hard to see it bouncing back towards the old highs anytime soon. After a big price crash, it generally takes time for a market to generate the energy to move higher again.
The big loser overnight was the Aussie Dollar. It tanked more than 2% against the greenback, although the move lower started yesterday in Aussie trade on the back of weaker than expected consumer price inflation.
I think it's time they expanded the mythical basket of goods and services they use to calculate consumer price inflation. I find myself forking out more and more on groceries these days, especially if, like me, you're conscious about food quality.
Really, is anyone's cost of living going down?
Didn't think so...
Anyway, a falling Dollar is good news for Australia. It was getting uncomfortably high, given the weak state of our economy.
Why foreigners are piling into our currency defies belief. Our political system is a joke. Our economic strategy is to just hope that things will work out. When it doesn't, I expect foreigners will turn on the Dollar again. They may have started last night...
The timing depends on China. Right now, there is so much excess cash moving through the Middle Kingdom that no one knows what's going on. The Financial Times tells us that:
"In the past month a near mania has gripped China's commodity futures markets, as an army of day traders and yield-hungry wealth managers have poured into the lightly regulated sector often with astonishing results.

"Daily trading volumes in some commodity futures contracts such as iron ore have been so large that sometimes they have exceeded China's annual imports. Turnover in Shanghai steel futures one day last week eclipsed all of the shares traded on China's equity markets."
Jeez...the whole country seems to have turned into a casino. That's what happens when the government scatters chips everywhere.
No wonder James Packers' Crown Casinos are struggling. Why go to Macau when you can punt on iron ore...
While commodity speculation is the latest fad in China, cracks are beginning to appear in the corporate bond market, which is where most of China's debt resides. Bloomberg reports that repo market interest rates are starting to rise. This indicates an increasing amount of concern about risks.
The 'repo rate' is what financial institutions pay to borrow cash short term. They put certain securities up as collateral and 'repurchase' them later, hence the name. The repo market is a way to increase leverage, because market players turn debt into cash and punt with it short term.
A rising repo rate suggests concern on the part of borrowers about the quality of the collateral and the risks involved in getting their money back.
This is a concern because, on the surface, liquidity is abundant in China. We'll soon know whether it is a major problem because Chinese corporates must refinance around 450 billion Yuan of debt each month through to the end of the year.
No doubt they will be able to refinance. At what cost is the real issue. And because debt levels are so high in China, it is very sensitive to increased debt costs.
China is a train wreck waiting to happen. But no one knows whether it will speed up from here, or maintain velocity for years to come. Either way, it's going to make for interesting viewing.