None So Blind
Monday, 5/21/2012 21:39
Wise old saws are proving all too true financially in 2012...


"SELL IN MAY and Go Away," is unfolding for the third year in a row, writes Gary Dorsch, editor of Global Money Trends.

This time around Spain sits at the epicenter, following similar acts of instability brought upon the world markets, by Italy and Greece in the previous two episodes. The first correction knocked the S&P-500 index 17% lower. The second correction extended for a 21% loss.

The corrections get bigger if they begin from a higher plateau. But traders are conditioned to expect intervention from the Federal Reserve to stop the markets' slide, whenever risky bets go sour.

Rescuing the stock market from natural corrections has become the Fed's de-facto third mandate. Traders are also conditioned to expect bank bailouts by the Eurozone governments, with some help from the ECB that staves off a calamity, and keeps kicking the can further down the road.

What's different this time around, however, is the severity of the economic malaise in Europe – a depression in Greece and Spain, and France and Italy teetering at the tipping point of a deep recession. Europe's slump is dragging down the export sectors of Brazil, China, India, Korea, and Taiwan, and a host of other countries. A slumping global economy, signaled by weaker industrial commodity prices, would eventually be difficult for Wall Street to ignore.

The odds of the Fed launching a third round of QE in the months ahead are slim to none, since the Fed can't be seen electioneering for the Obama administration while fending off strident attacks from the Republican opposition. In a bid to stay neutral, the most the Fed can do to help a slumping US-economy is to promise to keep the fed funds rate locked at zero per cent and possible extend Operation Twist.

Mark Twain, one of America's most famous literary icons, and known for his folksy humor, used to say, "History doesn't repeat itself, but it sure does rhyme." This time around that other sage old saying, "Sell in May and Go Away", was ignited by an upward spiral in Spain's 10-year bond yields to above 6%. There's mounting evidence that the Eurozone trading bloc is sliding into a severe economic recession, and it won't be easy to pull out of the quagmire anytime soon.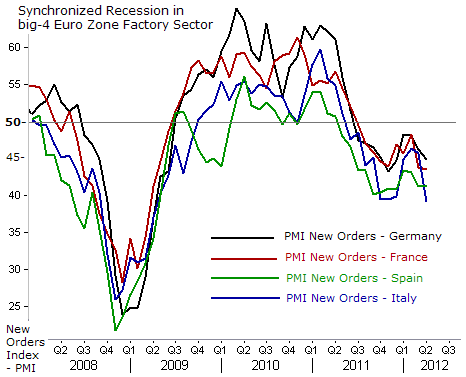 Nagging problems originating from Europe have a knack for whacking Wall Street and global stock markets in the May to June quarter, with uncanny timing. Bullish traders on Wall Street had figured they could put the Eurozone's debt crisis to rest, after the ECB's recent injections of €1 trillion into the Eurozone's banking system. Yet following the second LTRO installment on Feb 29th, Spain's bond yields ratcheted upwards.

Banks in Spain stuffed their coffers with government bonds, using the ECB's ultra-cheap 1%, three-year loans to stock up on Spain's sovereign debt. Spanish banks are estimated to have borrowed €316 billion directly from the ECB, equivalent to 11% of their total balance sheet. In the last four months, Spain's banks have bought a net €80 billion worth of government paper, and boosted total sovereign holdings to a record €263 billion. However, the upwards spiral in Spanish bond yields to above 6%, has translated into big losses for Spanish banks.

The bursting of Spain's property bubble has also left Spanish based banks holding vast amounts of foreclosed properties. Madridis expected to announce Friday that banks will be required to set aside an additional €35 billion to cover potential losses on real estate assets. This would be on top of the €36 billion in loss provisions that Spanish banks are required to meet under legislation announced in February. Spain's Foreign Minister Jose Manuel Garcia-Margallo said his country faced a crisis of "huge proportions" and that the Spanish banking system may ultimately need a bailout of €120 billion by year's end.

The cost of insuring €10 million of Spain's debt against the odds of default, have climbed to record highs, of €512,000, which would put added responsibility on the IMF to step-in with a bailout for the Spanish government and banking system. Shares of Banco Santander (STD) and Banco Bilbao (BBVA) have tumbled to their lowest levels since March 2009, reflecting fears that they'll need an emergency bailout.

The ECB's emergency loans put in place in December and February, through its LTRO program has rescued the banking system, but did not help the Eurozone economy. The ECB provided more than 500 banks with €1 trillion in 3-year loans at a borrowing cost of 1%. However, the Eurozone's banks are using the LTRO funds to refinance their own bonds that come due this year, instead of financing business activities in the real economy.

Bank loans outstanding in the Eurozone were only +0.6% higher in March from a year earlier, signaling a highly restrictive "credit crunch" is strangling the Eurozone's economy.

In the wake of the €1 trillion LTRO, European governments have unveiled austerity measures that include sweeping attacks on jobs, wages and basic social services. It has now become abundantly clear that the European political elite and the IMF are not aiming at staving off the bankruptcy of Greece and other EU states gripped by sovereign debt crises. Instead, the EU fiscal pact is designed to enable a massive transfer of wealth from the masses of the European population and into the coffers of the oligarchic banks.

European taxpayers now own the bulk of Greece's €266 billion ($345 billion) of debt. Over the course of the past two years, the Eurozone banking oligarchs were able to offload about €194 billion of toxic Greek bonds onto the balance sheets of the European Central Bank, the Eurozone taxpayers and the IMF. In 2010, before the first bailout of the banking Oligarchs, Greece owed about €310 billion to the private sector.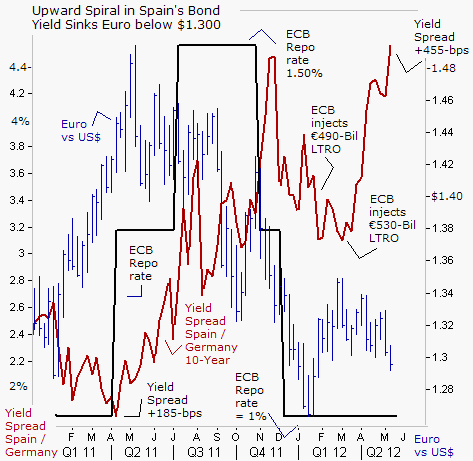 Contagion risks are back. With Greece edging towards the Euro exit gates, Spanish and Italian borrowing costs are creeping up. The charts are pointing to another attack on the Euro. And, once again, Greece is at the epicenter. A return to the drachma, a massive devaluation, and a default on the remaining private sector debt would create massive tensions across Europe. The ECB's holdings of Greek sovereign debt would suffer big losses.

Austerity is increasingly unpopular in Europe because it doesn't work. In late March, Madrid announced its most severe package of tax hikes and budget cuts yet, aiming to reduce its annual budget deficit by $36 billion. Spain missed its deficit target in 2011, and, without the latest austerity package, would have done so again in 2012.

However, the austerity drive failed to achieve what it aims to do: rebuild investor confidence, and bring down bond yields. Instead, bond investors are spooked by Spain's zombie banking system and its economic state of depression. Foreign lenders are demanding higher interest rates for Spanish bonds. Despite its new austerity budget, Spain's-debt-to-GDP ratio is expected to increase to 80% this year, from 68.5% in 2011.

Simply put, Spain is moving backwards. Politically speaking, Greece is already has one foot outside of the Euro currency. The only question is about the timing and disorderliness of its exit. France's new president, Francois Hollande has pledged a 75% tax on annual incomes of €1 million or more and would raise the minimum wage – measures that could ignite capital flight from the French stock market, and from the Euro.

There are signs that the two pillars of the Eurozone are starting to split apart, and the consequences could be a further weakening of the Euro. "Germans could end up paying for the Socialist victory in France with more guarantees, more money. And that is not acceptable. Germany is not here to finance French election promises,"said Volker Kauder, a leader of Merkel's Christian Democrats.

Berlin says it will not agree to issue a joint Eurobond with its troubled neighbors, and won't agree to expand the ECB's charter so that it can pursue the same quantitative easing schemes of the Fed and the Bank of England. That leaves Greece, Spain, and Italy with no easy way out of the austerity death trap.

Get gold, get it securely stored in Zurich, Switzerland and get it insured all for just $4 per month using world #1 online, BullionVault...