Do Not Buy Gold. Repeat...
Monday, 11/03/2014 19:00
Traders looking for bull or bounce turn away, says this technical analyst...
DO NOT
buy gold right now,
writes technical analyst Greg Guenther in Addison Wiggin's Daily Reckoning
. Just don't do it!
The Midas metal has turned to fool's gold. It's sunk in the black night of a deep bear market – and it's about to plunge even deeper.
Over the next several weeks, the gold price could threaten lows not seen since 2009, when it hovered around the $1000 mark. And if you're thinking gold is a dirt-cheap bargain right now, think again...
Word to the wise: don't bet on gold. If you already have, get out now.
Look, I'm going to let you in on a little secret here: Gold is a commodity that trades in cycles, just like any other asset. And the evidence tells me it's heading down right now. If there's one thing I want to drill into that head of yours, it's that you can't trade on your emotions. You'll go broke.
Hey, I also love coffee. But if I think the price of coffee is heading down, I'm betting against it. Does that mean I hate coffee? Are you out of your gourd? So if you're a gold bug, don't shoot, man. I'm just the messenger.
Here's how gold's bear market is unfolding...
The first phase of gold's death march began 18 months ago. It was pushing $1600 in mid-April, and then WHAM – the bottom fell out. A vicious $200 drop knocked it down to about $1385 an ounce in just two days. Longtime gold investors who'd enjoyed a decade of sunny skies were like, 'Dude, what the @#$% just happened?'
Remember that? I sure do. And I saw the writing on the wall. I wrote the following words in the early morning hours of April 17, 2013, when the gold guys thought it was just an isolated squall that would soon pass:
"I can't make this any clearer: You shouldn't even consider trying to buy gold right now."
You know the rest of the story. It's been raining on the yellow stuff ever since. It now sits at $1169. That's about $450 off its April 2013 high.
And as I type, we're seeing the same nasty weather forming in the charts as we saw 18 months ago. It feels like last April all over again.
So, this morning...as gold sits below $1170 an ounce for the first time since 2010...I'm gonna say it again – only louder...
YOU SHOULDN'T EVEN CONSIDER TRYING TO BUY GOLD RIGHT NOW!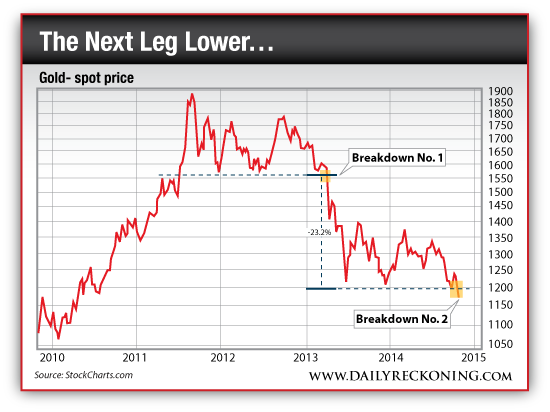 Just look at the similarity between the big 2013 nosedive and today's downward action. In both cases, the gold price topped out with a series of lower highs before the crash accelerated. Last year, this action handed investors losses of more than 23%.
The main culprit in the big flush in the gold price right now? The continued strength of the US Dollar. Well, the relative strength of the Dollar, I should say. Every other major currency has been worse. The buck is just the tallest midget in the circus.
Regardless, greenbacks soared last week after the Bank of Japan surprised everyone with its aggressive efforts to weaken the yen – think QE with rice and sushi. So the Dollar has risen on the international market.
The Dollar's relative strength has lit the match on gold's demise. But that alone isn't enough to kill the Gold Bull. The gasoline on the fire will come from the jilted investors who've finally given up on gold. And give up they will...
Gold is now breaking below $1180. Bargain hunters stepped up multiple times when gold was below $1200, both in 2013 and 2014. They thought it was a great buying opportunity. They were wrong. The big golden rebound they kept waiting for never came. They lost money – and now they know it. Investors tend to take things personally – and they won't be fooled again. So gold is out there on its own right now – shunned – and hated. It will soon be a spinster.
Bottom line: Gold is now entering the second leg of its bear market. No, it won't take the elevator to zero. But investors will keep pushing the down button – gold has let them down once too often. As I told you 18 months ago, the great golden decade that saw prices leap from $300 to almost $2000 is finished. Gold investors can prepare for more pain in the weeks and months ahead.
It gives me no joy to say it...but I expect the gold price to eventually come to rest somewhere near $1000. A fall to the 1K mark will break the final leg of the 10-year gold bull. Bet on it. The fat lady's already warming up.