How We Will Know the Dollar Era Has Ended
Wednesday, 7/27/2011 13:11
A key development that could signal the beginning of the end for the Dollar's reserve currency status...
THE DOLLAR remains the world's most widely owned reserve currency. According to Bloomberg, 60.7% of global currency reserves are held in Dollars. The Euro — the other sick man of currencies — is second at 26.6%, followed by the Yen. What about Australia? asks Dan Denning, editor of the Daily Reckoning Australia.
Well, the interesting thing about the Bloomberg story is that so-called commodity currencies like the Australian, Canadian, and New Zealand Dollars are gaining popularity as reserve currencies even as they "de-couple" from commodities. What exactly is going on here?
The "commodity currencies" have been popular for a couple of reasons. The yields on them, or what you'd get from bank interest, are high. The yields are high because GDP growth in the commodity-producing countries is high and central banks have kept short-term interest rates higher to combat inflation. And finally, the high GDP growth in the commodity producers has been driven by the huge demand for commodities in Asia and China.
Given all that, it's still hard to imagine that commodity currencies could become reserve currencies. China's growth is also a function of credit expansion. Take away the expansion, and the long chain of events leading to strong commodity currencies is broken. And the currencies will fall. But will they?
The current strength of the commodity currencies is the flip side to how awful the Euro and the Dollar are. Investors seem happy to take any port in a storm, particularly if it's yielding over 4%. But investors are sea-faring and fickle. They go where money is treated best and are not inherently loyal. Which is another way of saying the Aussie will only stay strong as long as people want to own it. And as soon as investors see a better deal, they'll take it.
The key technical level to watch in this currency drama is just above 70 on the Dollar index. A break below that would tell you that the faith global investors have in the credit of the United States of America has been weakened by the argument over the debt ceiling. We wouldn't expect a sudden Dollar crash. But we'd expect a chronically weaker Dollar whose centrality in the global currency reserve system has ended.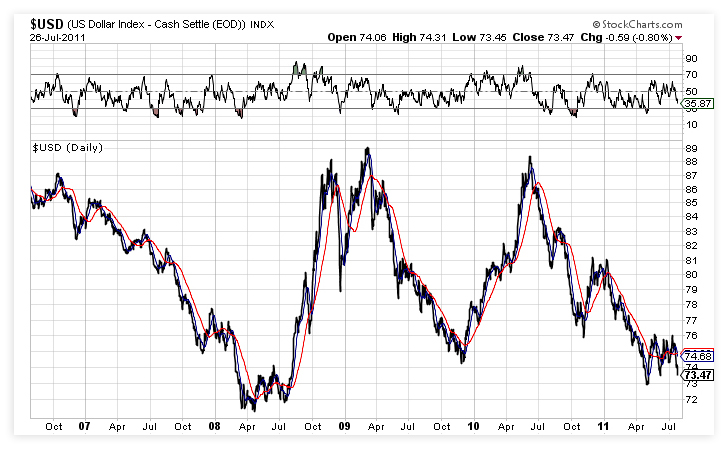 Keep in mind, though, that the big up and down moves in the Dollar index that you see on the chart above had corresponding up and down moves in the Aussie Dollar. The Aussie is just paper money too. And even though it may be relatively better than the greenback at the moment, it is absolutely not gold or silver, which are real money.
Buying Gold or Silver Bullion? Discover how BullionVault makes it safer, cheaper and easier...