Dollar Strength, Risk Aversion
Friday, 3/13/2009 11:25
A mountain of speculative debt is now squeezing its way back through the $4 trillion global currency market...
DE-LEVERAGING and "risk aversion" are the buzzwords cited by many currency analysts to explain the puzzling strength of the US Dollar since mid-2008, writes Gary Dorsch of Global Money Trends.
The greenback has climbed by more than 20% since last July, despite the widely held view that top Wall Street banks are insolvent and only surviving on artificial life support. With the flow of credit badly constrained, the US economy is spiraling towards a "Great Depression" – yet the Dollar has risen against all major currencies.
De-leveraging in the $4 trillion per day foreign exchange market generally refers to the unwinding of speculative "carry trades" – the process whereby a cheap, low-interest currency is borrowed by a speculator who then sells it for a higher-rate currency or investment, collecting the difference as easy profits.
The enormous fortunes of Wall Street's aristocracy were built-up on the leveraging of debt, including these carry trades, in order to buy exotic securities based on sub-prime mortgages and other instruments of financial speculation. But when the US sub-prime mortgage crisis hit in the summer of 2007, traders began a massive de-leveraging process, selling risky assets and buying back US Dollars (as well as the even lower-yielding Japanese Yen) to pay back loans raised in that currency.
When global stock markets are plunging, the risk barometer shoots up, and carry traders scramble to close out their losing trades. They are forced to buy-back the funding currency even if it offers a near zero-percent yield. That's why, last year, the Japanese Yen rose against all major currencies, even though Japan's economy was collapsing at twice the speed of the US economy's demise and the Nikkei-225 stock index plunged a record 42%.
After a year and a half of unwinding, however, the vast bulk of the $1.5 trillion carry trade owed in Japanese Yen has probably been extinguished. Japan's mom-and-pop retail investors have also reduced their short Yen positions versus higher yielding currencies too, down from ¥7 trillion in 2007 to ¥740 billion today.
Indeed, since February 1st, the US Dollar has done a U-turn against the Yen, climbing 10% higher to ¥99.50 in early March.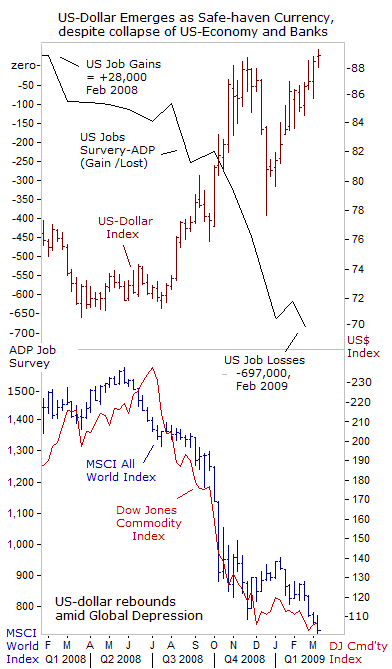 The unwinding of risky positions in global commodities and stocks, coincided with the resurgence of the US Dollar against a basket of currencies, heavily weighted toward the Euro and thus reflecting the Eurozone's importance to US trade.
The US Dollar index almost reached the psychological 90-level last week, up from around the 72-level last July, marching higher, even as the Dow Jones Industrials fell 11.7% in February, its worst performance since 1933, at the height of the Great Depression. According to this view, an enormous US Dollar carry trade is still in process of unwinding.