Dipping a Toe into Fear
Thursday, 2/28/2008 12:15
Gold Prices show the big traders really do fear the credit and banking crisis...
BEN BERNANKE revealed on Wednesday that the Federal Reserve was ready to lower interest rates next month to fight the sluggish economy, writes Gabriel Andre for The Daily Reckoning Australia.
The Fed chairman also implied that the US central bank has not anticipated the level of inflation in energy and hard asset prices. So much for forecasting.
But Bernanke acknowledged it'll be "hard to maintain low inflation" if prices keep doing what they're doing – and Gold Prices must figure in his concerns.
The US Dollar fell hard following his remarks. More and more, investors are seeing it as a low-yielding asset. The Greenback is currently trading around $1.5120 against the Euro, and around $0.9415 against the Australian Dollar.
The weak US Dollar performance pushed oil to new highs, and silver and Gold Prices also jumped. The Nymex Gold futures contract for April delivery hit a new high of $967.70 an ounce during the trading session, and closed at $961.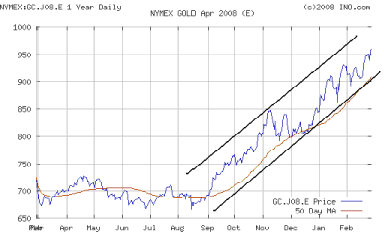 The silver contract meantime closed at $19.40 yesterday, a new high in the rally begun last December – and the recent acceleration in these precious metals prices is not solely explained by traditional long-term investors.
People aren't just turning to hard assets such as Gold Bullion to hedge their portfolios and to protect themselves against eroding purchasing power. There is more to it than that. Instead, the big players have now dipped a toe into the pool of fear.
Recent turmoil in stocks and the economic uncertainty have scared hedge funds and proprietary traders. These big-time traders are evacuating risky assets, now that the subprime collapse and the credit crunch have taken hold.
The Gold Market beckons, therefore. Hedge funds have extended the bullish gold trend, pushing the market up further as they evacuate stocks.
This accelerated action leads us to one conclusion: both gold and silver markets will become more technically driven. Charting will be important, as traders pay more attention to their exit and entry positions.
It's now a market in momentum, and the momentum at this stage is upwards. And until now, profit taking has been moderate, but that story may change quickly.
Firstly, history shows that when the economy switches from slow growth to negative growth, even commodities prices eventually ease. So the main short-term concern is traders and funds liquidating their bets.
Both silver and Gold Prices are now moving into unknown territories, with higher volatility. Moreover, for both assets, strong psychological levels are just ahead ($1,000 for the gold price and $20 for the silver price). It means that we could see a potential pullback.
But after that, I believe, the sky's the limit. After a few weeks of technical resistance and profit-taking, further news regarding the economic outlook may urge funds and speculators to take another dip, building new momentum in the Gold Price and silver.