US Bill of Digital Rights
Thursday, 10/25/2018 09:19
5 principles for a safer future...
TODAY I'm writing to US citizens with the chance to finally do something about the future of the United States, writes Dan Denning, co-author of The Bill Bonner Letter.
It's only the beginning...
But if you're alarmed at the organized attacks on free speech and privacy...and worried about both Big Tech and Big Government creating a surveillance state without your consent...then today is your chance to stand up for your own rights and turn back the tide.
By the end of this essay, I'll reveal the Digital Bill of Rights to you. I encourage you to sign it and pass it along to your friends and family.
The idea of America was always revolutionary.
For the first time in history, a group of people enshrined in one of its founding documents the idea that there were certain "inalienable" rights that were not granted to you by the State. Rather, you were born with these rights – they were endowed by your creator (God...or nature, if you prefer).
The Bill of Rights enumerated these rights. And the government could very well shove it – or at the very least, have to jump through some serious hoops – if it wanted to scale these rights back.
But the American Framers didn't have to get past Facebook or Google when writing the Constitution and the Declaration of Independence.
They could not have predicted the rise of an algorithm-driven police state where every action you take online is recorded, cataloged, and used to "nudge" you into thinking in a "correct" way or taking a desired action.
That's where the Digital Bill of Rights comes in. It's an effort to restate and reclaim your essential rights to life, liberty, privacy, and property in an age when all of them are under assault by a collection of institutions in Silicon Valley and Washington, D.C.

Changing the course of the country may seem like a big task...but so was crossing the country in a covered wagon in search of a better future!
I mention this because I recently completed the latest stretch of my tour of America in search of bolthole towns to ride out the coming "Greater Depression".
I penned the Digital Bill of Rights, along with Bill's help, while in Boise, Idaho. Boise lies along the old Oregon Trail. The Kelton Ramp at the reserve is listed on the National Register of Historic Places.
It's a path travelers use, cutting through the basalt rock along the banks of the Snake River to get from the plain above to the river below. Cutting a path through basalt must have been a piece of cake after crossing the Great Plains and High Plains of Nebraska, Wyoming, and Idaho.
This was part of my latest bolthole tour. If you're not familiar with the project, I've been getting off the beaten path in America, looking for small towns and out-of-the-way places where ordinary people can retire to for a better quality of life and a lower cost of living – to make things simple again, where you can know all your neighbors and be part of a community.
Mind you, not everyone is looking for exactly the same thing. I've met readers along the way who are what you might call "financial preppers". They're looking for a place in America where they can ride out the coming Greater Depression. If you look hard enough, you'll find a lot of places like that.
This latest trip has taken me through small towns like Eden, Wyoming and natural wonders like the Craters of the Moon National Monument and Preserve. Why?
You have a choice to make about the kind of life you want to live. You can make an Eden for yourself somewhere in America. Find yourself a piece of land or a small house. Create a place where you and your family can enjoy the time and be relatively safe from the crazy worlds of Washington and New York.
Or you can live in the Devil's Orchard. In fact, it's a geologic and volcanic feature of the Idaho landscape that I highly recommend seeing if you're in the area. It's both beautiful and fascinating (in its own way). But obviously, I mean it a little more metaphorically.
Doing nothing to prepare for the political and financial world ahead is akin to living in the Devil's Orchard. It's his orchard...with his blasted rock decorations, withered trees, and bitter fruits.
You can live there. But you're not going to like it.
The Digital Bill of Rights is a beginning. It's a kind of declaration that there are Americans out there who are not happy with the direction our country is heading in.
These Americans value free speech, privacy, individual liberty, limited government, the rule of law, and low taxes. They know that Big Tech and Big Government represent a clear and present danger to these values. And they know that now is the time to do something about it.
This month I unveiled the Digital Bill of Rights in front of an audience in Southampton, Bermuda. Once Bill finalized the text, we arranged to have a local printer quickly create a large copy. It was signed by the leaders of Legacy Research Group, Glenn Beck, and numerous other concerned Americans like you.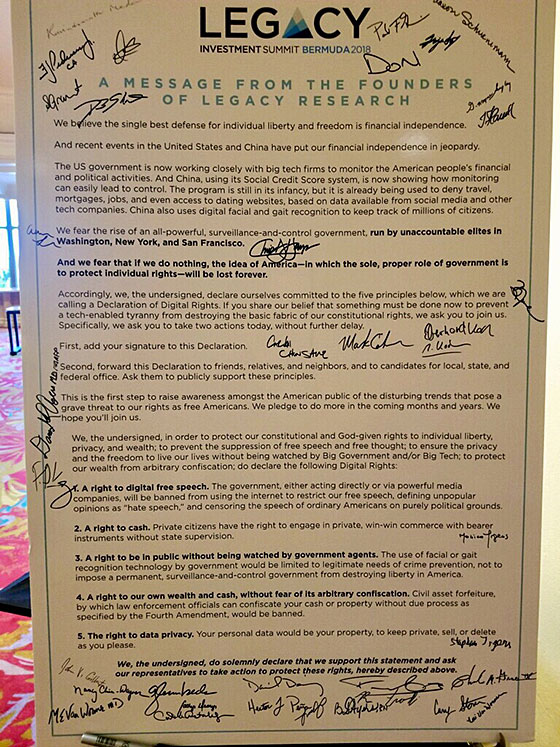 Today, I urge you to read and sign our Digital Bill of Rights now. Let me also suggest that you send it to your local newspapers, post it on social media, and forward it to your local and state candidates for public office. Spread the word as far and wide as you can. As I said, it's just the start of a long journey.
But we have to start somewhere, don't we?
Sign the Digital Bill of Rights here and declare your independence.