Death of the US Mall
Thursday, 1/22/2015 13:00
Not quite. High-end malls are thriving. But the middle-class stores...?
Empty parking lots and even emptier stores litter the landscape. No one's shopping anymore. The retail apocalypse is nigh...
But hey, keep your chin up. Because you can actually profit from these dead shopping malls.
That's right, there's a hot trade to be made here – but only if you know where to look. I'll reveal how you can play the "dead mall" trend in just a minute. But first, here's some background:
Recently, the New York Times visited the Baltimore area to write a lengthy piece on floundering shopping malls – these vacant, rotting carcasses that just a few years prior were packed with shoppers spending their precious paychecks.
Apparently, more than 24 shopping malls have bit the dust across the country since 2010. And according to the
New York Times
, 60 more are on the brink of extinction. It's a huge story that just won't die. Heck, there's
even a website dedicated
to the phenomenon of the dead mall.
So what's the deal? Are Americans no longer hitting the mall on the weekends? Is Amazon Prime's free shipping pushing traditional retailers out of business? Is a cataclysmic shift happening in the retail sector that threatens to bankrupt any traditional store that stands in its way?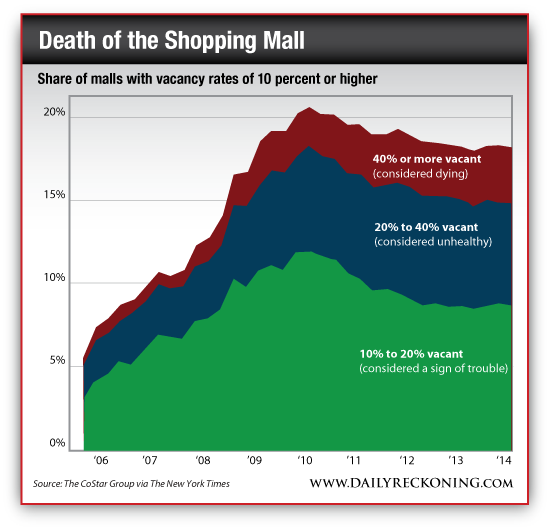 Well, not exactly...
You see, the "deal malls" meme ain't exactly gospel. Sure, your old-school anchor store like Sears and JC Penney aren't around anymore. But that's the low-rent district. So while everyone runs around screaming that shopping malls are going out of business, they're ignoring one key fact:
"High-end malls are thriving," the Times explains, "even as stolid retail chains like Sears, Kmart and J.C.Penney falter, taking the middle- and working-class malls they anchored with them."
Yep. The rich keep getting richer. And their high-end shopping centers are booming...
So while pictures of empty, decrepit malls make the rounds, the luxury locations are expanding – and bringing in all those customers they cruddy malls are losing.
Right now, there are plenty of traders speculating on potential comebacks from old-school retail like J.C.Penney and others. Frankly, I wouldn't bet on things to get any better for 'em. They offer nothing that a shopper can't get online or at a place like Target. They've lost their niche. Those big, fluorescent stores are quickly becoming dinosaurs.
But like I said, not every traditional retailer is on its final breath. In fact, higher-end chains and boutiques are flourishing. These are the investments you should be looking to make – not some two-bit comeback story.
That's why you should buy the best upscale retailers on the market – the one's that aren't even in the same class as the dying retailers in the empty malls. These are the companies that are going to thrive – even as the old malls continue to die off.