Currency Cheats
Thursday, 11/22/2012 13:50
The common 'solution' to owing too much money...
GERMAN economist Hans-Werner Sinn is famous for legally challenging the European politicians' efforts to save the Euro, writes Nick Hubble for Dan Denning's Daily Reckoning Australia.
And he recently gave one of the funniest interviews we've ever seen.
Here's the highlight reel straight from Der Spiegel newspaper:
Spiegel: Mr. Sinn, Chancellor Angela Merkel feels as though economists have left her in the lurch. She once said that the advice that she receives from economists is "about as diverse as it gets." Can you see where she is coming from?

Sinn: No.

Spiegel: Excuse me?
We've always wanted to see what a one word answer would do to an interviewer. But Der Spiegel had the last laugh. This is how Sinn is depicted in the article: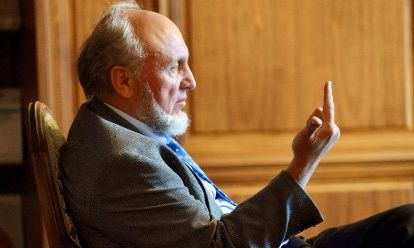 Now onto some more meaningful banter between the newspaper and Sinn:
Spiegel: Now you are appealing to the financial markets to be reasonable. Yet they often overreact and behave irrationally.

Sinn: Where have you seen that?

Spiegel: Minor events are often enough to spark sharp increases in sovereign bond interest rates for countries in Southern Europe.

Sinn: But the markets are reacting rationally when they get cold feet and pull out of bad investments in Southern Europe. Last winter, interest rates rose in some cases to over 6.5 percent. Before the introduction of the Euro, these countries had to pay interest rates of between 10 and 15 percent. The interest rate reflects the risk that investors will never see their money again. What's irrational about that?
Indeed, what is irrational about the way the world is reacting to Europe? Investors are doubting the solvency of nations. That's nothing new, unusual, surprising or devastating. Greece has spent much of its history in default.
What's surprising is that the Euro system can't withstand something as common as a sovereign debt crisis in peripheral nations. These countries often default. Who builds a currency union that can't handle something which is so common?
Sinn's last name means 'sense' and not 'sin', by the way. And he's full of common sense, for the most part. His point is that everything is following a well-trodden path in Europe. The only difference this time around is that everyone is using the same measuring stick these days – the Euro.
In times gone past, the Greeks would just change how many millimeters make up a centimeter to make their economy look bigger and better. That's a metaphor for this: they would print money and devalue their currency against the other currencies of Europe. That allowed them to repay debts, and it encouraged the local economy.
This makes you wonder why countries like Greece wanted to join the Euro in the first place. Who would want to compete with a German on even grounds?
The Brits played smart when it came to Europe. They only put one foot in the European boat and kept the other in their own dingy. They accepted Europe's policies, but kept Sterling and thereby kept control over their own monetary policy. But now that Europe is in trouble, the Brits have got to decide whether they're Europeans or British.
The truth is that Britain is itself in as bad a pickle as southern Europe anyway. But they can still change how many millimeters are in a British centimeter – they can devalue the Pound to spur on the UK economy.
It's cheating and it doesn't work in our opinion, but what actually works isn't relevant in politics. What matters is that countries think that devaluing their currency will be good for their economy. And so countries that can devalue, which is to say those not in the Euro, will do so by printing money.
Time to buy gold? Get the lowest possible price on BullionVault...