Oil vs. Gold: Riches Galore?
Wednesday, 6/04/2008 10:38
Comex gold futures say the Gold Market looks more bullish now than during the first quarter...
WE'VE NOW SLOGGED through the first five months of 2008, writes Brad Zigler for Hard Assets Investor – a year that seemed to hold the promise of riches galore for oil and Gold bulls alike.
On average, those investors seeking their fortunes in black gold have fared better. Much better. That's obvious just from looking at a price chart.

This year's average price for West Texas Intermediate spot is now $106 a barrel. That's a 47% hike from last year's average of $72.

Whereas, with a middling spot Gold Price of $917 an ounce, this year's crop of gold bugs could have raked in a 27% gain from last year's $722 average.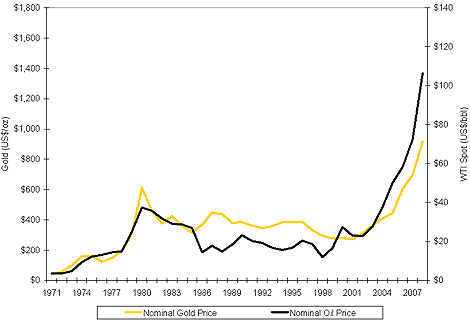 Gold aficionados are not only in second place behind the oil-soaked wretches in absolute dollars, but they're losing out in inflation-adjusted dollars as well. Crude oil only need to break $95 per barrel to bust its CPI-inflated high from 1980 – a level it blasted through at the turn of the year.
For Gold, the magic number remains a long way off at $1,597 per ounce. So clearly, crude's cruised ahead of its record for the year. And barring a wholesale collapse, it looks set to stay in the lead – from last year's prices at least.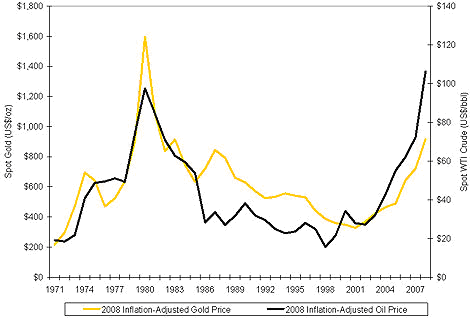 The Gold Market is supplying some comforting news for gold bulls, however. The futures trading on Comex gold contracts seems ready to pull up from the tailspin following March's run above the millennium mark.
In fact, judging from the rejiggering in trader commitments, the market looks even more bullish than it did back in the first quarter.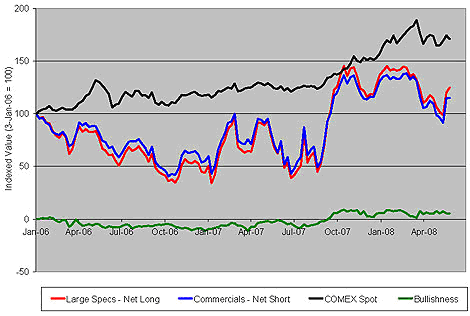 No guarantee that gold's ready to top its old records. But the bullish pot is being stirred in the trading rings.