Copper's Bull Run Only Just Begun
Tuesday, 12/08/2020 09:01
Thank China for Cu's best month in 4 years...
The PRICE
of copper is on a tear right now thanks to news that a number of pharmaceutical companies have developed effective vaccines against Covid-19,
says Frank Holmes at US Global Investors.
That raises hopes that the world economy will open to full capacity sooner than expected.
The industrial metal rose 12.2% in November, its best month in four years, trading as high as $3.50 per pound ($7,616 per ton), its highest level since 2013.
The copper rally is due in large part to improved manufacturing activity in the US, China and Eurozone. For the month of November, the IHS US Manufacturing PMI hit 56.7, up significantly from 53.4 in October. The month-to-month increase was the sharpest since September 2014, according to IHS Markit.
Meanwhile, Chinese factories signaled their strongest improvement in over a decade. The Caixin China General Manufacturing PMI posted 54.9 in November as output and new orders surged to 10-year highs.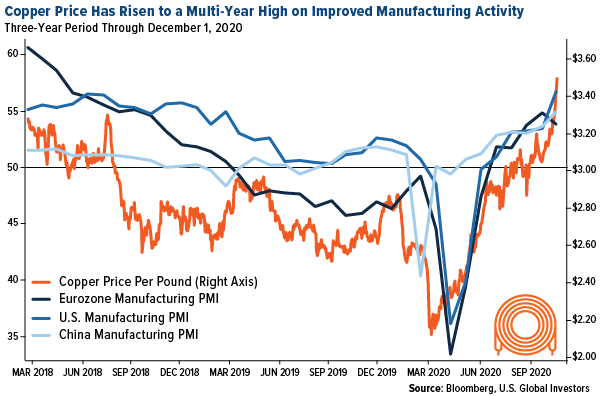 Looking at manufacturers on a global scale, you would be forgiven for not knowing we were in the middle of a pandemic and economic pullback. The J.P.Morgan Global Manufacturing PMI climbed from 53.0 in October to 53.7, a 33-month high.
According to J.P.Morgan economists, this marks the fastest pace since January 2018.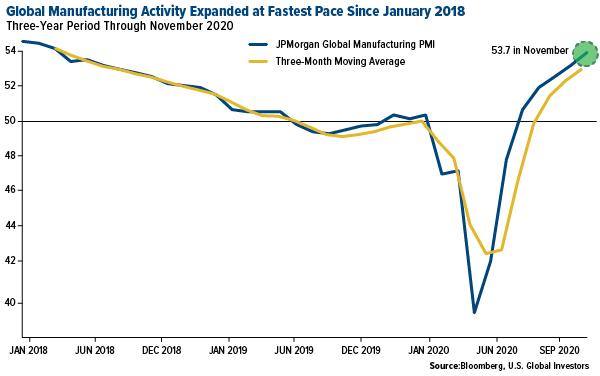 In light of the positive manufacturing uptrend, some economists and market experts see the start of a new copper-price supercycle driven largely by China.
The Asian country currently consumes about half of all copper produced worldwide, and this share could increase as the nation undergoes a vast energy shift to renewables such as wind and solar.
Last week, a senior executive at BHP, one of the world's top copper producers, said that copper output would need to double over the next 30 years to meet surging demand for green renewable energy.
"To keep pace with these mega trends, copper production will have to double over the next 30 years," commented Tariq Salaria, VP for sales and marketing at BHP.
Reflecting on the copper bull run, which has lifted the metal's price some 72% since the March low, one money manager believes this rally could be one for the history books. Says Luke Sadrian, chief investment officer at Commodities World Capital, copper is "looking like it did in '04 and '05, and the world didn't get the memo."
Due to massive imports from China, copper prices increased more than 280% between the beginning of 2004 until they peaked in May 2006.
Today's China imports of the red metal are much greater than they were then. In July of this year, the country bought a record 762,211 tonnes of unwrought copper, which is close to four times greater than the average monthly import amounts between 2004 and 2007.
In a note to clients this week, Goldman Sachs analysts said they believe the current price strength "is not an irrational aberration" but rather "the first leg of a structural bull market in copper." By the first half of 2022, the Wall Street bank says that it's "highly probable" copper could test its previous record high of nearly $10,150 per ton, set in February 2011.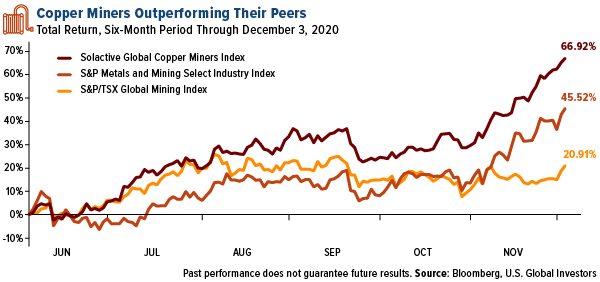 As a result, shares of copper producers and explorers have soared. For the six months through December 3, the Solactive Global Copper Miners Index was up more than 66%, outpacing the returns for other metal miner groups.
Performance for the period was driven by companies such as Capstone Mining (up 174.04%), which operates in the US and Mexico; Arizona-based Freeport-McMoRan (140.68%); and Ivanhoe Mines (93.93%), which is currently developing three properties in Southern Africa.