Happy New Year!
Monday, 2/08/2016 15:00
10 big numbers to mark China's big New Year of the Monkey...
FOR DECADES now, China has been the leading driver of global growth, consuming unfathomable amounts of raw materials and commodities, writes Frank Holmes at US Global Investors.
Today, the Asian giant is undergoing dramatic changes, as its government deepens reforms and opens the country's economy up to foreign investment. The size of its middle class is rapidly expanding in size, giving a huge boost to domestic consumption. And with the creation of the Asian Infrastructure Investment Bank (AIIB) and the Renminbi's inclusion in the International Monetary Fund's (IMF) reserve currency, China's role in global financial markets is growing in importance.
No one can deny that challenges lie ahead, but opportunities are still abundant.
With this in mind, I've put together 10 figures to know as China enters a new year.
Ninth...
As the ninth animal in China's 12-zodiac cycle, the monkey is considered confident, curious and a great problem-solver. But 2016 is also the year of the Fire Monkey, which adds a layer of strength and resilience.
2.9 billion...
It's been called the world's largest annual human migration. "Chunyun", or the Spring Festival, refers to the period around the Chinese New Year when people travel by plane, train and automobile to visit friends and family. Between January 21 and March 3, nearly 3 billion trips will be made, exceeding the number of Chinese citizens. Close to 55 million of these trips are expected to be made by air.
For the third straight year in 2015, China topped the list of international outbound travelers, with 120 million people heading abroad. Collectively, they spent $194 billion across the world.
6 Million...
Not all destinations are within China's borders, however. According to CTrip, a Chinese online travel service, Spring Festival tourists have booked a record 6 million outbound trips. As many as 100 different countries will be visited, with the farthest region being Antarctica.
180 Tonnes...
A shaky stock market, depreciating Renminbi and low global prices have spurred many Chinese consumers to turn to gold. Imports of the yellow metal are way up. Last month I wrote that 2015 was a blowout year, with China consuming more than 90% of the total annual global output of gold. In December, the country imported 180 tonnes from Switzerland alone, representing an 86% increase over December 2014. This news supports the trend we've been seeing of gold moving West to East.
The precious metal ended last week trading at a three-month high.
49.4...
For the month of January, the Chinese government purchasing managers' index (PMI) eased down from 49.7 in December to 49.4 in January, indicating further contraction in the country's manufacturing sector. The reading remains below its three-month moving average. More easing from China's central bank, not to mention liberalization of capital controls, could be forthcoming this year to stimulate growth and prop up commodities demand.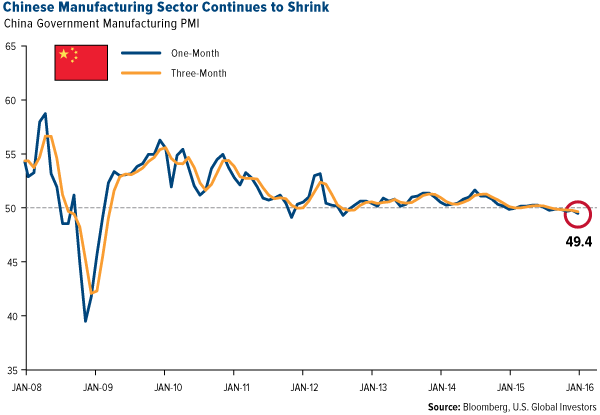 $6.5 Trillion...
Although manufacturing has cooled, domestic consumption in China is following a staggering upward trajectory. In 2015, total retail sales touched a record, surpassing 30 trillion Renminbi, or about $4.2 trillion. By 2020, sales are expected to climb to $6.5 trillion, representing 50% growth in as little as five years. This growth will "roughly equal a market 1.3 times the size of Germany or the United Kingdom," according to the World Economic Forum.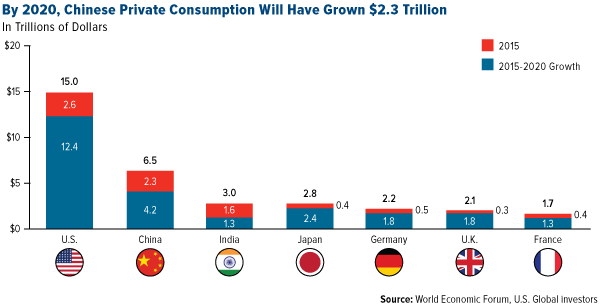 109 Million...
One of the main reasons for this surge in consumption is the staggering expansion of the country's middle class. In October, Credit Suisse reported that, for the first time, the size of China's middle class had exceeded that of America's middle class, 109 million to 92 million. As incomes rise, so too does demand for durable and luxury goods, vehicles, air travel, energy and more.
But middle-income families aren't the only ones growing in number. The World Economic Forum estimates that by 2020, upper-middle-income and affluent households will account for 30% of China's urban households, up from only 7% in 2010.
$1.6 Trillion...
Consumption has also benefited from the emergence of e-commerce. Not only are younger Chinese citizens spending more than ever before, they're doing it more frequently, as e-commerce allows for convenient around-the-clock spending. Such sales could grow from $0.6 trillion today to a massive $1.6 trillion by 2020.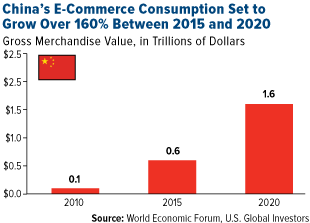 Mobile payments will continue to play a larger role as well. Purchases made on a smartphone or tablet are expected to make up three quarters of all e-commerce sales by 2020.
24.6 Million...
With a population of more than 1.3 billion, China is the world's largest automobile market. The country certainly retained the title last year, selling 24.6 million vehicles, an increase of 4.7% over 2014. The US, by comparison, sold 17.2 million. According to China's Ministry of Public Security, the Asian country added a staggering 33.74 million new drivers last year, which is good news for auto sales going forward.
6.5 to 7 per cent...
Many China bears point out that GDP growth in the Asian country has hit a snag. There's no denying that its economy is in transition, evidenced by the government's 2016 growth range of between 6.5 and 7%, a demotion from 2015's target of 7%. But it's important to acknowledge that China is still growing at an enviable rate.
Here's one way to look at it, courtesy of Jim O'Neil, the commercial secretary to the British Treasury and the man who coined the acronym BRIC (Brazil, Russia, India, China). O'Neil calculates that even if China grows "only" 6.5% this year, the value is still equivalent to India growing 35% or the United Kingdom growing 22%.
For this reason and more, China remains a long-term growth story, and "there are many reasons to expect that in 10 or 15 years, China will be a greater, not a lesser, power than it is today," says Stratfor Global Intelligence.
To all of my friends and readers both here and abroad, I wish you copious amounts of happiness, health and prosperity this Chinese New Year!