China – now the world's largest investor
Wednesday, 3/21/2007 14:12
Beijing wants China wants to be No.1, and not just in manufacturing...
Global Watch: 21st March 2007
A snippet from the latest weekly issue of GoldForecaster.com
THERE'S AN OVERLOOKED conclusion on the investment objectives of China.
China realizes that it is an emerging giant. It realizes it has the capacity to outperform the developed world in manufacturing of all kinds, by following a path similar to Japan and other Asian nation – but on a far greater scale.
It is not China's intention to sit in the shadow of the US or Europe, but to become the dominant global player, with its extremely low cost manufacturing cost structure.
The Chinese government wants China to be No.1 in the world – and not just in manufacturing, but in designing a new government relationship to its economy, far removed from the structure used by either the US or Europe. As such it will comply with the world's requests for change if it suits China's future. Such compliance will lessen as it grows to be indisputably the driver of the global economy.
It will also do whatever it takes to access the resources with which to secure such a future, without asking anything of the nations with whom it contracts. It is naïve to think that China is likely to kowtow to the developed world.
And because of these aims in Beijing, gold and silver now have a place in the globe's monetary system once again.
China's impact on the rest of us
The trip of US Treasury Secretary Hank Paulson to China late in 2006 highlighted one of the reasons why we here at GoldForecaster.com are so positive on the long-term future of gold.
Generally the perception of China in the developed world is that it is an up and coming emerging economy – albeit a giant – that will move in the same direction as all other now-developed economies that were formerly emerging nations.
It is fully expected that China will adopt the same economic shape as these nations too. But in the face of the facts now coming out of China, this looks to us at best as arrogant.
China's future economy, its banking system, foreign exchange rate policies, reserve policies and its overall economic and political objectives are of paramount importance to all other nations and markets. To misunderstand or to underestimate the Chinese government would be to make the greatest mistake of all in terms of our future investments.
With China now setting up a hugely funded agency for investments – $200 billion of a potential $1 trillion...rising at the rate of $250 billion a year! – their policies will affect us all dramatically. Mr Jin has said the new agency would report to the State Council, China's cabinet, rather than the finance ministry. That confirms our understanding that the reins of power rest solidly in the hands of the government.
And where next? Look at Toyota's performance in the US. Just wait until China gets the hang of exporting cars. They've got to get quality right first, but China overtook US passenger car output for the first time last year.
Chinese production was tabulated at 5.2m autos and the US output at 4.4m autos. As late as 1997, Chinese production was only about 5% of US output.
What China wants, China gets
The markets on all fronts are looking as though they are now nearing their low points. So what does one do? We have been recommending that one should "buy the dips" in gold – a policy China would do well to follow, as the full version of this report at GoldForecaster explains.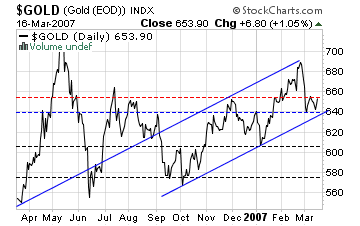 We continue to be certain of future rises, but would like to get the lowest entry point possible. So we follow a policy of "buy on the falls". It is sometimes nerve racking to do so, so one must be certain. But in such markets one often finds the dealers don't have that much stock themselves.
They'll sell it to you and then mark the price up.
The dealers are vulnerable at this point and don't want to hold stock on their books. If one wants to buy quantity, one has to do this for as long as doubts sit in a consolidation area.
But be certain of the level of liquidity, and adjust your dealing accordingly. We wish you every success!