Gold & Chinese Inflation
Monday, 11/22/2010 10:58
How come gold and Silver Bullion prices pulled back as the Fed's QE2 hit...?

BOTH THE Shanghai and Hong Kong stock markets tumbled to multi-week lows on reports that Beijing is willing to hike interest rates again, in order to tackle the country's accelerating inflation rate, writes Gary Dorsch of Global Money Trends.
The tumble that started on November 12th shaved some 11% off the Shanghai red-chip index. The Chinese Politburo is utilizing almost all of its weapons for combating inflation, except for the one that Washington advocates – lifting the Yuan against the US Dollar at a quicker pace.
However, on Nov. 17th, Zhou Qiren – a key advisor to the PBoC – said Chinese rate hikes are no panacea for curbing inflation:
"Loose monetary policy in 2009 has created excessive liquidity and helped fuel prices of various products. Too much liquidity and fewer goods is the reason behind inflation. Raising interest rates cannot change such a situation," he told the China Securities Journal.
Thus, if Chinese and Chicago commodity markets manage to rebound strongly from their latest shake-out, it would signal that inflationary pressures are deeply entrenched. The PBoC would be faced with the biggest inflation threat to its economy in decades.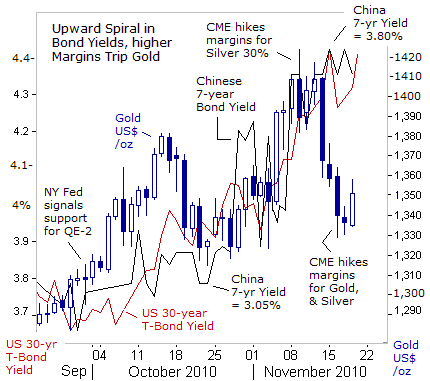 Meanwhile, the Fed was scheduled to buy $105 billion of Treasury securities from Nov. 12th through Dec 9th, which in turn, might fuel another tidal wave of liquidity into the global commodities and metals markets.
Gold Bullion and Silver Prices have still tumbled from their recent highs, however, spooked by hefty increases in margin requirements set by the US-exchange operators for agricultural and metal futures.
Given the extraordinary efforts of the bond market vigilantes in jacking-up US Treasury yields, and the upward drift in Chinese yields, the mountain that the precious metals' bulls must climb has gotten steeper. However, one should also keep in mind that Chinese bond yields are still far below the inflation rate, and therefore, offering a negative rate of return. In regards to the US T-bond market, if there's a growing realization that the US-government is bankrupt, and can only pay back its debts by printing paper, then precious metals are a safe haven.
So far, the actual results of the Fed's QE-2 scheme are horrifying. Monetizing the Treasury's debt on such a massive scale has only reawakened the bond vigilantes from their slumber. If the Fed cannot stop the slide in T-bond prices, and bond yields ratchet sharply higher, the euphoria in the stock markets over QE-2 is misguided. A similar example is the events leading up to Back Monday, October 1987. At best, the results of QE-2 would simply guide the US-economy into the "Stagflation" trap.
Buying Gold or physical Silver Bullion today...?