China's Gold Dominance
Monday, 8/10/2009 17:28
Already the top producer, China is poised overtake India as the world's top gold consumer this year...

IN A LITTLE OVER nine months, the pendulum of investor sentiment in Asia has swung from the extreme of terrifying panic and fear to the opposite side of the emotional spectrum, writes Gary Dorsch at Global Money Trends – hope and unbridled greed.
The Shanghai stock market index has surged 90% this year, owing its good fortune to $1.2 trillion of bank loans clandestinely funneled into the stock market by brokerage firms, leaving it awash with Yuan and lifting share prices above what economic reality can support.
China's ruling Politburo is demonstrating to the world its command and control over its stock market and economy. Over past few years, Beijing has proven its ability to either massively deflate a stock market bubble, as seen in 2008, and the wizardry to re-inflate a stock market bubble this year.
Thus Beijing is following the Greenspan/Bernanke blueprint, turning to massive money printing to re-inflate bubbles in asset markets in order to jump start an economy from the doldrums, or in this latest case, from the grip of the Great Recession.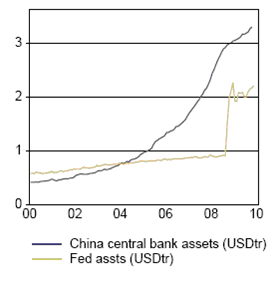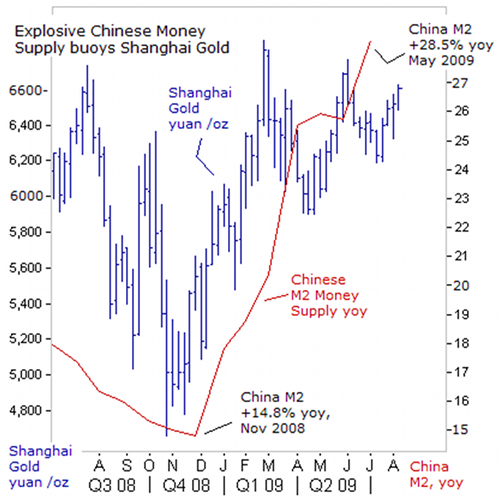 A relatively healthy banking system enabled the Chinese central bank to work its magic. China's M2 money supply is growing at a record 28.5% annualized rate, and the money supply surge is coinciding with big rallies in stocks and property, spilling over into neighboring Hong Kong. State-controlled Chinese banks extended 7.4-trillion Yuan ($1.2trn) of new loans in the first half of this year, equal to 25% of China's entire economy – helping to fuel a powerful Shanghai red-chip rally.
One of the beneficiaries of the explosive growth of the Chinese money supply is the Shanghai Gold market, which is trading near 6,600 Yuan per ounce, and is also tracking powerful rallies in industrial commodities. China is poised overtake India as the world's top gold consumer this year, and there is speculation that Beijing will quietly buy the gold which the IMF wants to sell in the years ahead.
China, now the world's biggest Gold Mining nation, is seeking to boost gold output by 3% to 290 tonnes this year, far less than the 400 tonnes it consumed last year. Thus China could become an even bigger importer of the yellow metal in the months ahead, helping to cushion inevitable corrections in the gold market. And given the trade-off between expanding growth and fighting asset-price inflation, Shanghai traders are betting that Beijing will opt to blow even bigger bubbles in asset markets.
China's super-easy monetary policy is designed to offset the damage to its export-dependent regions, which are suffering from the collapse in global trade. Beijing is also spending 4 trillion Yuan on infrastructure projects, equal to roughly 15% of its economic output per year, to create jobs and stoke economic growth. So it was of great interest to global traders, when the Shanghai red-chips suddenly plunged 5% on July 29th, the biggest daily loss in eight months, on rumors that Beijing would curb bank lending in the second half of this year.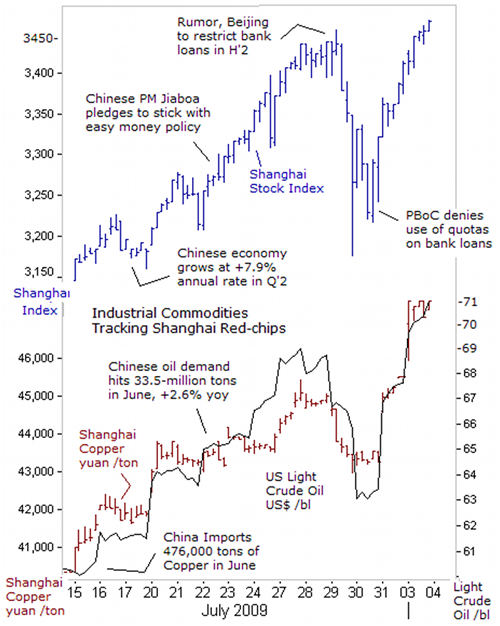 The Shanghai index is prone to sudden shake-outs, with the index trading at 35-times earnings, and Shenzhen's small-cap shares trading at 45-times earnings. The Shanghai red-chip index has evolved into the locomotive for key industrial commodities, such as crude oil, base metals, and rubber. Industrial commodities rebounded from a nasty one-day shake-out on July 29th, after the People's Bank of China wasted little time, in denying rumors swirling in the media that is was considering the idea of enforcing quotas on bank loans.
The prospects for Chinese corporate earnings growth are of critical importance, with the Shanghai stock index flying higher in bubble territory. Large-scale industrial companies in 22 Chinese provinces saw their profits decline 21.2% in the first half to 894.14 billion Yuan, but the decline rate was less from the first quarter's 32% slide, and nowadays, "less bad" means signs of recovery.
Want to Buy Gold today and make it simple, safe and cost-effective? Start with a complimentary gram of fine Gold Bullion here...