China Gold
Tuesday, 4/28/2009 09:50
China is the world's No.1 gold producer, with the world's fastest-growing central-bank gold reserves...
AS BULLISH AS I AM on Gold Investment, writes Julian Murdoch for Hard Assets Investor, there's little arguing with the fact that it has not been a runaway bull these last six months.
Granted, nothing else has been either. It's been a brutal market for everyone, and Gold Bullion has performed better than pretty much every other asset class.
But sometimes it's useful to go back and revisit the premises of some of the stories. One of the big stories in commodities is consistently China. Maybe that's where the gold action is.
Below is a quick and dirty chart that compares the S&P 500 to the iShares Xinhua China 25 Index Fund (FXI), a collection of China's 25 largest companies that are open to international investment in one handy place.
Of course, the results change radically depending on the time frame you look at, but for the past six months, China's been beating the pants off the S&P 500.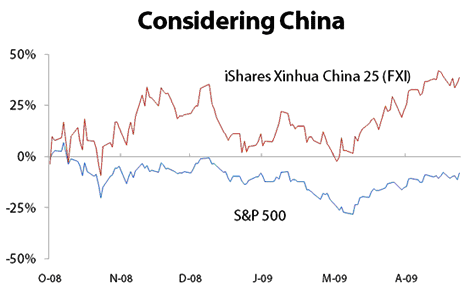 The latest commodities bull news came last week, when China announced that it had increased its gold reserves to 1,054 metric tons after years of reporting no change.
In fact, as recently as March, China reported that its gold reserves were just 600 metric tonnes. The surprise 76% increase means that China is now No.5 on the list of top gold reserves by country, as reported by the World Gold Council.
China narrowly edges out Switzerland, which holds 1040.1 tonnes, and comes behind the US, Germany, France and Italy. Keep in mind that it is not just countries that hold a lot of gold. The International Monetary Fund (IMF) also holds 3,217 tonnes, and New York's SPDR Gold Trust holds 1,104 tonnes. Indeed, all of the trust-based Gold ETFs combined hold just over 1,600 tonnes worldwide.
But the really interesting statistic to look at is the percent of reserves each country holds in gold. Considering that China is the world's largest gold producer (some 288 tonnes last year), it seems fair they'd keep a bit more at home – though many analysts say they need to hold more because gold still makes up only 1.6% of China's foreign exchange reserves.
China's gold as a proportion of its total foreign-currency reserves – now the largest in the world near $2 trillion – remains tiny, in other words. Its 1.6% weighting compares with almost 80% for the US, the world's largest gold hoarder, and an average of 70% for the big European Gold Bullion holders.
But just where did the 454 metric tonnes China says it bought since 2003 come from? China will not tell of course. But at least notionally, it's likely coming from domestic sources. At least that's how comments by the head of the State Administration of Foreign Exchange, Hu Xiaolian, are being interpreted. Others think that China has been behind purchases in Shanghai. From MarketWatch:
"Traders in Hong Kong said some of the additional reserves were likely acquired on the Shanghai gold market during January and February. The physical market remained well-bid by an unknown buyer despite bullion prices spiking to levels that normally cooled demand, they said.
"Purchases were made in Shanghai, traders said, in an effort to absorb domestic production and lessen the impact of bullion prices on global markets."
Put another way, as J.P.Morgan analysts did in a note e-mailed to reporters late Friday, "The public nature of today's disclosure casts doubt on whether China is aiming to buy gold on the international market."
But given the disparity between how much gold China holds – percentage-wise – and the rest of the world, there's clearly lots of room for more gold to come out of Chinese mines and flow into the Chinese State coffers.
Since China is interested in supporting its economy, you would think that China's gold companies would be the first to profit, especially if the latest purchases were made domestically. With that in mind, let's revisit the major Gold Mining companies in the world's No.1 gold-producing nation.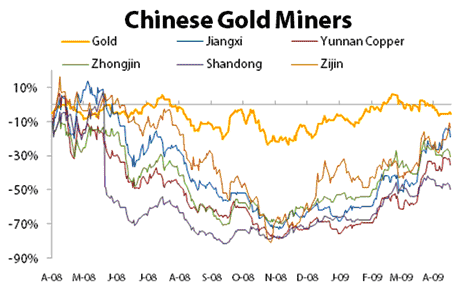 Other than cementing the idea that Chinese companies are volatile, this chart shows how comparative company performance has under-shot the actual Gold Price.
At the top, that's gold – the nice, seemingly steady orange line. Certainly no company avoids the big swings, like the big pop in gold at the end of September, but these are far from pure leverage-the-metal plays.
And while these Chinese companies tend to move together, each of them is different. Both Yunnan Copper and Jiangxi are really copper companies that mine a bit of gold. How little? Well, Yunnan produced 11 metric tons in 2008. Nothing to sneeze at, but a mere pittance when compared with what the other companies in the industry are pulling out of the ground. It's really copper that is making or, in this case breaking, them.
In the first quarter of 2009, Jiangxi's net dropped 89% – mainly because its primary business revolves around cathode copper, and copper's price and demand have both dropped.
Zhongjin Gold Corp. and Shandong Gold, however, are almost pure-play gold companies. In 2007 Zhongjin Gold Corp. mined and processed 70.95 metric tons of standard gold and another 4.68 metric tons of mineral gold. It also mined 4,347 metric tons of electrolytic copper; 10,272 metric tons of content copper; and various amounts of silver, iron ore concentrate and sulfuric acid. But 91% of Zhongjin Gold's total revenue was from gold.
This year, Zhongjin is expecting to see its net profit increase 100% over 2007 due to the increase in gold price and the acquisition of nine new mines.
Let me say that again – Zhongjin is expecting net profit to go up 100% from 2007 to 2008. Truth? We'll find out soon. Zhongjin Gold Corp. will release its 2008 audited earnings report on April 29th.
Shandong Gold, for its part, has already reported profits up 72% for 2008 and is expecting an additional 50% increase in profits for 2009. And how about the largest Chinese gold company, Zijin Mining Group? In March, Zijin reported its 2008 net profit grew a paltry 20% in the last year. That growth can be directly attributed to gold, with 63% of revenue coming from higher gold prices and increased production; but it also shows how hard it is for a larger player to really juice the bottom line. The company produced 57.32 tons of gold (and mined about 12% of all the gold coming out of China) and had a net profit of 2.897 billion yuan (about $425 million) in its gold business.
The interesting thing will be to see if the non-Chinese miners can compete with Shandong and Zhongjin, because we're headed right into the heart of gold-company earnings season. Freeport-McMoRan Copper and Gold Inc. reported a net income of $43 million for the first quarter of 2009 – compared with $1.1 billion for 2008, a 96% drop.
Ouch! Bad year to be in the copper business.
Barrick Gold Corp. is due to release its first-quarter results on April 29. For 2008, Barrick managed to increase its revenues by 25% over 2007. Nice, but nowhere near the results some of the Chinese companies saw, and first-quarter estimates aren't looking that much better than Freeport's.
The next two weeks will be interesting, as many of the rest of the big non-Chinese gold companies – Newmont (April 30), Kinross (May 5), Harmony (May 8) and AngloGold (May 15) – will be reporting their results. Our guess, however, is that nobody will have the concentrated performance of the leading Chinese pure-play gold miners.