What Chinese Policy Means for Gold
Tuesday, 1/26/2010 17:32
Beijing is taking aim at the surge in world Gold Prices...

The UNITED STATES remains the world's No.1 economy, but it's increasingly feeling the heat of a Chinese dragon breathing down its neck, writes Gary Dorsch at Global Money Trends.
At the beginning of the twenty-first century, the US economy was eight-times larger than China's. A decade later the figure was down to four times. China's $4.9 trillion economy has already surpassed Germany's to become the world's third largest, and is on course to overtake current No.2 – Japan – this year.
China emerged to become the world's largest exporter in 2002, shipping $1.2 trillion of goods abroad in 2009. Factories employing low-paid workers to assemble iPods, computers, shoes, and toys are leading the boom. China has also overtaken the US as the world's largest auto market and largest auto producer. Two decades ago, a car industry barely existed in China.
Steel output for 2009 is estimated at 565 million tons, up 13% year on year. Excluding China, global steel output fell 23% from 2008. And while European and US banks were under siege from the global financial crisis, Chinese banks emerged from the turmoil relatively unscathed.
The sound shape of China's banks going into the crisis allowed the government's 4 trillion Yuan stimulus plans to be very effective. Because Chinese banks weren't overleveraged, they were able to move quickly to inject liquidity into the economy, lending an unprecedented CNY 9.6 trillion ($1.4 trillion) last year, equaling 30% of the economy's annual output.
Beijing is also in a stronger position to build new trading alliances after a China-ASEAN free trade agreement came into effect on January 1st, creating the world's third-largest free trade bloc and undermining US influence in South East Asia. The combined population of the free trade bloc is 1.9 billion people with a combined GDP of $6 trillion. Already, the ASEAN countries are providing the raw materials and manufacturing parts for assembly hubs operating in China. And according to the Asian Development Bank, about 60% of China-ASEAN made goods end up in European, Japanese, and US markets.
Japan and South Korea are more reliant on trade and investment with China – now their largest trading partner. Shanghai and Shenzen has overtaken Tokyo as the world's second-largest stock market by value. Four Chinese companies are among the 10 biggest by market value. The top-ranked Japanese company, Toyota Motor, sits at No.25 worldwide. It's worth about one third the capitalization of Petro-China, the world's No.1 ranked company.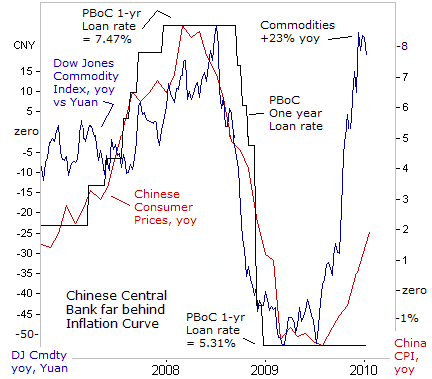 Last year, the big surprise was the degree to which China's economy was able to rebound from the throes of the "Great Recession". Its industrial production was up 18.5% from a year ago, and imports rebounded to an all-time high of $112 billion in December, reflecting massive stockpiling of key commodities. Iron-ore imports surged 42% from a year earlier, imports of copper were up 63%, and aluminum imports rose 164%.
China also imported a record 5 million barrels per day of crude oil in December, and has lined up more crude from Kuwait, Saudi Arabia, and Iraq for this year.
However, for every action there is usually a reaction, and in China's case, its massive buying spree for key commodities was also joined by speculators, hopping on the bandwagon and fueling a rapid escalation of prices since July '09.
This has caused a dilemma for the People's Bank of China (PBoC), which finds itself far behind the "inflation curve" domestically.
The Dow Jones Commodity Index, measured in Chinese Yuan, has made a stunning U-turn, rebounding sharply from an annualized rate of decline of 52% in July 2009, to positive inflation rate of 23% today. In turn, the Chinese Consumer Price Index was 1.9% higher in December than a year earlier, driven by a 5% rise in food prices.
PBoC economists are worried that the consumer price deflation experienced through most of 2009 is quickly flipping to escalating inflation in 2010. If the PBoC doesn't tighten its monetary policy, consumer price inflation could easily accelerate at a 6% clip this year. And with food and energy accounting for half of China's consumer price basket, soaring commodity prices are a ticking time bomb.
Fears of social unrest are the main reason why the Chinese ruling authorities worry about inflation.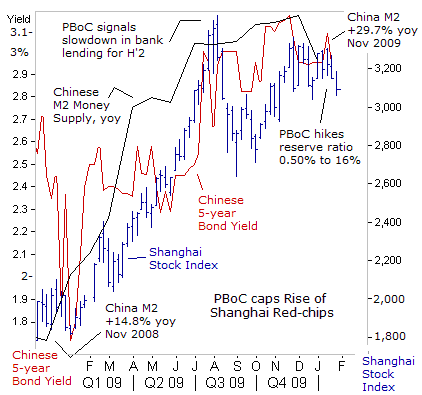 So it was of great interest to commodity traders when, on Jan 12th, the PBoC – now one of the world's most influential central banks – took a meaningful step to tightening its money spigots and shaking out speculators.
The People's Bank, after learning that China's exports and imports had recovered to their pre-crisis levels, raised the percentage of deposits that local banks must set aside as reserves by 50-basis points to 16%.
Such adjustments to bank reserve ratios remains the PBoC's primary tool for fine-tuning its monetary policy. The higher the reserve requirement, the less capital a bank has available for lending. And with less Yuan to lend, the growth of the M2 money supply should contract.
But will this baby-step maneuver by the PBoC be enough to slow China's torrid economic growth, and moderate its voracious demand for industrial commodities? A half-point rate hike isn't significant. Nowadays, when a central bank decides to tighten the money spigots, it usually does so gradually, in baby-steps, in order to avoid sharp meltdowns in the local stock market – especially if a bubble has been incubating or brewing for many months.
The initial move on Jan 12th to hike reserve ratios to 16% barely caused a ripple in the Shanghai red-chip index. Chinese banks had already lent CNY 1.1 trillion ($161 billion) in the first half of January alone, far outpacing the government's full-year target of CNY 7.5 trillon in new loans. But then, on Jan 20th, Beijing upped the stakes in its gambit to slow the M2 money supply by ordering a near total clampdown on new lending by China's biggest banks for the remainder of this month.
Within minutes, the Shanghai stock market plunged 3% in afternoon trading to close at 3150, hit by speculation that the PBoC might also decide to hike its benchmark one-year interest rate. The Chinese stock market had long been building a topping pattern on the charts, since August 2009, when Beijing first signaled a slowdown in bank lending for the second half of last year. Due to fears about the PBoC tightening the liquidity spigot, Shanghai has now become the worst performer among the world's top-10 stock markets so far this year.
The latest clampdown on Chinese bank lending has already begun to stir-up nightmares about the most brutal tightening campaign in China's history. A long string of PBoC increases in bank reserve ratios from 9% in January 2007 extended it to a record high of 17.5% by June 2008. That is still etched in the memories of many traders. The PBoC's tightening campaign included open market operations, draining huge volumes of Yuan out the Shanghai money markets, and lifting bank interest rates.
In the early stages of the PBoC's tightening campaign in 2007, bullish traders reckoned that each increase in bank reserve ratios would be the last, and continued to feverishly bid-up Shanghai red-chip stocks. While the Chinese H-share index in Hong Kong had risen 10% in the first-half of 2007, it lagged a 57% run-up in the Shanghai index, with no arbitrage mechanism allowing traders to narrow the price gap.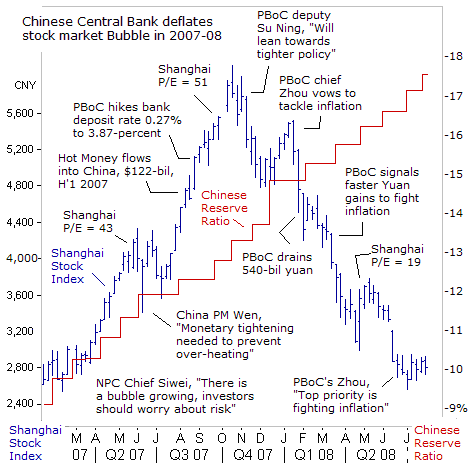 At the peak of Shanghai red-chip rally in October 2007, the PBoC reacted by lifting its reserve ratio to 13%. Yi Gang, deputy of the PBoC, warned speculators that its sole focus was on containing consumer prices.
"The central bank has a firm determination to keep inflation in check. We have many tools in our toolbox, including raising reserve requirements, interest rates, and also open market operations. We will make comprehensive use of these tools to fight against inflation and to keep growth in prices and the economy stable..."
Yi said the stock market, though important, took a back seat when the PBoC debated whether to tighten policy.
"We are paying keen attention to asset prices, but they are not the decisive factor when determining macro-economic control measures. We are mainly concerned with inflation, which in China mainly means CPI," Yi said.
And as the PBoC lifted reserve ratios to an all-time high of 17.5%, and hiked its one-year interest rate to 7.47%, the bear market in Chinese red-chips deepened.
China's Politburo has demonstrated its mastery over its currency, bonds, stock market, and economy, especially its ability to deflate and re-inflate bubbles. By remote control, Beijing also pulls the levers through "jawboning" – talking up its determination to curb inflationary pressures – as well as through direct intervention, moving markets in its desired direction. Now the Politburo is seeking to weaken industrial commodity prices, which must be imported from abroad, and are subject to volatile price swings.
Curiously enough, the PBoC's latest tightening moves coincided with an attempt by speculators worldwide to push the price of US crude oil above $80 per barrel. China itself is partly responsible for the upward surge in world oil prices – its oil imports averaged 5 million barrels per day in December. For all of 2009, imports totaled 203 million tons, up 14% from a year ago.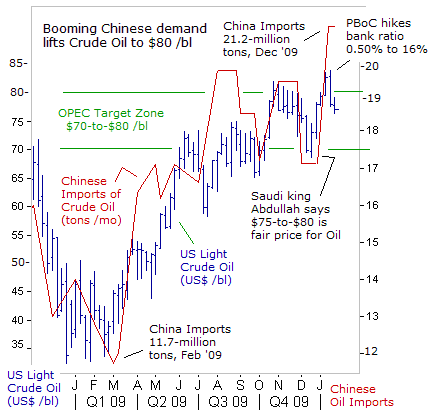 Some 12.7 million autos were sold in China last year, up 44% from the previous year, after Beijing cut taxes on small cars and spent $730 million on subsidies to encourage sales of SUVs, pickups and minivans.
With so many more gas guzzlers set to hit the roads in China in 2010, the International Energy Agency predicted on Jan 15th that global oil demand this year will reach 86.3 million barrels per day, the highest level since 2007, with rising consumption led by faster growth in emerging economies in Asia.
The Opec oil-producers cartel says that it's happy with crude oil gyrating within a range of $70 to $80 per barrel. "I do not think an action to increase production will happen unless the price reaches $100 per barrel," said Shokri Ghanem, chief of Libya's National Oil Corporation, on Jan 13th.
However, it was the PBoC which prevented crude oil form spiraling upward towards $100 per barrel, by tweaking its monetary policy. Crude oil has since tumbled $6 /barrel toward $76 /barrel, amid a shakeout of speculative positions.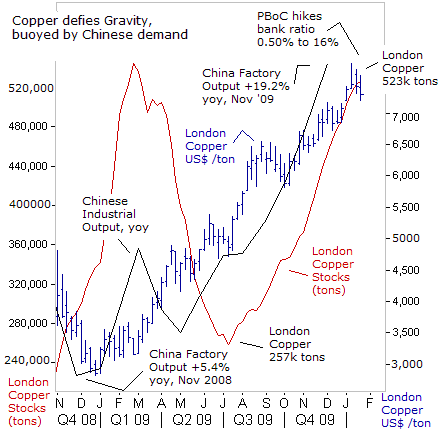 Copper, the metal with a PhD in economics, has defied the textbook logic of supply and demand. Copper has soared 150% from a year ago, even though inventories in London Metal Exchange warehouses have more than doubled to 526,650 tons, levels last seen in the middle of July, and the highest in 10 months.
The price of copper has surged regardless, alongside a boom in China's industrial production and its stockpiling for the nation's strategic reserves. China is the biggest player in the market, estimated to buy 35% of the global copper supply of 19 million tons this year. Threats of labor upheaval at key copper mines in Chile and elsewhere have also served to spike copper higher in December.
However, Chile's Mining Minister Santiago Gonzalez warned on Jan 11th that speculators have lifted copper prices above their fundamental justifications.
"We are worried that copper stock levels are climbing higher. We are at 700,000 tons worldwide at the moment, while prices remain high. This means that at any minute, we could see a violent change and prices could fall..."
Said Gonzalez: "Chile is closely monitoring the disparity between prices and stocks, which are the most out of step in the last 20-years..."
Also weighing on the Chile's state-owned Codelco, the world's top copper miner said it boosted its annual output to 1.7 million tons last year, signaling ample global supply.
And the day after Gonzalez warned of a sharp correction, Beijing tightened its money spigots, knocking copper 3% lower.
China's powerful economic recovery came after Beijing doubled the growth rate of the nation's M2 money supply to a 29.7% annualized clip, while slashing its one-year loan rate 216-basis points to 5.31%. The explosive growth of China's money supply helped fuel gold's year-long rally in Shanghai – up to a record CNY 8,370 an ounce.
China's private households have overtaken India as the world's largest buyer of the yellow metal, purchasing 450 tonnes last year, while India's purchases plunged to 210 tonnes. The Middle Kingdom also surpassed South Africa and the US as the world's largest Gold Mining nation, and much of the new mint may well be sitting in Beijing's coffers.
Thus any move by the PBoC to slow the money supply's rate of expansion should be of great interest to precious metal traders. On Dec 30th, Yu Xuejun, chief bank regulator of the Jiangsu province, said China's top leaders have charted out policies for the year ahead, warning that:
"Actual money supply growth for 2010 will be controlled below 20%, and the 17% growth target will be implemented seriously. Asset bubbles and inflation caused by excessive liquidity would be China's main economic concerns..."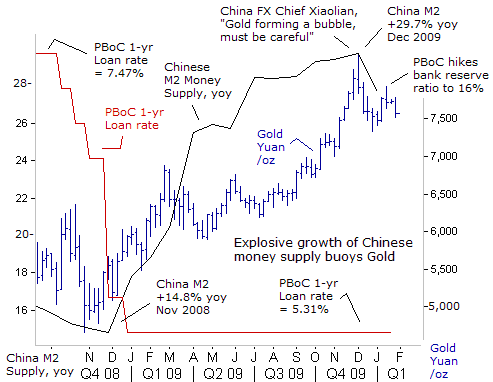 China's leaders were alarmed by the parabolic surge in Gold Prices in December, a symbolic sign of inflationary fears spiraling out of control. Beijing has now taken aim at the yellow metal, with a mixture of "jawboning" and tweaking of interest rates.
On Dec 2nd, while gold hit record highs at US$1216 per ounce in London dealing, Hu Xiaolian, forex chief at the People's Bank of China, told reporters in Taipei that "We must watch out for bubbles forming on certain assets, and be careful in those areas. We must keep in mind the long-term when considering how to use our reserves."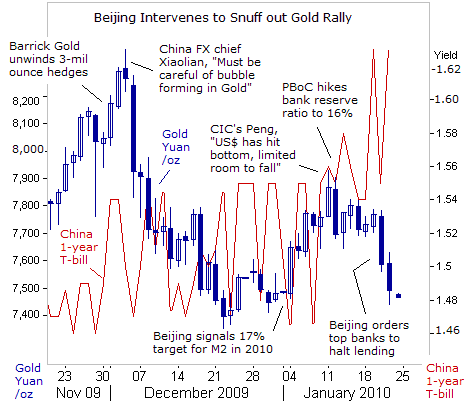 As fate would have it, Xiaolian's comments coincided with the peak in the gold market.
Gold Prices skidded more than 10% over the next three weeks, down to CNY 7400 per ounce. A recovery rally to CNY 7900 was stalled by Peng Junming, asset allocator for China's Investment Corp (CIC), when he said that "China should have the right attitude about investing in gold. There is no urgent need for China to increase gold buying for now, because prices are high.
"I think the US-Dollar is at its bottom now. There will be very limited space for the Dollar to drop further," Peng added on Jan 12th. A few hours later, the PBoC tightened its monetary policy, and carefully guided the 1-year T-bill rate 13-basis points higher to 1.63%.
Gold plummeted again to CNY 7400 per ounce.
Then there's China's real-estate speculators. China's economy expanded at a 10.7% annualized rate in the fourth quarter, and retail sales in December were 17.5% higher than a year ago. However, about of quarter of last year's new loans were siphoned into the Shanghai stock market, and speculators in real estate took out mortgages at record levels.
Developers were snapping up land, and the banks were eagerly funding them. In Shanghai, prices for high-end real estate were up 54% through September, to $500 per square foot. In November alone, housing prices in 70 major cities jumped 5.7%, while housing starts soared 194%.
The real estate binge is fueling fears of a US-style bubble that could burst, and once the bubble pops, China's economic growth could be badly impaired. China Premier Wen Jiabao told the Xinhua on Dec 27th, that "property prices have risen too quickly," and pledged a crackdown on speculators.
Thus Beijing must tweak its monetary policy carefully. "The government must strengthen macro-economic control and carefully handle managing inflation expectations," prime minister Wen warned on January 20th. But "To withdraw macro-economic policies too early will likely ruin the efforts made before and reverse the economic development."
Thus in weaning the Chinese economy off its addiction to high powered liquidity, the PBoC is expected to gradually withdraw the stimulus in the months ahead. IMF chief Strauss-Kahn advised that countries around the world shouldn't unwind their stimulus measures abruptly.
"If we remove stimulus too early, there's risk of a double-dip slump..."

Want to Buy Gold as the stimulus continues? Make it simple, secure and cost-effective by using BullionVault...