China Champions Free Trade
Saturday, 2/04/2017 10:01
Just say no to protectionism urges President Xi as New Year begins...
LAST Saturday marked the Lunar New Year, the most important date in the Chinese calendar, writes Frank Holmes at US Global Investors.
It's also the start of the longest holiday at two weeks, during which the largest mass migration of humans occurs every year as families reunite and go on vacations, both domestic and overseas.
2017 is the year of the 10th Chinese zodiac, the fire rooster, one of whose lucky colors is gold. Year-to-date, gold – the metal, not the color – is up 3.5%, which is below the 5.7% it had gained so far around this time last year.
There are other opportunities to get excited about. More than 3 billion trips were expected to take place domestically this year – 58 million by air alone. That's up from 55 million last year and is equivalent to the combined populations of Texas, Ohio and New York. China Southern Airlines, the largest carrier in Asia, added as many as 3,600 flights to accommodate the demand.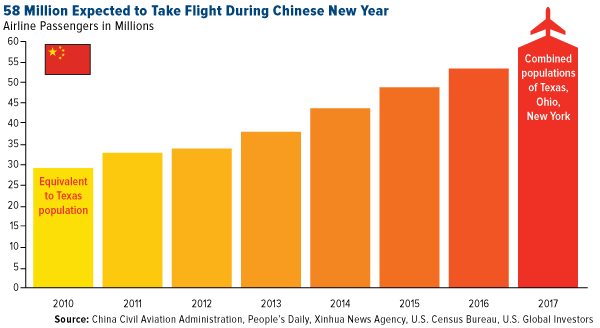 As disposable incomes rise in the world's second-largest economy, travelers are more inclined to take their New Year celebrations outside the country. This year, 6 million Chinese tourists are expected to travel abroad and spend more than $14 billion in 147 destinations, the US included. As I've mentioned before, China is home to some of the biggest overseas spenders, with 128 million people spending a whopping $292 billion in 2015 alone.
A theme I've written and spoken about frequently is the emergence of new investment opportunities as more and more Chinese citizens join the middle class and build disposable incomes. The size of the Asian giant's middle class has already exceeded that of America's. Looking ahead 10 years, the number of Chinese households with incomes over $35,000 is now expected to surge 300%, from 40 million today to 160 million by 2025.
That projection can be found in a January report from Oxford Economics, which points out that these new middle-class Chinese consumers "will demand more of the services and higher-end products that American companies export."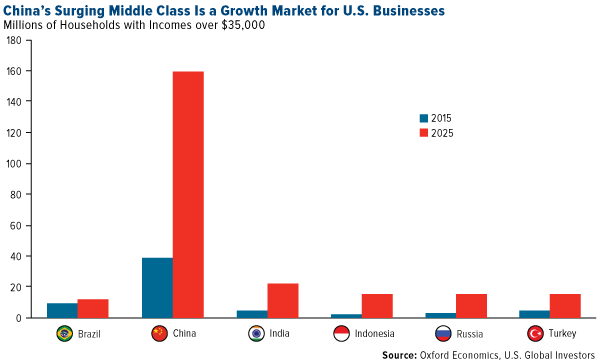 "As China's middle class expands, we expect demand for American-made goods and services to rise as well," the economic advisory firm writes.
Among those goods are advanced-technology products (ATPs), made in American industries such as robotics, aerospace, electronics and pharmaceuticals. Chinese demand for such goods has indeed risen, from less than 24% of total imports in 2002 to close to 34% in 2016. However, the US has been losing market share in exporting ATPs to China, according to a report this week from BCA.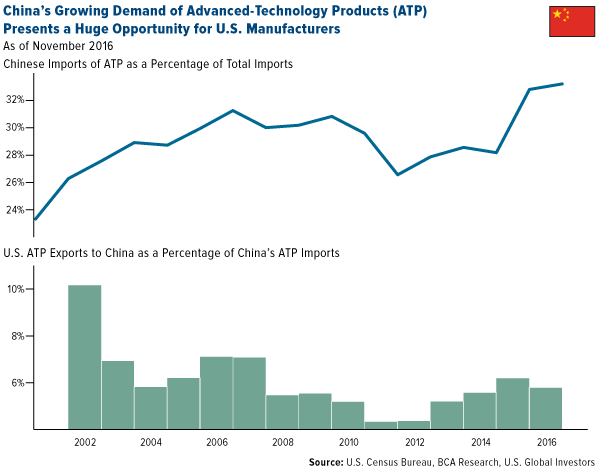 BCA argues that President Donald Trump will need to work more cooperatively with the Chinese to regain market share for American ATPs if he's truly committed to creating quality manufacturing jobs here in the US At the moment, it's unclear whether he's serious about actually imposing sanctions on Chinese goods or whether he's using the threat simply as a negotiating tactic.
I agree with BCA's analysis. Trump's isolationist and protectionist leanings certainly raise the specter of a trade war with China, which would likely end up being worse for US businesses and consumers in the long run. According to Oxford Economics, our trade relationship with China supports about 2.6 million jobs in the US and has helped put money in Americans' wallets by keeping consumer prices lower than they otherwise would have been. A typical American family making $56,500 in 2015 saved about $850 that year because of trade with China, Oxford estimates.

"Brewing trade tensions between the world's two largest economies are undoubtedly negative for both the global economy and financial markets," BCA writes, recommending that investors "should certainly hedge against such a scenario...with long positions on the Dollar, gold, and the VIX," or the Chicago Board Options Exchange (CBOE) Volatility index.
Now that Trump is rethinking America's involvement in free-trade agreements such as NAFTA, having already withdrawn the US from the controversial Trans-Pacific Partnership (TPP), President Xi Jinping seems interested in positioning China as the global leader in free trade.
Earlier this month, Xi made the first-ever visit by a Chinese president to the World Economic Forum's annual meeting in Davos, Switzerland, where he urged the world to "say no to protectionism."
"Pursuing protectionism is like locking oneself in a dark room. While wind and rain may be kept outside, so are light and air," he colorfully said. "No one will emerge as a winner in a trade war."
It's definitely a sharp departure from the norm of the past several decades that China should emerge as the world's top defender of global trade at a time when the US is set to turn inward, but this is the reality we live in now. I'm not the only one who feels this way. Speaking to Congressional Republicans in Philadelphia last week, UK Prime Minister Theresa May said that, while both countries are now on a more isolationist trajectory, the US and UK must resist the "eclipse of the West."
"We – our two countries together – have a joint responsibility to lead," she said, "because when others step up as we step back, it is bad for America, for Britain and the world."
As if to reaffirm its commitment to being a global leader in trade and economic development, China just agreed to cooperate with the Philippines on 30 regional infrastructure projects valued at $3.7 billion, according to Global Trade Magazine. This comes despite the two countries sharing a traditionally strained relationship over territorial rights.
What's more, the China-led Asian Infrastructure Investment Bank (AIIB) – founded in 2015 to serve as an alternative to Western creditors such as the World Bank and International Monetary Fund (IMF) – will be joined by 25 new member-nations this year alone, including Ireland, Canada, Ethiopia and Sudan. The bank is leaving the door open for US membership, but that appears unlikely under a Trump administration.
In its monthly investment report, HSBC recommends an overweight position in Chinese equities, citing improved economic activity, policy stimulus and strong credit. As for a US-China trade war, the investment bank believes it to be unlikely. However, "rising trade protectionism or US-China trade frictions may accelerate the development of high-valued industries in China," it writes.