China, US & Inflation
Tuesday, 9/10/2013 20:28
Stimulus take a while to end even after it's ended...
AFTER TODAY'S
positive economic data out of China,
writes Gary Tanashian in his Notes from the Rabbit Hole
, should we consider the possibility of a new up cycle in inflation expectations based in large part on China and its credit growth cycle?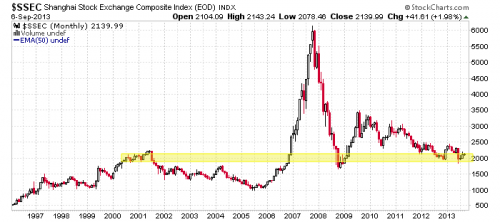 The Shanghai stock market has declined steadily since the post-bubble rebound in 2009. Further, after a record amount of credit-based stimulus, central planners are promoting a withdrawal of credit.
"China's leaders are extending a clampdown on credit," says Bloomberg, "prompting analysts from J.P.Morgan Chase & Co. to Societe Generale SA to caution that the economy is vulnerable to weakening after the pickup so far this quarter."
But with the SSEC at notable long-term support, it is appropriate to question whether a bounce in the global growth engine (China) is in the cards.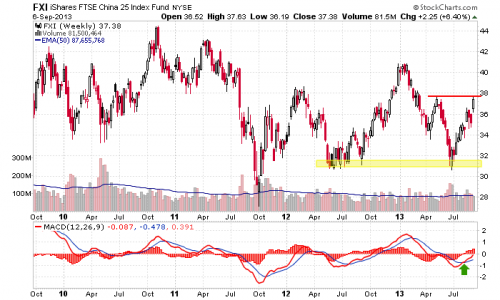 The China 25 found support and has been rising since early summer. After a strong rise it's now broken through key resistance. It is notable that this rise has taken place against a modest decline in many US markets over the last few months. Exceptions in the US are technology and to a lesser degree, semiconductors, which service a global customer base.
We all know that China is considered an engine of global growth, so if its credit inflation to date were to manifest in an inflationary growth cycle, there would be trade opportunities in US equities. But broader Asia and emerging markets would be expected to be part of the play as well and could actually out perform.
Returning to the question of sustainability posed by the fretting analysts at J.P.Morgan and Societe Generale, let's note that Alan Greenspan's famous bubble in commercial credit lived on well after his Fed began to withdraw official accommodation at the beginning of 2004.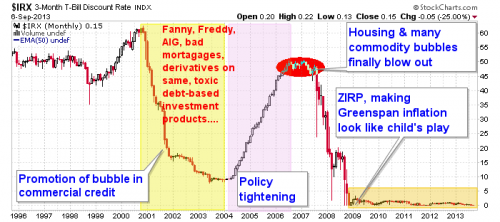 So in consideration of the ongoing pull between the deflation and inflation arguments, we simply want to know what the next tradable cycle will be. While threatened policy tightening in the US and China paints the headlines toward an anti-inflationary stance, we consider a potential lag time between actual (never mind threatened) policy withdrawal and asset market response (which usually comes in the form of utter liquidation in the 'Age of Inflaton on Demand' ™).
Aside from being a road map potentially instructing about Chinese policy, the above chart tells us in striking detail just how desperately inflationary the Ben Bernanke Federal Reserve is and has been. Never mind the "taper" obsession, this Fed has routinely held ZIRP through thick and thin since 2008 with the only media noise I have seen coming last week from some Fed talking head going on about the first rate hike, out in late 2015!
They should quit the Fed and hit the standup comedy circuit.
The Fed talks "taper" because interest rates are rising to challenge its image of authority and control. Why are interest rates rising? In large part because China is selling Treasury bonds. Why is China selling Treasury bonds? How would I know? I write a macro market newsletter and do not sit on the Central Planning Bureau.
But if I were to make an educated guess I'd say that the utility of funding US growth is no longer considered to be in China's best interest. The US Fed's bald-faced ZIRP (i.e. systematic inflationary policy) is, despite the global upset and deflationary pull of the Euro crisis and China's slowdown, considered to be an inflationary act.