China Dents Gold
Wednesday, 10/04/2017 09:01
Just no telling what comes after this Golden Week...
THIS COULD offer a no-brainer gold buying opportunity, reckons Frank Holmes at US Global Investors.
Early last week, North Korea said it was interpreting some of President Donald Trump's comments as a declaration of war, insisting it can freely shoot down American military planes even if they're not flying in North Korean airspace. As everyone is pointing out, the country has made similar threats in the past, but with Trump as president, there could be an added level of unpredictability.
Ordinarily, we would expect geopolitical risk of this scale to boost the price of gold on increased safe haven demand. Instead, the yellow metal struggled last week to extend the gains it's made in 2017 so far.
The main contributor to the pullback is likely the fact that markets in China will be closed this week in observance of Golden Week. Think of Golden Week as China's Fourth of July – if the Fourth of July lasted for several days. This year marks the 68th anniversary of the founding of the People's Republic of China.
Given that the country is the world's largest gold market, the metal has in the past depreciated leading up to the week-long celebration. If you remember from last year, gold was knocked down significantly after someone dumped as much as $2.25 billion of the metal in the futures market, and on October 2, gold suffered its biggest one-day loss in three years.
Last week gold fell 1.33%.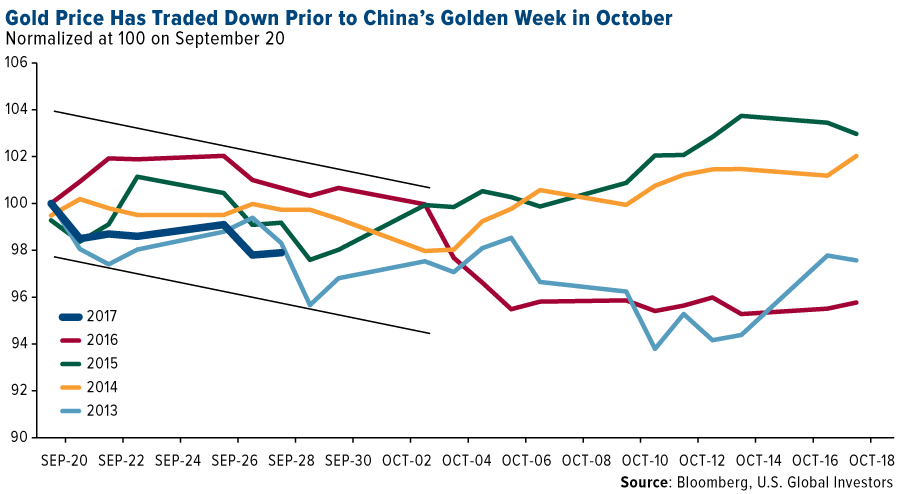 As you can see above, gold immediately rallied following the correction in 2014 and 2015, but it continued to drop in 2013 and 2016.
There's no telling what it might do this year, of course, but I believe this could be a good buying opportunity, as the fourth-quarter Indian wedding season has historically brought with it higher gold prices on stronger demand. The backdrop looks favorable for all metals, in fact, as we head into the final quarter of the year, with improving global economic and manufacturing activity suggesting demand could surge.
Granted, other factors besides Golden Week are putting pressure on gold right now. The US Dollar just had one of its best months of the year, and the real five-year Treasury yield turned positive. Keep your eyes on yields, though, because as soon as they turn negative again, gold could take off.
Then there's the record-setting stock market, which might discourage some investors from seeking a safe haven. But I think it's worth pointing out that gold has remarkably held its own during this bull run, closely keeping track with the S&P 500 Index in 2017. As of last Friday, the S&P 500 was up 11.6% year-to-date, gold 11.5%.
US Ready to Reform Tax Code for First Time in More than 30 Years
Small-cap stocks, as measured by the Russell 2000 Index, were among the biggest winners immediately following the November election, the idea being that Trump's "America first" policies would benefit smaller, domestic companies with less exposure to foreign markets the most.
This trade was put on hold somewhat as Trump's pro-growth agenda repeatedly stalled in Congress. But renewed talks of tax reform last week excited investors, helping to push the Russell 2000 back into record-closing territory. For the 12-month period, the index of American small-cap stocks is beating the S&P 500 by nearly 3%.