Copper Mountain, Shrinking Growth
Friday, 4/08/2016 11:20
China's stockpiles of copper just overtook LME warehouses...
On APRIL 5th, the IMF warned that the global economy is still losing momentum, writes Gary Dorsch at Global Money Trends.
Managing director Christine Lagarde urged central banks to take action to prevent a lapse into what she described as a "New Normal of Mediocre" growth, saying "the economic recovery remains too slow, and too fragile."
As such, the IMF lowered its outlook for the global economy to a growth rate of 3.4% for the next six months or half the growth rate prior to the 2008 financial crisis. One of the biggest reasons for the slowdown in the world economy is the declining growth rate in China, which is expected to find a soft landing in the 6.5% to 7% growth range this year.
Prior to 2012, China's economy was expanding by 10% per year on average for nearly two decades.
As goes China, so goes the world economy. Increasingly, China's currency and equity markets are expected to influence price movements in financial markets in the G-7 countries, the IMF warned.
"Markets are only just beginning to feel what was likely to be the growing impact of China in the years to come as its financial links with the rest of the global economy increase.

"It is likely that China's spillovers to global financial markets will increase considerably in the next few years."
"We do see China as unique so far, in terms of news about its economic performance affecting markets elsewhere," said Gaston Gelos, the IMF division chief for monetary and capital markets. In the report, the IMF noted that emerging market economies such as China, India, Brazil and Russia have driven more than half of global growth over the past 15 years. And with stronger trade ties and financial networks causing spillovers from these countries to become "the norm, not the exception," the risk of future shocks has increased and could potentially cause reverberations around the globe.
The IMF calculated that emerging market spillovers now make up for a third of the fluctuations seen in equity and currency markets in developed nations. "The impact of shocks to China's fundamentals on global financial markets is expected to grow stronger and wider over time," the fund said in its report.
The slowing of growth in China has been inevitable as the Politburo tries to shift the economy from one driven by exports of factory made goods and foreign direct investment into one that is more reliant on domestic demand. On March 16th – Fed chief Janet Yellen surprised the markets, by ruling out four rate hikes this year, but instead, left the door open for two increases to 0.875% by year's end, arguing that any adjustment in the fed funds rate should be implemented "cautiously" given the growing risks for the global economy, particularly the expected slowdown of the Chinese economy and the drop in commodity prices, she told the Economic Club of New York.
But what is the real rate of growth in China's economy?
The idea that China's government apparatchiks are fabricating its economic data isn't new. In fact, it's probably not even accurate to call it a "badly kept secret" anymore to call it willful manipulation. In any event, the question is not if China's GDP data is contrived but rather to what extent and on that point most people are understandably clueless.
Because after all, China's economy is somewhat of a black box and in the absence of reliable data, it's sometimes easier to estimate what's going on by looking at how things are going by gauging the prices of industrial commodities, such as copper, which heavily depends on Chinese demand. Indeed, that's why quite a few business CEO's are so worried.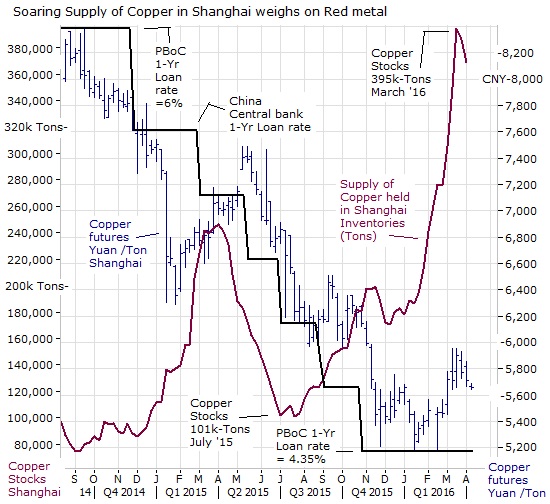 Copper stockpiles tracked by the Shanghai exchange soared to a new record last month; and for the first time in more than a decade, China is the center for the world's copper stockpiles.
There's more metal in warehouses tracked by the Shanghai Futures Exchange than the London Metal Exchange as price differences make arbitrage trading profitable and encourage copper imports to China. In Shanghai, stockpiles have nearly quadrupled since the end of July '15, reaching an all-time high, at 386,000-tons, while LME-monitored inventories sank to a one-year low.
According to Nikkei Asian Review, LME copper inventories have fallen by -40% since the start of the year, while China's copper imports have risen by over 20%. Chinese investors have been buying copper as a hedge, in anticipation that copper in Yuan-denominated prices will rise, if the Yuan is devalued against the US Dollar – the Nikkei Review says.
Still, the rapid build-up of unsold inventories of copper in Shanghai is expected to blunt any major advance in the first half of 2016, and might eventually drag down the Shanghai price and then the LME price. That spells trouble for the world's copper miners. Chile's Codelco, the world's #1 copper producer, posted a net loss of $ 1.4-billion for 2015 related to asset impairments and a sharp fall of prices for the red metal.
Copper prices hit a six-year low in January but rallied 13% to $2.27 per pound in New York. Antofagasta chief executive Diego Hernandez says speculation rather than substance was behind that rally.
"We are currently enjoying a rally in the copper price, but this does seem to be driven more by financial investors than any change in the fundamentals. Clearly, the copper price is depressed for the next two years, we expect it to be lower."
Does the upward spiral in inventories of copper in China, and the severely depressed price of copper, signal a sharp downturn for China's construction industry or its factory sector? China buys 45% of the supply of freshly mined copper in the world. So the answer is – probably, yes.
In an effort to get a read on just how likely it is that the economic numbers coming out of China's NBS are fictitious, the Wall Street Journal recently surveyed 64 US economists.
Here's what they found out: China says its economy grew 6.9% last year. Economists in the US don't buy it. More than 96% of respondents to the latest WSJ survey said China's gross-domestic-product estimates don't accurately reflect the state of the world's second-biggest economy. Instead, official data are manufactured to fit the government's narrative.
As such, in the Journal's survey, none of the respondents said China's GDP was expanding 7% or more. More than half estimated annual growth in 2015 at somewhere in the5% to 7% range. About a third estimated growth would come in from 3% to 5%. Forecasts for growth in 2016 ranged from as low as 2% to above 7%.