China Bulls in Full Cry!
Friday, 1/11/2013 14:48
As expected, the market is being hit with a wave of positive China news...
THE SUMMER offensive by the China bulls has well and truly begun, writes Dan Denning, editor of the Daily Reckoning Australia.
Trade data from China's economy yesterday showed a 14.1% rise in December exports, year over year. Imports rose 6% year over year. Both were apparently bigger gains than analysts 'expected'.
The S&P 500 powered ahead in America, and iron ore was not far behind. At $158.50, the spot iron ore price is now up 82% from its lows. Fortescue Metals Group was up 2.32% yesterday. You can say one thing about marginal iron ore producers that depend on high prices: they are great proxies for risk. Probably in both directions.
Is China's economic engine about to take the world – and Australian stocks – for another big ride? Well, HSBC reckons China's economy will grow at 8.6% this year. That's below the year average growth rate. But it's better than the sub-eight per cent rate of 2012. It's an improvement, if it happens. Stocks seem to like that.
But all those institutional forecasts for GDP growth tend to be pretty superficial. That is, they tend to focus on general definitions of prosperity, like GDP. But GDP in China, like US GDP, can be whatever you want it to be. Not only are the official statistics suspect, they are heavily influenced by government spending decisions. That is not the sign of a healthy, recovering economy.
So what is it a sign of? Well, it's a sign of an economic game that is rigged by State intervention. That intervention comes through credit growth. The broadest measure of Chinese credit was up 28%. None of the reports we found indicated if that increase was year-over-year or month-over-month. But either way, it amounts to about $262 billion increase in credit.
That's some good old fashioned inflationary monetary policy. You can see it in Chinese house prices, with prices rising in 53 of 70 cities in November, according to Vesna Poljak in today's Australian Financial Review. You'd probably see signs of China's inflationary policy in Aussie house prices too, with all that Chinese money coming in. But the data is so deliberately opaque that it's hard to tell.
By the way, the China trade numbers were covered in no less than four AFR articles, by our count. Nothing sells financial newspapers like a bull market. This is one reason we tend to be wary of the bullish chorus: it's a bunch of people talking their own book...loudly...to anyone who will listen. It's also the sort of fake-out good news offensive that our colleague Greg Canavan predicted last year.
Greg reckoned that a barrage of misleading data would sucker people back into the share market, even though the underlying risks to the Australian economy were getting worse by the month. So far, he's been spot on. It's been a stellar month for the two speed economy and the banks and miners that represent it.
Let's not forget the Australian Dollar! It conducted a flanking maneuver overnight in its assault on the $1.06 level against the US Dollar. The attack was repelled, preventing a breakout back to the all-time high of $1.10. But the chart below suggests a break-through could be imminent. How high?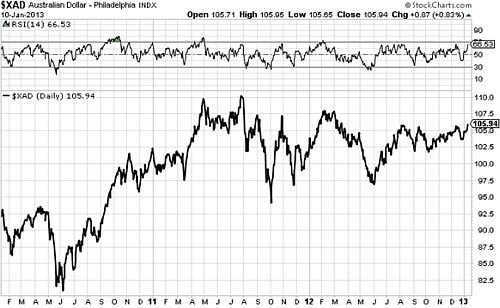 What could be the catalyst for the breakout? The Chinese fourth quarter GDP figures might do the trick.
Make buying gold safer, easer and much cheaper when you use BullionVault...