Western Gold Buying Looking Increasingly Asian
Tuesday, 12/03/2013 09:07
Worst November in 35 years sees BullionVault users buy gold on the dip again...
LAST MONTH was the worst November for gold prices since 1978, writes Adrian Ash at BullionVault, the physical precious metals market online.
It also, however, concluded the strongest 3-month run on our Gold Investor Index since June, when the sharpest quarterly drop in prices since 1983 unleashed a surge in private investor interest in physical gold.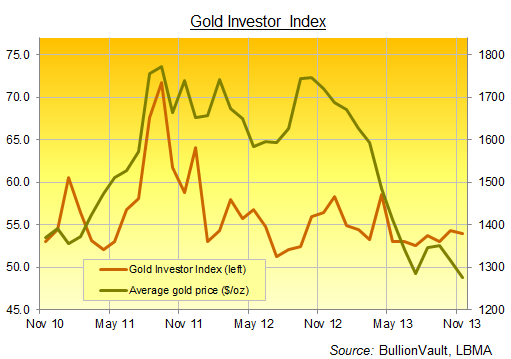 Bullionvault's Gold Investor Index is a sentiment indicator, based not on a consumer survey but on real investment behavior amongst the 50,000 people who have now used our internet gold and silver exchange – the world's largest retail bullion investment service online.
It measures the balance over the last month of buyers over sellers on our internet exchange – people who grew their holdings (or began them) vs. those who quit or reduced them. The Gold Investor Index then shows that balance as a proportion of all gold-owning users at the start of the month, such that a reading of 50.0 would signal a perfect equilibrium.
Why so solid? Last month was also the worst November for gold prices since 1978 in Dollars, and the worst since 1981 in Sterling. Yet once again, more BullionVault users took advantage and grew their holdings rather than selling, extending their response to the 2013 price crash.
But in buying on lower prices, Western private investors (some 89% of BullionVault users live in North America or Europe) are perhaps starting to track more closely the behaviour of Asia's traditionally strong gold-buying consumers.
Our customers were net buyers overall in November by weight. Indeed, customers have now bought back 60% of the 1.2 tonnes sold during the April-June liquidation, taking their gold holdings back above 32.5 tonnes in aggregate – more gold than is owned by most of the world's central banks.
And again, those Bullionvault customers starting or adding to their holdings last month outnumbered those who sold better than 2-to-1, just as they did in October.
Western households are accumulating gold on the drops, in short. And 2013 has given them quite the drop to buy.