Panic into Bullion? Not Outside Coin Mark-Ups
Tuesday, 10/06/2015 09:00
New 2-way gold and silver bullion investing data show sentiment slipping in September...
SO WHAT did the US Fed's delay to raising interest rates from 0% do to gold and silver investing last month? asks Adrian Ash at BullionVault.
Scan the headlines, and you might think Janet Yellen's loss of nerve cleared out coin shops, spurred record sales by government mints, and set smelting pots to working over time to meet new demand, especially for silver coin.
But those numbers capture new buying only, and only amongst one part of the physical market. Much of it captures only demand from retailers each month, not directly from investors, with only 2 of the world's top 5 gold-coin mints selling bullion coin straight to the public online (numbers 2 and 5 on 2014 data, the
Royal Canadian Mint
and the
People's Bank of China
. Turkey's
Darphane
, like the US Mint and South Africa's Rand Refinery, deals only with approved distributors).
Moreover, re-sale by existing owners, whether to other investors or back to the smelting pot through retail dealers, doesn't figure. Nor does weight of demand or supply from larger private investors choosing to spend more than a couple of hundred or a few thousand bucks and choosing to avoid the expensive, illiquid market in retail coins.
Luckily, two-way data are available, outside the coin market, from the world's largest single pool of private gold and silver owners online.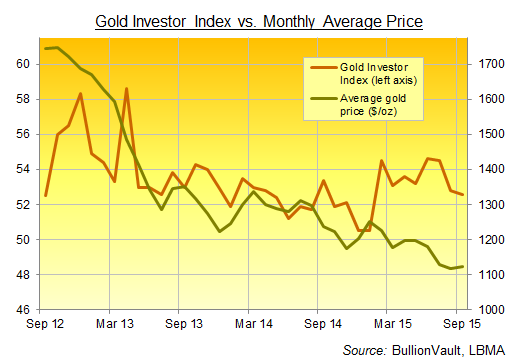 BullionVault enables private individuals to access
wholesale bullion prices direct
, trading metal held in large, market-approved bars live online 24/7, and storing it in specialist, market-approved vaults in the client's choice of London, New York, Singapore, Toronto and Zurich.
Minimum deal size is one gram (currently below $37 for gold and around 50 cents for silver) and cost efficiencies really kick in above $2,000. But the average holding, in total, is around $50,000. That matches just less than 10% of the
average US household's net worth
– a typical allocation amongst those savers who choose to buy physical precious metals.
Of course, the mean average is pulled higher by those family offices, charities, small investment funds and other 'high net worth' investors using BullionVault to buy or sell many millions at once. Because, like other investors waking up to the costs and hassle of trading coin, they find it very much
safer and more cost efficient than using private banks
.
So the median average shows the more typical investor (half our customers own less, half more) and that stands nearer $15,000 total in gold and/or silver. Against median US household net worth, that equates to an 18% allocation – more aggressive, but again
far from atypical for those investors
who do choose to put some of their savings into precious metals.
The Gold Investor Index is based solely on the real trading decisions of BullionVault's 57,000 users worldwide – 89% of whom live in Western Europe or North America. Launched in 2012, and
cited by many analysts and news outlets since
, it measures the number of people who ended the month with more gold than they began against those who sold, rebased as a proportion of all existing gold owners at month's start.
A reading of 50.0 would signal a perfect balance between the number of people starting or adding to their gold holdings with the number choosing to reduce their investment. And last month, the index slipped from 52.8 in August to 52.6 in September, an 8-month low marking the third consecutive drop from this summer's earlier two-year highs at 54.6.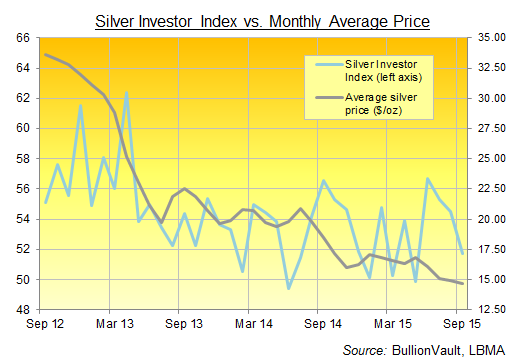 The drop in sentiment towards silver was more dramatic, as things always are thanks to its more volatile price. BullionVault's Silver Investor Index also hit two-year highs in early summer, but last month dropped from 54.5 in August to 51.7 – a four-month low.
By total weight however, BullionVault users – primarily self-directed private investors – added over 200 kilograms to their gold holdings as a group, reaching a new record above 34.3 tonnes. Growing in 7 of the last 9 months, that is the strongest run since spring 2013.
BullionVault users also grew their total silver holdings by almost 3 tonnes to a new record 531 tonnes. Again, that marked a 0.6% increase from end-August. But year-to-date – and contrary to headlines about "Silver Mints Sold Out!" in the expensive, illiquid market for coin at retail – gold in fact remains the more popular choice amongst private investors.
So far in 2015, BullionVault user gold holdings have grown by 1.6 tonnes, 85% ahead of the same period last year. Silver holdings have grown by 42.7 tonnes net, some 20% stronger than net purchases during the first nine months of 2014.
All told then, and judged net of investor selling, September saw 2015's solid upturn in private interest in gold ease but continue, and continue ahead of silver. Private investors were net buyers by weight, and buyers outnumbered sellers. But the action was far less frantic than the coin mint headlines suggest.
How come? Gold prices steadied in September after falling for 3 months straight, and that rally deterred more active traders looking for bargain prices. Indeed, we've already seen some profit-taking on the strong jump starting after last week's poor US jobs data – and it's been more pronounced in silver, already 7% higher in wholesale trading from the last day of last month.
Looking ahead, the US Fed's loss of nerve over finally raising interest rates from 0% has worsened the uncertainty for investors, and that is affecting gold and silver sentiment too. Precious metals may have stabilized above the summer's new 5- and 6-year lows, but prices are searching for clear direction right now.
Longer-term investors continue to begin or add to their gold holdings, and silver continues to attract new money too. But there is no panic into physical bullion, not outside the even-higher-than-usual mark ups being charged to coin buyers in the retail market. The wholesale supply-chain remains well stocked. Private individuals wanting to access it – and save up to 10% versus coins, and
save up to 20% VAT sales tax or more on silver
– can put their measured, considered decision into action using BullionVault.