Buffett Buys Gold!
Monday, 8/17/2020 09:01
Well, kinda. Thank Peter Schiff, natch...
DID
Warren Buffett just bet against the US economy?
asks Gary Tanashian in his Notes from the Rabbit Hole.
The Sage's latest investment raises some questions.
Warren Buffett has long been critical of gold as an investment, as MarketWatch notes, saying that it "has no utility" and that the "magical metal" is no match for "American mettle."
"Anyone watching from Mars would be scratching their head" over how we treat the shiny stuff on this planet.
Yet the Berkshire Hathaway (NYSE: BRK.A) just acquired nearly 21 million shares of Barrick Gold (NYSE: GOLD) worth $563 million, while selling shares of big US bank Wells Fargo and J.P.Morgan according to 13-F filings released Friday.
You know, ole' Warren was right; gold has no active utility. Gold is a constant and the prices the market assign to it are just the reflections at any given time of how market participants are viewing risk assets. At least that is gold's best utility in my opinion; as an anchor or a ballast.
Cue Huey, Dooey and Louie to weigh in from the gold bug "community", led by he of the mountainous ego, Peter Schiff.
Hey Peter, Warren is NOT listening to your podcast, Mr.Bullish Promoter all through the 2011-2016 bear market.
But hey, if Warren bought Barrick Gold, he must be a covert subscriber to NFTRH!! I chart it every week.
Meanwhile, gold is back above the EMA 20 (black). It's a potential bear flag, but as long as it holds the EMA 20 that prospect weakens.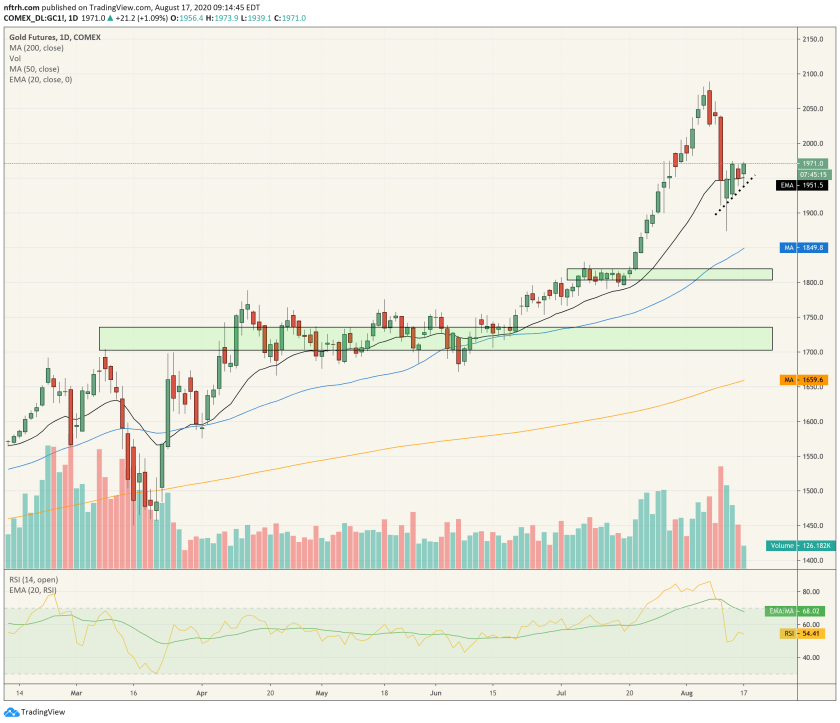 The SMA 50 is rising and is a natural support area at 1850 as is a shelf down around 1800. Those firmly up trending moving averages are a thing of beauty.
So we have a new upside target on gold (what with the long-standing $1940 already booked) and it's way up there. But gold would logically need to so some more grinding to make it happen, per work we're doing in NFTRH on a lovely monthly chart pattern.
But we'll see. Maybe all Warren needs to do is listen to Peter Schiff's podcast every week and ride gold's utility to da moon!
But in and of itself, this Buffett news is not good for much of anything other than to allow the Bug promoters to release some endorphins and school some neophytes.