Britain's Savings Problem
Wednesday, 8/22/2012 14:36
British people are not saving enough – not that policymakers care...
HERE IS what Bank of England governor Mervyn King said earlier this month:
"It is to our Olympic team that we should look for inspiration. They have shown us the importance of total commitment when trying to achieve a goal that may lie some years ahead."
Who could disagree, asks Jason Riddle of Save Our Savers, that we need the talent, tenacity and determination of Olympians, focused on the clear goal of getting the economy back on its feet? And with the UK third at the Olympics, the medal table is a source of national pride and inspiration.
Our position in the world league table of savings, however, is rather less inspiring. Currently we are about 50th in the world with gross savings at 13% of GDP. That's according to World Bank data for 2011, much of which is still to be collected, in 2010 the UK was 111th.
In Europe we are 4th from bottom, with only Portugal (12%), Ireland (7%) and Greece (4%) saving less than us.

Government Ministers acknowledge that we should save more. Steve Webb, the Minister for Pensions and Mark Hoban, the Financial Secretary to the Treasury, are both are leading initiatives they claim will encourage more people to save. However the fact that these are set against a background of low interest rates, intended to discourage saving while encouraging borrowing and spending, does beg the question about how serious these initiatives really are.
If you were to ask the Ministers how much more people should be saving or how much saving the economy needs to fund its investment requirements, they would not be able to tell.
Savings are vital to the economy: they provide the capital for investment; they enable people to buy big ticket items such as cars and holidays; the elderly rely on them to support themselves in retirement. The fact that the Government has no idea what constitutes a sound level of saving is extraordinary.
Given the way in which savings have been undermined in recent years, should the government not attempt to support savings by setting a benchmark or target level? This would not necessarily mean that such a target would be achieved, of course, but it would focus attention on the importance and need for savings. It would also make it much less likely that the Government would take its eye off the ball and forget about saving in future as it has done over the past decade.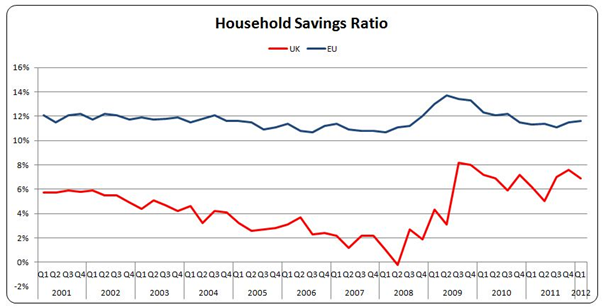 In the 1990s the household savings ratio, which measures the proportion of the country's disposable income being saved or used to repay debt, was 8.4%. In the Noughties it averaged just 3.6%. This should have set warning bells ringing. A quick comparison with the rest of Europe would instantly have shown our diverging paths. The UK economy may currently appear to be in better shape than much of Europe, but it is still extremely precarious and, unlike many countries, we no longer have a strong foundation of savings to fall back on.
There are targets galore in government: targets for deficit reduction; for unemployment; for the rolling out of broadband and for the reduction of carbon, to name just a few. But the government has no target for how much saving there should be.
The government does, of course, have a target for inflation. This is keenly watched, much analysed and extensively reported. Although inflation is thought of as the measure of the rise in prices, it is just as accurate to describe it as a measure of the devaluation of your income and savings since, if prices go up 5%, you can purchase 5% less. The Government's inflation target is to devalue your savings by 2% a year. It has successfully exceeded this in every month since December 2009.
Time to Buy Gold?...