Bargain Hunting in Brazil?
Friday, 5/26/2017 09:01
Bond ratings sink with Real as political turmoil hits central bank...
JUST a few months ago, Brazil's central bank chief Ilan Goldfajn was finally able to deliver some good news to his fellow citizens, writes Gary Dorsch at Global Money Trends.
On 18 March 2017, Mr.Goldfajn predicted Brazil's economy would officially emerge from its deepest recession on record, in the first quarter, and reach an annualized growth rate of up to +3% by the fourth quarter of this year. Latin America's largest economy is estimated to have grown sequentially +0.5% in Q'1; a sign that Brazil was pulling out of its depression.
Brazil's economy is finally shaking off its deepest depression ever, after it shrank -3.6% in 2016, and -3.8% in the previous year, in 2015. Since the recession began in late 2014, Brazil's GDP per capita has fallen -9.6%, after being pummeled by weak commodities prices, and made worse by a series of scandals – most prominently, the political fallout from the graft scandal at state oil firm Petrobras.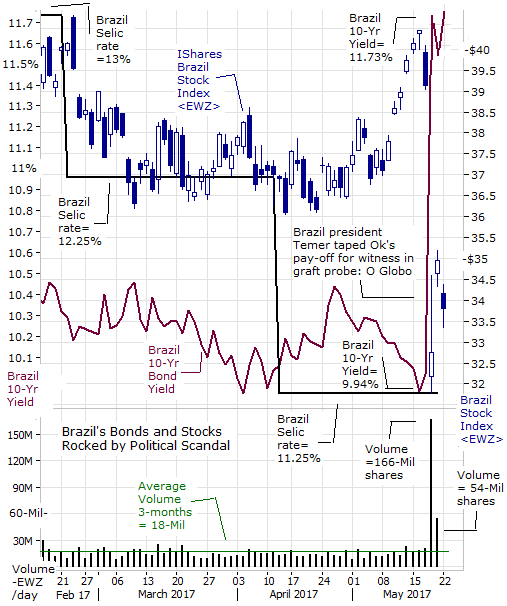 Still, Brazil's recovery from its worst-ever recession is very slow moving, meaning it could be another five years until its per-capita GDP – a measure of a country's living standards – returns to where it stood in 2013, before the recession hit.
In others words, Brazil could experience a "Lost Decade" in which living standards before its returns to pre-recession levels.
Mr.Goldfajn was appointed to take over the leadership at the central bank by President Michel Temer in June 2016, amid the turmoil surrounding the impeachment of former president Dilma Rousseff. The local inflation rate was then running at close to +9% and far above its upper target of +4.5%. Brazil's inflation rate had soared to +10.7% in December '15; its highest level in more than 12 years, forcing the central bank to take strong action to curb prices despite a deepening recession.
Brazil's sovereign debt rating was cut to junk by Moody's in February 2016, the last of the major ratings companies to strip the country of its investment grade as President Dilma Rousseff struggled to shore up fiscal accounts. Brazil's debt rating was reduced by two steps to Ba2, Moody's said. In turn, the Bank of Brazil was forced to hike its overnight Selic rate to 14.25%, the highest among major global economies, in order the defend Brazil's currency – the Real, from its steep downfall and the upward spiral in inflation.
The Bank of Brazil's series of rate hikes to 14.25%, and a rebound in commodity prices in 2016, combined to strengthen Brazil's real in the foreign currency markets. In turn, Brazil's inflation rate has fallen dramatically to +4.1%, in the 12 months through April 2017, and down significantly from an increase of +4.6% in the year to March '17. It marked the lowest annual inflation rate in Brazil since July 2007. It was also below the central bank's target of +4.5%.
Brazil's 10-year bond yield has also fallen dramatically from as high as 16.7% in January '16 to as low as 10% in April '17. The sharp drop in inflation and Brazil's bond yields helped to fuel a sustained rebound in Brazil's stock markets. The MSCI index for Brazil's stock market (ticker EWZ) had doubled from its February '16 low and reached $40 per share.
Given the sharp decline in Brazil's inflation rate, and economic reforms put into place by President Temer's government, foreign investor confidence was boosted, and the perception of risk surrounding Brazil was lowered. On April 12th, Brazil's central bank made its deepest cut to interest in nearly eight years and signaled it might continue its aggressive easing to sustain the economy's recovery from its deepest recession ever.
In a unanimous vote, the central bank's 9-member monetary policy committee, known as Copom, decided to reduce its benchmark Selic rate by -100 basis points to 11.25%, its lowest level in nearly two years. That marked the biggest reduction since June of 2009 and followed cuts at the last four meetings.
President Michel Temer's government was improving public finances through austerity and overhauling the government pension funds, by freezing budget spending in real terms for up to 20 years and is seeking to pass reforms to Brazil's pension system to help rein in a ballooning budget deficit. It is also passing a series of "micro-reforms" to improve conditions for doing business in Brazil, such as opening up the oil sector to greater foreign investment, reforms to bankruptcy procedures, reducing bureaucracy, and the sale of infrastructure concessions for airports, roads, electricity and ports.
However, in a shocking and totally unexpected event, the O Globo newspaper described an unprecedented sting operation mounted by Brazil's federal police in conjunction with senior JBS executives to snare several politicians.
Temer was the one target that towered over the rest. JBS chief Joesley Batista had used a hidden device to record an alleged discussion with Temer about hush money the executive was paying to former House Speaker Eduardo Cunha to discurage him from testifying. The report did not say what Cunha was asked to keep quiet about. O Globo's report, which three sources familiar with the matter said was accurate, threatened to pull Temer into a corruption scandal that has already entangled several of his closest allies and advisers. Leading lawmakers and a third of Temer's cabinet have already been caught up in an investigation of systematic bribery in return for political favors and contracts with state-run enterprises.
But news that the president himself may have been party to a cover-up shook the scandal-weary nation. Despite his extreme unpopularity among Brazilian voters, Temer has maintained a broad majority in Congress, but analysts said public outrage over the scandal could change the political equation. An exchange-traded fund tracking Brazil's benchmark Bovespa stock index fell more than -16% on the opening in New York, at the sight of more political turmoil. Brazil's benchmark Bovespa stock index (BVSP) closed -8.8% lower in São Paulo, its biggest daily decline since the 2008 financial crisis. Trading had been halted for an hour after a -10% drop triggered a circuit-breaker mechanism.
The Brazilian Real plunged -8% overnight to 3.38 Reals per US Dollar, the biggest percentage drop since the currency was devalued in 1999, wiping out its gains in 2017. Brazil's 10-year bond yield suddenly rocketed higher, jumping +175-bps higher to 11.75%, amid fears a weaker Real will boost the inflation rate.
The scandal surrounding Temer knocked Brazil's ETF (EWZ) to the brink of a bear market, as traders quickly reassessed the chances of success for future efforts to streamline the country's social security system and reform labor regulations. At one point; EWZ plunged by 18% – its worst day since the dawn of the financial crisis in 2008.
That sell-off splashed red across sectors. The country's leading iron-ore producer Vale (NYSE:VALE), for example, plunged as much as -12.5% before ending down -6.3% on the day. Brazil's central bank acted to dampened the panic in the markets, by selling $4-billion worth of currency swaps on May 19th, in an emergency move to block the US$'s advance.
Mr.Temer, who took office a year ago after the ouster of former running mate Dilma Rousseff, has come under unrelenting pressure to step down and let Congress elect a new president for the remainder of his term. The Supreme Court has opened an investigation into the revelations that were part of plea bargain testimony by the billionaire owners of meatpacking giant JBS. The scandal has threatened to tear apart Temer's coalition in Congress and leave Latin America's largest economy adrift as the president fights for his political survival, just a year after the impeachment of his predecessor. Brazil's Bar Association said it would file an impeachment motion against Temer in Congress, arguing that the recording, if proven to be accurate, showed a dereliction of presidential duties to uphold the law.
Until the matter is resolved, the volatility in Brazil's bonds, currency, and stock markets is likely to continue – while presenting new buying opportunities for bargain hunters.