Triple-A Rated Hokum
Friday, 2/29/2008 10:23
A guarantee requires more than just a promise – even on US Dollar Bonds...
ANY GUARANTEE is only as good as the guarantor's capacity to fulfill it. And if the guarantor fails, woe to the individual who trusted in his promise.
There's a lesson here for every investor holding Dollar-denominated assets today, especially low-yielding assets like 30-year T-bonds.

America's second largest mortgage insurer, Ambac Inc. carried a credible AAA rating from the all the major credit-rating agencies. And for as long as Standard & Poor's, Moodys and Fitch continued to approve that unimpeachable status, investors happily accepted a low yield on almost any Ambac-insured security.

When Ambac's AAA rating became suspect, however, the prices of the bonds it had insured tumbled in value.

Treasury Bond Default...?
In theory, a similar fate could befall the US government. Its credit rating could also become suspect, causing T-bond prices to tumble...and the Dollar's value to plummet.
Yes, the US Treasury enjoys the ultimate AAA rating at present. And that rating implies utter impregnability, a bullet-proof balance sheet, if not also bomb-proof.
Ambac's balance sheet, on the other hand, would not repel a spit wad. Nevertheless, Standard & Poor's reiterated Ambac's AAA rating earlier this week. But even though the ratings agencies continue to play their game of make-believe, most investors with actual capital at risk are erring on the side of caution.
They are discounting the value of Ambac's insurance policies.
Take the case of Park Nicollet Health Services in Minneapolis, whose cost of capital doubled three weeks ago when investors failed to bid for its auction-rate securities. The rate on $98 million insured by Ambac reached 6% on Jan. 30th from less than 3% on Jan. 2nd.
Why did investors fail to show up for the auction? Because Park Nicollet's issue is guaranteed by Ambac – a guarantee that very few investors now trust. And a similarly chilly reception has greeted hundreds of insured municipal bonds during the last two weeks.
Vulture investors are already swooping in to bid for muni' issues like Park Nicollet's that now pay very high yields. But the new bids rely solely upon Park Nicollet's own credit-worthiness – not Ambac's. Park Nicollet is, effectively, on its own, which means that it will pay a higher rate of interest than it did when investors trusted its guarantor, Ambac.
This loss of confidence in the bond insurance companies inspires a gloomy rumination: Could America's AAA rating also come under suspicion? Has America guaranteed too much? Does she possess the balance sheet to honor all of her commitments? Is the Dollar's value – like Ambac's share price – susceptible to a sudden loss of confidence?
We have no certain answers to the questions, but we would guess, yes, yes, yes, and yes.
Therefore, life might soon become much more expensive for every investor who trusts in the permanence of America's low interest rates or the enduring value of the US Dollar.
The guarantees – both actual and implied – of the US government are large. Nay, incalculable. If the investors of the world come to believe that America has guaranteed too much, they will go on strike. They will distrust America's AAA rating...as well as the currency she issues to make good on her guarantees.
Here's the problem: America's guarantees rely greatly upon China's investing habits. America borrows lots of money to fulfill its vast, open-ended commitments. The Chinese, along with a few other large foreign investors, provide a great deal of that money.
Therefore, as long as foreigners buy our bonds, America's guarantees are "money good". But if the bond buyers start swarming around some other blossom, we're in trouble. The latest Treasury auction may have provided an ominous preview of things to come.
60% of US Debt Due by 2011
On February 7th, the US Treasury sold $9 billion of 30-year bonds at a yield of 4.45%, the lowest yield ever. Overall investor demand was tepid. Foreign investor demand was virtually non-existent. "Indirect bidders, a group that includes foreign central banks, bought 10.7% of the amount sold," Bloomberg News reports, "compared with 31.6% percent in the prior auction."
Perhaps that's why the Federal Reserve, the US central bank itself, stepped in and bought half the auction. Yes, Peter borrowed from Paul to pay Paul.
"Would you lend money to the US government for 30 years to receive about 4.45% in interest?" asks Dan Denning, editor of the Australian Daily Reckoning and a professional worrywart. "No? Well then, you speak for most institutional investors as well, who were not interested in buying the low-yielding bonds of a big-spending government."
One auction does not a trend make. But we would note that the 30-year bond yield has jumped from 4.45% to 4.65% since that auction...and that is a trend – a disturbing one.
The US Treasury can ill afford rising rates or skittish bond buyers...or both at once. It needs to sell a whole lot of bonds if it hopes to keep our iPod-buying economy operating at full capacity.
America's precarious fiscal condition now means funding her multi-trillion-dollar, long-term liabilities with multi-trillion-dollar, short-term borrowings.
That's a timeworn recipe for disaster.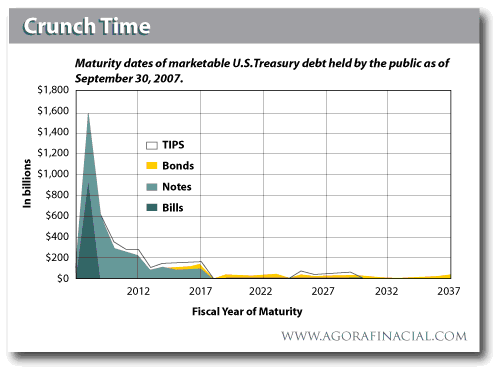 The amount of marketable public debt that the US government will have to "roll over" during the next few years is massive.
"Of the marketable securities currently held by the public as of September 30, 2007," the US Government Accountability Office (GAO) reports, "$2,838 billion or 64% will mature within the next 4 years."
The disappointing 30-year Treasury auction and the failing auction-rate preferred auctions remind us that the nations' credit crisis – like an F5 tornado – has not vanished, it is simply ripping through another trailer park.
Creditors are refusing to provide financing to all but the most credit-worthy of borrowers. But the US government is not like Ambac, right? The US government does not issue financial guarantees that it could not possibly honor, does it?
The US government would not assume liabilities it could not possibly quantify, would it?