Berkshire or Gold?
Monday, 6/03/2013 22:52
Take your pick of value or profits...

GOLD OR STOCK in Berkshire Hathaway? asks Dan Denning in his Daily Reckoning Australia.
Are you better off owning something that claims to be a store of value (gold) or something that's designed to create profits for shareholders over time? We'll get back to the ratio between these two values in a moment.
But before we get to that, Berkshire was in the news for two reasons this week. First, Berkshire subsidiary MidAmerican Energy made a $5.6 billion bid for NV Energy, a utility company based in the US state of Nevada. The all-cash bid is MidAmerica's largest ever.
Is this a bet on natural gas or a bet on an American recovery? Maybe it's both. NV is Nevada's largest utility company. And natural gas is, as they say, 'the fuel of the future'. Warren Buffett must be hoping the 23% premium MidAmerica paid for NV results in even more value created for his shareholders.
It's hard to spend billions of Dollars efficiently. That's the main reason Berkshire itself has been either unable or unwilling to do major deals in the last few years. Perhaps Buffett's team just can't find anything valuable selling at a reasonable price. Still, the company's 'B' shares made a new all-time high in New York, closing at $114.84.
That brings us back to the ratio between the B shares and the gold price. If you've been following along all year, we reckoned that for gold to remain in a long-term uptrend against stocks, the ratio would have to find support at 14. That is, it would take no fewer than 14 of Berkshire's 'B' shares for you to buy an ounce of gold. Then, assuming gold rose or stocks fell, the ratio would go higher again.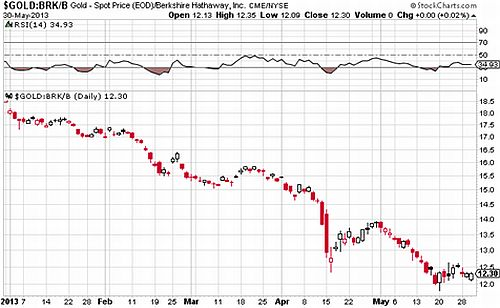 The chart above shows the $GOLD:BRK/B ratio year-to-date. You can see that once the ratio broke 14, it broke hard. It then rallied back to 14 but couldn't hold it. In Murray's terms, is this a false-break of the low? Or is this evidence that stocks are headed much higher for the rest of 2013 and gold isn't headed much of anywhere?
Well, we'll find out soon enough. But it's notable that even as the 'B' shares made a new high, the ratio did not make a new low. That's because the US gold price closed up 1.77%, or just under $25. Both gold and the 'B' shares had a good day.
The rest of 2013 is developing into a contest between liquidity and value. Liquidity (quantitative easing) has the power to drive shares to new all-time highs. Gold, by comparison, could tread water or lose ground. For now, the gold price seems to have stabilised at around $1400.