Don't Be Fooled By This So-Called Good News
Thursday, 2/02/2012 10:02
Why stocks are in a bear market rally...
BEAR MARKET rallies are a fascinating stock market phenomenon to behold. They're sneaky, deceptive, and utterly believable, writes Greg Canavan for the Daily Reckoning Australia.
Those on the sidelines watch with regret as markets slowly move up. One by one, they get sucked in to 'participating' in the rally. The bulls – we mean the ones who think it's always a good time to buy – talk about the market climbing a 'wall of worry' as they celebrate another leg-up and the apparent dawn of a new bull market.
Why do we think this is a bear market rally? We'll get to that in a moment. First, let's take a quick look at the bear's recent work.
Global markets finished up strongly overnight on the release of 'strong' global manufacturing data. The beginning of each month sees the release of manufacturing indices for a whole bunch of countries. Known as the PMI Index, the standardized indicator tells whether a country's manufacturing sector is expanding (denoted by a reading above 50) or contracting (a reading below 50).
For the month of January some countries (China, the UK and Germany) posted better than expected results. In the US the index came in slightly below expectations. But that didn't stop the market rallying anyway.
At a reading of 50.5, China managed to keep its manufacturing head above water in January. But unlike its Western counterparts, the Chinese market actually fell around 1 per cent! 'Better than expected' means less chance of a monetary boost from the central bank. The stock market wasn't happy. It appears easy money creates easy wealth – more so than producing things.
Let's put things into perspective. JPMorgan, who compiles and aggregates the global data, had this to say in its press release:
The global manufacturing sector continued to record below trend growth at the start of 2012. At 51.2 in January, the JPMorgan Global Manufacturing PMI™ rose to a seven month high, but remained below its long-run average (51.8).
JPMorgan Global Manufacturing PMI – Not Good, Just Less Worse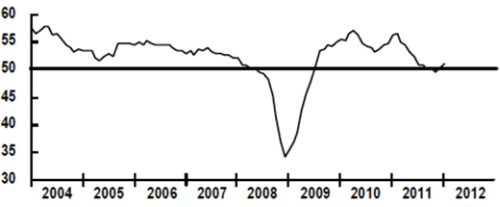 The way we see it, after falling throughout 2011, manufacturing output is simply rebounding. It's enjoying its own bear market rally. But if we're in a deflationary world, doesn't that mean too much global capacity? And doesn't that point to the elimination of the excess capacity via lower global output?
We would guess yes. It doesn't have to happen in January, February or even March, but you shouldn't get too carried away with this little manufacturing upswing.
Bill Gross certainly isn't. His latest investment letter conveys the message that, on the other side of the credit boom, things are very, very different. Like when you reach the speed of light and beyond, everything gets screwed up.
Gross (who manages one of the world's largest bond funds) reckons prolonged zero interest rates retards the risk/reward spectrum. While central bankers think they are encouraging risk taking by providing no incentive to save, they actually discourage it.
Unlike the equity market, Gross implicitly understands we are in a new world of investing and investment returns. Any clown can make money when you have a dysfunctional credit system spewing out multiple billions of Dollars' worth of 'purchasing power', or demand, each year.
But what happens when that system breaks down?
According to Gross:
Where does credit go when it dies? It goes back to where it came from. It delevers, it slows and inhibits economic growth, and it turns economic theory upside down, ultimately challenging the wisdom of policymakers. We'll all be making this up as we go along for what may seem like an eternity.

A 30-50 year virtuous cycle of credit expansion which has produced outsize paranormal returns for financial assets – bonds, stocks, real estate and commodities alike – is now delevering because of excessive "risk" and the "price" of money at the zero-bound. We are witnessing the death of abundance and the borning of austerity, for what may be a long, long time.
That's the reality you're facing, dear reader. If you don't like it, you can unsubscribe and try and get your hands on some broker's 'morning notes' or something. You won't read anything bearish – or realistic – in there.
If you don't like it and would rather think about ways to try and protect your wealth in this new world, keep reading each day. We can't promise anything. But we will be honest and tell it like it is.
Buying Gold?...