Gold Turning Higher at Last?
Saturday, 3/21/2015 10:00
Trouble is, sentiment just isn't bearish enough to mark a big low...
PRECIOUS METALS
closed the week with a good rally,
writes Jordan Roy-Byrne at TheDailyGold.
The Federal Reserve nonsense proved to be a catalyst, as it can be in either direction. Regardless of the Fed, the precious metals sector was oversold and due for a bounce.
Maybe this could be the bear market bottom. Maybe not. But it concerns us that gold is rebounding from an area of insignificant long-term support amid sentiment that is not at a bearish extreme.
Extreme bearish sentiment coupled with very strong support raises the probability of a major rebound or bear market bottom. I don't see that for gold, yet.
Here is a weekly line chart of gold with its net 'Commitment of Traders' positioning at the bottom. Gold closed the week around $1180 per ounce and avoided a break below the channel. However, gold positioning amongst speculative traders is far from a bearish extreme.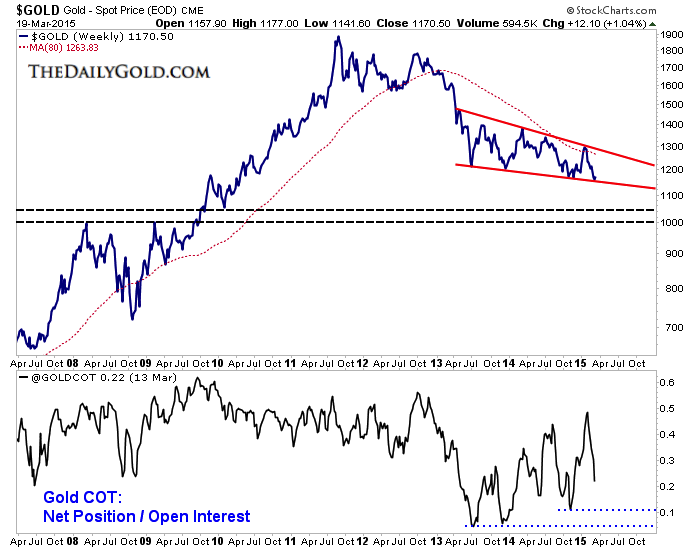 Gold's three best rallies in the past two years began with its net speculative position at or below 10% (of open interest). As of last Tuesday the net position was 22%. Gold may need this to be below 10% before it can bottom.
In the next chart we plot the premium/discount to net asset value (NAV) for a pair of closed end funds. [ Ed. note: Unlike an ETF, which acquires more metal (or sells it) as shares are created (or cancelled) to meet investor demand for that product, closed-end funds have a fixed quantity of metal backing a fixed quantity of shares. Heavier demand for the shares can't be met by new issues, but is reflected instead by the price rising above the market value of the metal held. Weak investor interest creates a discount to net asset value.]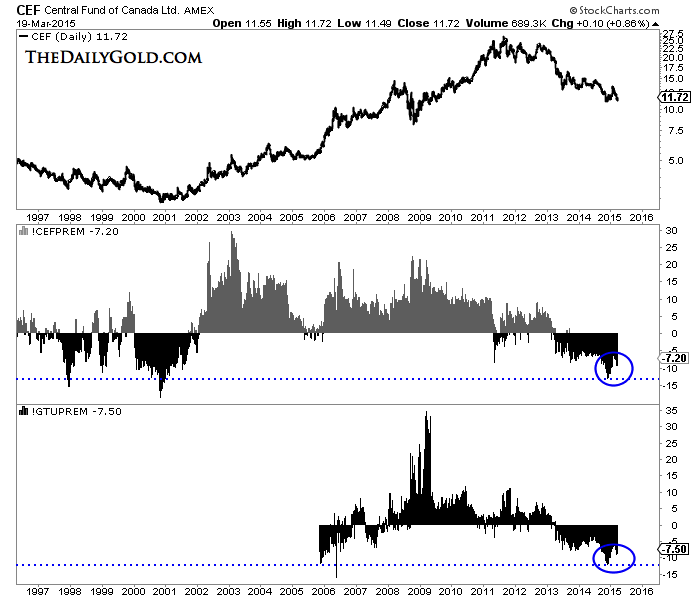 CEF (which is shown at the top) is a closed end fund that owns gold and silver. GTU is a closed end fund which owns gold. Both funds are currently trading at +7% discounts to NAV. While that is big, it is well below the largest discounts seen in late 2000 (around 18%) and late 2014 (13%). GTU's largest discount was 12% in late 2014.
Interestingly, the mining companies aren't expecting or may not be prepared for $1000-$1100 per ounce gold either. The graph below is from consulting firm PwC...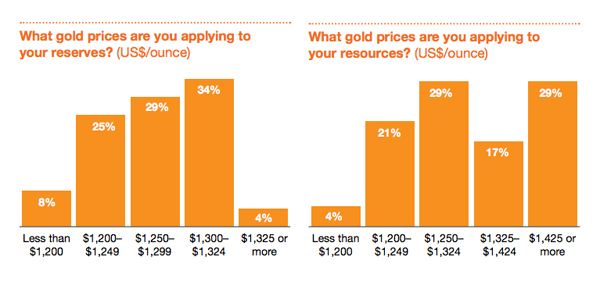 Look at how few companies are valuing their reserves and resources at sub-$1200 gold!
With the sector in a downtrend, bulls need to see some combination of extreme bearish sentiment, extreme oversold conditions and strong technical support. In the big picture sentiment is quite bearish but the indicators argue it's not quite at an extreme. Technically, gold does not have strong support until well below $1100 per ounce.
We'd like to see gold falling below $1100 per ounce, getting more oversold and nearing strong support with sentiment reaching bear market extremes. Those are the conditions for great buying opportunities.