The Worm Turns for Apple
Wednesday, 1/16/2013 14:22
How significant is the fall in Apple stocks...?
WHAT'S THIS? Is the Age of the Superficial officially over? asks Daily Reckoning Australia editor Dan Denning.
We're referring, of course, to the gentle free fall in the world's most popular stock, Apple. The big claim with Apple is that it's different. Remember a few years ago when the big theme was 'we think, they sweat?' The catchy and self-glorifying phrase was meant to capture why high-tech or Internet firms with valuable IP were better stocks to own than dirty old manufacturers. The profits weren't just cleaner, the margins were bigger and the value-added higher when you didn't have to get your hands dirty.
And there's no doubt that Apple's magic run of product releases under Steve Jobs captured the minds of investors and the hearts of portfolio managers. It became the single best way to leave all worries of debt and default behind. But now, the worm has turned, somewhere in the core of the market. The chart below suggests Apple will retest $400.
An Eyesore for Apple Investors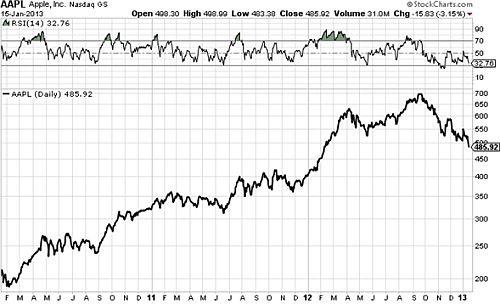 Bull markets need leaders, stocks that can stand for everything that is good and right about the economy and the world. These stocks are the protagonists of the bullish narrative. Without them, you've lost the plot.
The Australian stock market is certainly casting about for a new leading man. Will it be Rio Tinto? Rio's quarterly production of 253 million tonnes of iron ore beat its own expectations. The company said it's on target to produce 356 million tonnes a year by 2015. That's assuming, of course, that China plays its role in the drama and grows at eight precent ad infinitum.
Investors didn't show Rio any love yesterday. It closed down nine cents. The company reported $3.8 billion in first half profits, which is the good news. The bad news is that's the lowest six-month profit since the second half of 2009, when the world nearly ended.
Perhaps investors are waiting to see the production figures from BHP Billiton and Fortescue later this week, or the China GDP numbers on Friday. Or maybe the iron ore/China steel story no longer has the power to move investment audiences (or money). But you know, some movies flop; and if you read your audience wrong, you'll tell a story no one is particularly interested in.