Don't Wait. Act
Wednesday, 9/14/2011 10:34
Waiting for politicians and bureaucrats to solve the European debt crisis is futile. You need to make your own solution...
WITH EACH passing day we get one day closer to the destruction of the world's monetary system. That may not sound like good news. But it is, argues Dan Denning, editor of the Daily Reckoning Australia.
Yes, we are delighted to finally move into a genuine crisis stage for the Welfare State. It's not because we wish anyone misery or failure – a lot of people are going to see their savings wiped out. But it's what has to happen before anything good (wealth creation) can happen again.
Once the debts of the old system are liquidated and a new, sounder currency becomes the backbone of global trade, we can go back to thinking about creating wealth and investing in good businesses. That will be a welcome relief from witnessing the errors, lies and threats of the custodians who benefit the most from a system based on fiat money and inflation.
Every day that passes brings us closer to the day of reckoning. And that indeed is good news. But in the meantime, every day that passes also brings us one day to closer to the final failure of the current system. That's very dangerous. And not even China can save us from that.
The markets rallied this week in America on a rumor that the China Investment Corporation (CIC) would somehow magically solve Italy's debt problem. Italy has a big debt problem, by the way. Italy has €1.9 trillion in debt. Government debt is 119% of Italian GDP. And Italy is the third-largest economy in Europe.
CIC has $409 billion in assets, about 4% of which are in cash, according to the Financial Times. That means CIC could have taken out about $16.3 billion of the $88 billion in 10-year debt Italy auctioned yesterday. By the way, you can see below that yields are rising again as Italy flails around for partners to finance its $113 billion in financing needs between now and the end of the year.
Italian Borrowing Costs Rise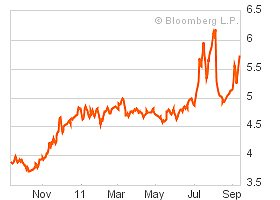 In any event, China did not take out a portion of the Italian bond auction. The conventional wisdom is that China will finance Europe's sovereign debts because it wouldn't want its customers to fail. Europe is a large trading partner. If the vendor has to finance the customer, so be it.
But perhaps China's money managers are not interested in subsidizing the European Welfare State. It's just a thought. Perhaps they are more interested in the safety of their $3.2 trillion in foreign exchange reserves, or purchasing real assets instead of government bonds.
It's not like China holds the whip hand, either. China's US$3.2 trillion in foreign currency reserves are a product of the globalized credit boom. Let's put it this way: by making itself the workshop of the world, China's export-led forex war chest is a little like a bundle of tickets accumulated playing skee ball at the carnival. You might have a lot of them, but you can only spend them on different kinds of colorful stuffed animals.
Here's an important point: if you are expecting Europe's leaders to "do something" at the last minute, you will be disappointed. Waiting for the politicians and bankers to come up with something is like waiting for a train that will never arrive at the platform. The longer you wait on the platform, the more time you waste.
Do not wait for the right public policy. Make your own policy. The right question to ask now is not, "What will Europe do to prevent a sovereign default?" The right question is, "What are YOU going to do to prepare for when that default happens?"
The idea that central planners can come up with the right "one size fits all" solution is exactly the idea that's being discredited right now. Investors who understand this first will be able to figure out who the winners and losers are first as well.
The losers are obvious: any business or institution that depends on credit expansion and inflation to generate power and profits won't like the post-destruction monetary world. For that matter, any economy or share market that's prosperity is derived from credit expansion and inflation would be worried too.
Thinking of Buying Gold? Discover how BullionVault makes it safer, cheaper and easier...